All updates for
November 2016
Our custom built Scold's Bridle was only used once, because it needed some more adjustments. Now it is finally ready to silence more models, and we start with the gorgeous Dominique, who is always up for a challenge! Locked in her chastity belt and collar, she curiously explores the frightening device. As many members requested, she shows what is inside the bridle: a metal plate that goes inside the mouth to press the tongue down. The mouth is opened and a chin guard at the bottom makes sure the device can not be moved up. The adjustable head bands are padlocked on Dominique's head and she is unable to remove it or speak! Perfect!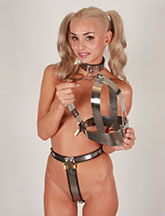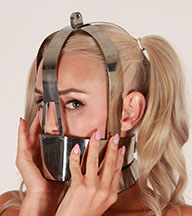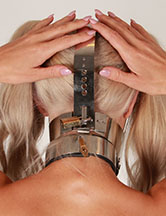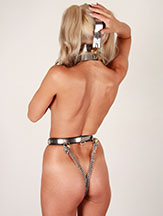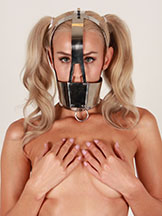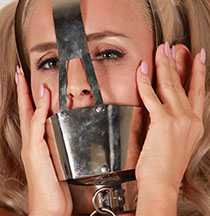 Tiny teen Gina Gerson! She is hard to lure into bondage shoots, being all famous and busy, but we got her! Her amazing slender muscular body is so perfect for bondage! We should start by something really simple that will give us an unobstructed view of her toned body. The Iron Crown is perfect for getting those arms and hands out of the way, without any hope of escape. We never realised this, but the Iron Crown is actually pretty heavy for someone as light as Gina Gerson. She struggles beautifully, and we think she likes bondage gear. Next time, we should definitely step it up, any suggestions?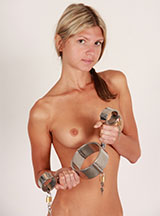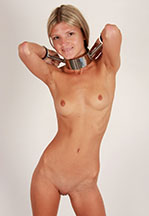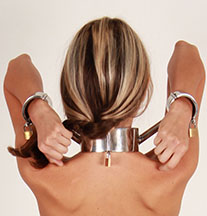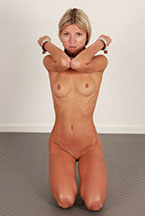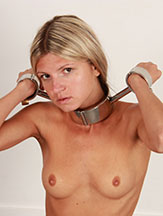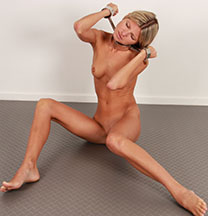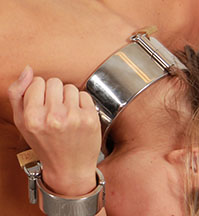 If there was ever a perfect girl for the Rigid Box Tie Device, it would be the incredible Lizanne from Belgium! This girl is just perfect. Perfect body, perfect measurements, perfect face. And she LOVES bondage! It's true. Every single piece of this Device fits her so well, it looks like it was made for her! A nude Lizanne, standing tall in her heels, locked in this device, so she is vulnerable and helpless. It is the best sight we've had here in the studio for quite some time! And Lizanne can stay in this device for hours, even an entire day, without complaining. She is even available for custom shoots, meet and greets (in this device or in a chastity belt) and studio shoots.