All updates for
April 2016
A member request featuring Penny Lee! This time, the request was not for a specific bondage position or gear, but for a specific UK page 3 model to be locked in tight metal bondage. 'Can you get Penny Lee?', a member asked. Sure! We lured her to the studio and quickly had her all naked, locked in the tightest metal we could find. The waist squeezing wide boxing belt is super tight because it has cut outs for the hips (allowing it to be even tighter). And Penny's wrists were pulled all the way across her back to the opposite sides, very strict, she could not move her arms at all! Poor Penny Lee, spotted on Twitter by a fan and now naked and in metal bondage, struggling to get free! If you are a member, don't hesitate to suggest a model for us!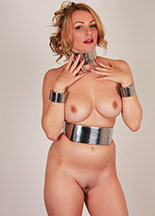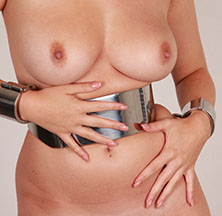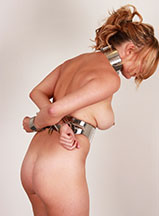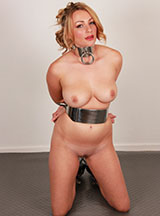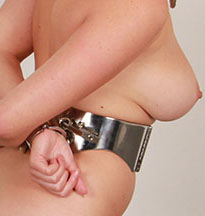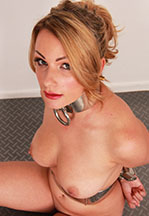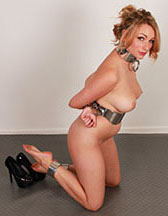 Without looking at the previews, you wouldn't think it is possible to cuff a girl's elbows to her waist. We always cuff the wrists to the waist, surely the elbows are too high up to be connected to the waist? But everything has to be tried at least once, and it this case, it actually works! We found the gorgeous new girl Jane to be a (somewhat reluctant) victim for this experiment. In her tiny latex pants and a lot of heavy cuffs, she looks amazing! Her eyes and lips are really incredible! Will she be able to escape this heavy bondage predicament if we give her the keys? Watch and find out!!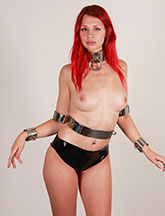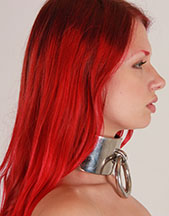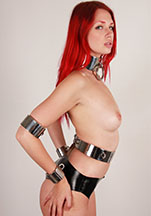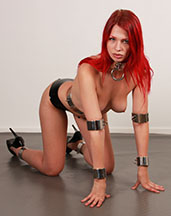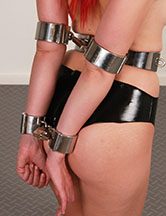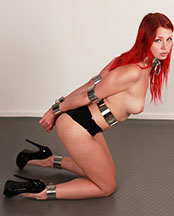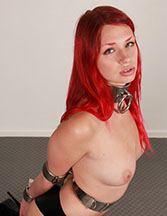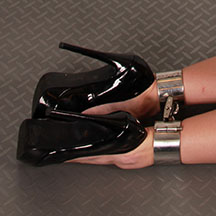 Training Katie Thornton as a waitress! Wouldn't she be the perfect girl to bring you a drink on a hot day? She still has a lot to learn before we can lock her hands behind her back, because her balance is not perfect yet. Especially when kneeling and getting up, there is a risk the drinks may get spilled. Her big boobs are helping her to stabilize the chains though, so she is getting there. After all, what else is there to do for her? She can't have any fun, since she is locked in a tight chastity belt (with a metal tray locked to the sides), so she might as well be of service.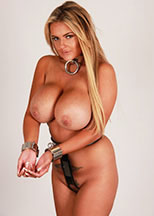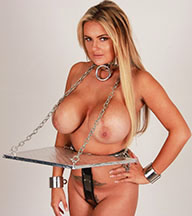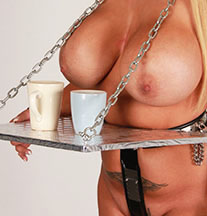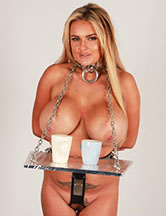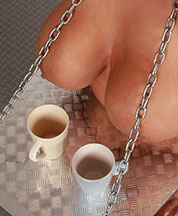 Cute 19-year old Jessica isn't really sure if she likes metal, but she is… let's say 'intrigued'. We saw her and we immediately knew we wanted to lock her into heavy restraints! She is so sweet and innocent, heavy steel would be a great contrast! Like big heavy ankle cuffs on sports socks, padlocking her legs tightly together. Or a heavy belt so we can cuff her wrists behind her back! And of course a very heavy collar attached to a slave post with a heavy chain! Now, if you are thinking: 'hey, she is only 19, why all the heavy bondage gear for this poor girl?', you are probably on the wrong website. We gave Jessica a few minutes to escape, but she failed, so we took the keys and kept her. Hopefully forever.