All updates for
September 2019
We gave new girl Clara three neck cuffs. She was a little confused, as she only has 1 neck, but she soon worked out where the other two should go. They were attached to the wall by a chain, so she would be stuck by only her boobs for this afternoon. It can be quite frustrating having big boobs that can be cuffed. Models sometimes feel it is not fair they get some challenges that other models can't do. Clara has always been happy with her big breasts, but not today, she would need a key to be released, where other models would just have walked away. Life is not fair!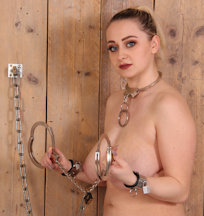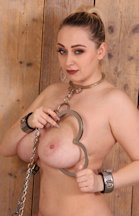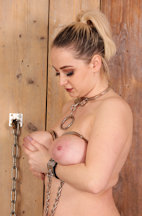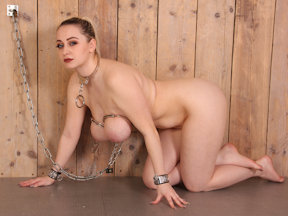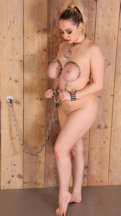 In today's update, a very excited but nervous Polina will get screwed to the wall. Literally. In her full chastity outfit (tight chastity belt and chastity bra) and a locking Carrara mask, this tiny girl anxiously awaits what's next. The mouth plate grill is added and locked to the mask, so we can still see her expressions during the next step: screwing her wrists to the wall! These metal brackets are exactly the size of her wrists, so once she is secured to the wall, she can barely move her arms. Polina tries to get comfortable, but she can't kneel and she can not move much at all. Very challenging and exciting! Polina loved it, and she wants to come back for more metal bondage!!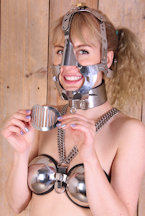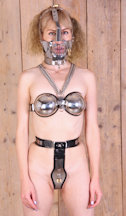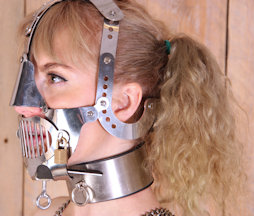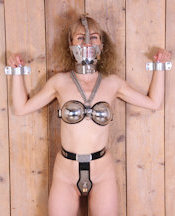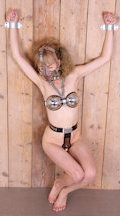 Nicky is back! Remember her? Perfect face, perfect boobs, tall stunning girl! Being tall means her wrists are barely going to fit in these stocks, so she couldn't turn her wrists once she was locked in. This made her escape attempt a lot harder, since it was very uncomfortable for her to move around in these heavy stocks. Nicky did great though, and we are always happy to have her back, just to look at her gorgeous body locked in heavy steel!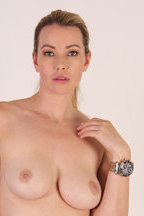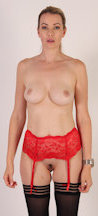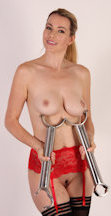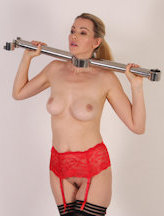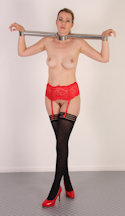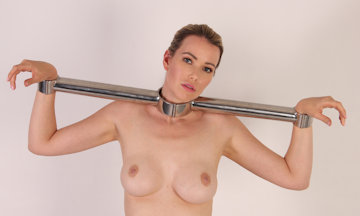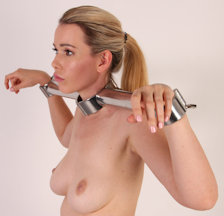 Little Lanta is back for more bondage! This time we are going to test her flexibility again with our latest creation, the caterpillar stretch! Her wrists and ankles will be locked to the floor, but there is a metal contraption in the middle that will fold her in a very hard position with her ass up in the air. Because of her flexibility, Little Lanta (Atlanta Moreno) can still be stretched out, boobs on the floor, in this super vulnerable position. Not easy, but a lot of fun to watch this beautiful girl completely stuck in this enticing pose!