All updates for
April 2021
We love playing with Valentina Bianco! She is so funny! Quick to anger, but also playful, Valentina is the perfect test subject for frustrating predicaments. Like the heavy Neck Block for example. At first, everything seems fine for our tiny Italian model. She is locked in a tight chastity belt and she's wearing heavy steel cuffs, but she is used to these things. The Neck Block is new to her. It's pretty heavy, and it has a very small neck opening. Unfortunately for Valentina, it is a perfect fit! Padlocked shut, this device can get really annoying after a short while. You can't lay down, you can't take it off… Of course, we lock her wrists to the sides of the block, so we can throw the key on the floor to make Valentina's situation even more frustrating!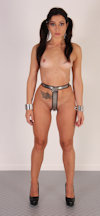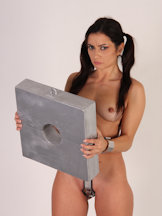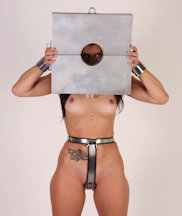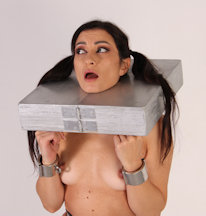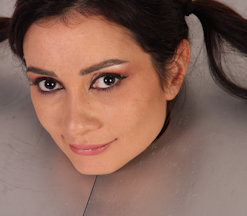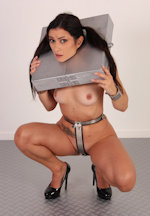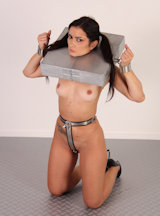 This local girl might not be a professional model, but she told us she had posed for some pictures before. We invited her over and before she knew it, she was doing a casting shoot for ChastityBabes.com in full chastity! Her facial expression over on that website will tell you the entire story: Adele was very confused. She had been locked in metal lingerie! As a ChastityBabes.com casting shoot requires a model to be locked for 4 hours, we had plenty of time to shoot an update for this website too! We added a tall collar and some spreader bars so she was very helpless. Adele's expression did not change, she was even more confused now!
We thought the entire day had been a huge shock to her, but the next day she emailed us already. Adele wants to come back, she wants to try more, and she is also available for custom videos! Wow!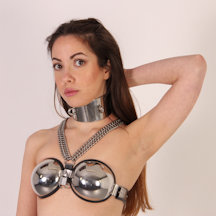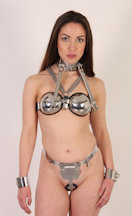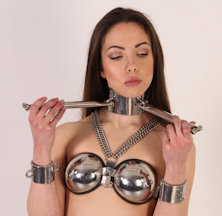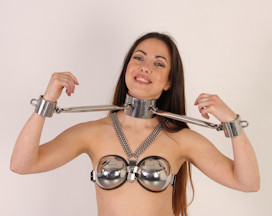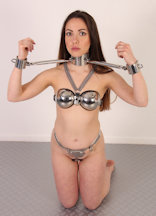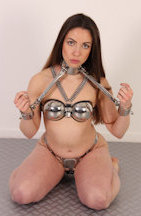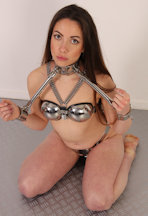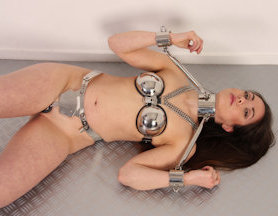 The fun loving Darina Nikitina is back! And I have created a new challenge for her! It's the One Bar Prison, but with a twist! The inescapable dildo pole with rocket shaped attachment is on top of my newest device: the Rotating Display. Darina wears her tallest heels so there will be absolutely no chance of escape. She simply can't lift herself up standing in these heels. As long as she doesn't have the hex key for the One Bar Prison, she is impaled and very stuck. The platform started rotating and Darina became a living display. I wish all shops had these! I would be shopping every day! I even told Darina to put her dress back on. She is the perfect mannequin!