All updates for
November 2010
Our quest to get Jenni C in a chastity belt has ended! Jenni C has now agreed to be a proper MetalBondage pet slave. That means wearing a chastity belt. And a collar of course. To celebrate, we built a little contraption that will hold Jenni's perfect body in a strict metal hogtie. We don't think she liked the chastity belt very much, but that was soon forgotten after about 30 minutes in this position. It seems Jenni decided she hates hogties more than chastity belts. Oh well… we just love both! And we have got it all in this week's update. Plus Jenni CB, what more can we ask for :-)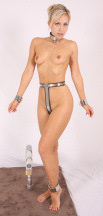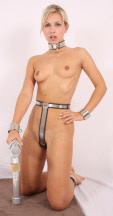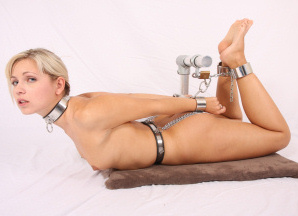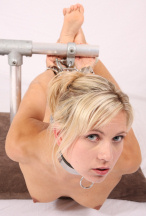 Here at MetalBondage.com, members can request anything they would like to see. We love receiving suggestions for bondage positions and equipment! But members can also write us which models should definitely return for more heavy bondage! Jenny is one of the most requested slave girls. She is looks incredible in metal bondage, and she is curious and playful. If there's anyone who can escape the RigidStock, it would be Jenny. Check out this week's video, where Jenny get's locked into this incredible device, and we tease her a little with the keys. Then see her make a serious attempt at escaping this rigid contraption. Watching a girl work hard in metal bondage gear, we love it!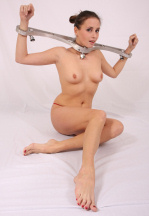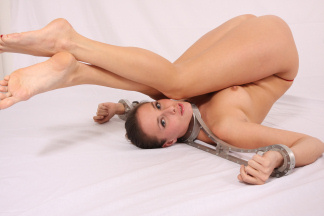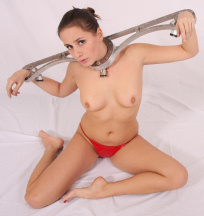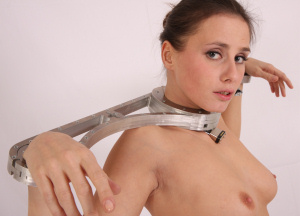 Last time Tanya was on our website, she had way too much fun. So let's get her into some strict metal bondage to wipe the grin off her face! Introducing a brand new collar: it's the tallest collar we ever used! It's not even a posture collar anymore, we had to think of a new name for this thing. Tanya said she felt like a giraffe, so we dubbed it the 'giraffe collar'! We lock Tanya into three bondage positions, to teach her some obedience. First it's wrists crossed behind her back, locked to her tight waist band. Then we lock her wrists to the tall collar, and finally a good slave pose… locking her wrists to her ankles. Our kneeling pet slave Tanya doesn't smile so much now, does she ;-)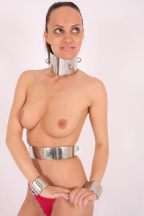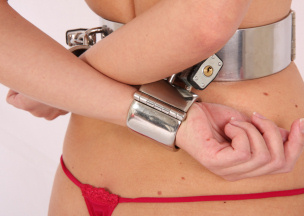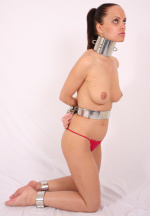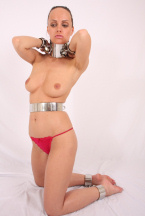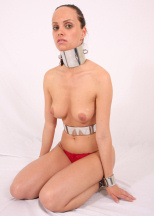 When Angela returned to us for another shoot, we showed her some of the work her fellow pet slaves had done. Angela got very curious about the all chastity belts she was seeing on our website. With a slight hesitation, she tried one on. It fit like it was made for her! We told her she had to pose in the belt now, since it was locked on and there was nothing she could do about it. She just smiled and seemed to enjoy the whole afternoon she was locked into the belt. We did some great subdued posing, her ankles and wrists locked to the Wheel of Steel, a kind of round spreader bar. The dark eyes under those incredible eye lashes tell you all you need to know..