All updates for
January 2014
Today, we proudly introduce our new heavy chastity belt! This custom built unique piece of metal bondage gear has many features, like: tight fitting super broad waist band, 5 attachment points (3 in the back, and 2 in the front, anal opening, lockable hinged vaginal slot opening, and a high security block padlock. Bolt cutters are useless here. Lose the key and you are in it for life! Who better to test new things on than our very own reluctant bondage test model: the gorgeous Natalia Forrest from England! Natalia doesn't like heavy things, and she had enough of chastity belts, so she is perfect! We tell her to lock herself into the tight belt, and she does, although not without complaining. To tease her a little more, we give her the key to the little secondary shield padlock, which opens the vaginal slot that isn't even big enough to put a finger through! Let's keep her in this for a while!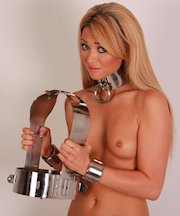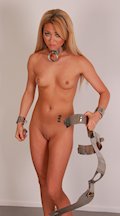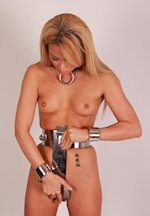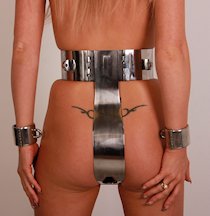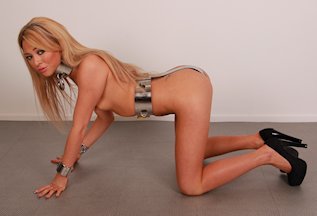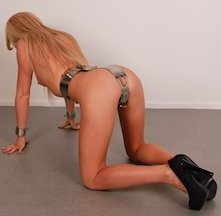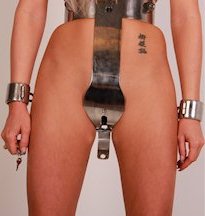 We got our hands on this unique version of Martin's RigidStock TL! The design is the same, it is just over three times as many layers of metal! It is a huge device, the biggest and heaviest stock we have ever seen, and there's only one of these in the world, as far as we know! We couldn't wait to try this and Yasmine happened to be the first girl to stop by our headquarters! Bad luck for the incredibly gorgeous girl in her tight corset and stockings! She was our first test subject for this amazing device, and we were just blown away. This is the perfect stock with the perfect girl locked in it. Metal bondage doesn't get much better than this!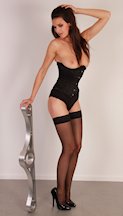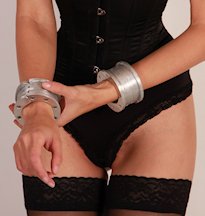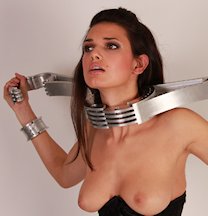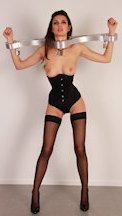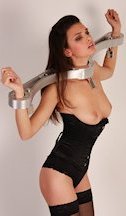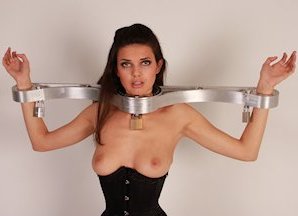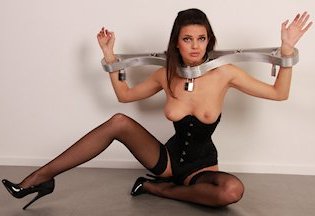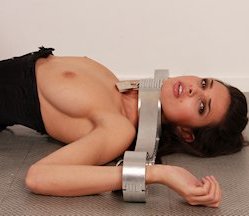 Raven-haired Nicole is coming along fine in her metal bondage training. She kneels without being told and she can be locked in a super tight chastity belt for days without complaining. But there is a little problem: she still hates heavy restraints. It's true, we have some of the heaviest restraints in the industry, but also some of the prettiest! Nicole doesn't really appreciate the huge collar we locked onto her neck, so we have to keep her hands out of the way by cuffing her to a very low contraption. But then she kept trying to stand up, so we ended up attaching the collar ring to the device as well. Nice and low bondage for Nicole today! Very aggressive struggling!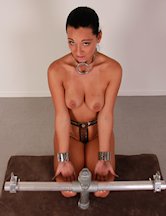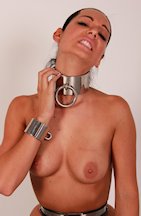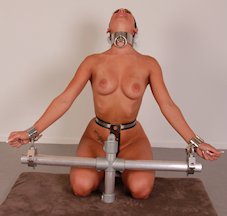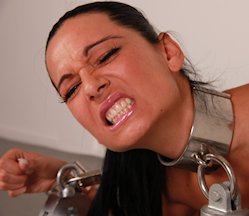 Ariel Anderssen is very tall in real life, she's probably our tallest model! Of course, that also means that all of our metal gear is going to be a tight squeeze for her. Still, she insists on trying everything we have, so let's continue Ariel's exploration through the MetalBondage.com inventory! We locked a very nude Ariel in our custom muzzle gag collar. It is a perfect (but tight) fit on her. It is padlocked in the back with two little locks and the steel muzzle fits her face like it was made for her! We gave her a little distraction by locking her into a RigidSpreader so she can struggle and roll around for us to watch! Beautiful tight metal on this incredibly tough and sweet bondage star!