All updates for
December 2011
We are very glad to have found Satin Bloom. She could be the world's most perfect pet. Not only does she have a killer body and gaggable face, she is also very submissive, flexible, and not afraid to try heavy metal bondage. Our latest design is a serious chastity belt. Seriously heavy that is. Wide metal waistband (dropped for a perfect fit), heavy steel crotch protector, and a thick metal ass chain. Three padlock clicks and you are in big trouble. The only thing left was to find a model that would be a perfect fit for this new belt. Well… we found her!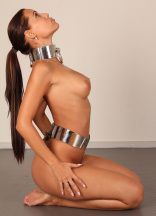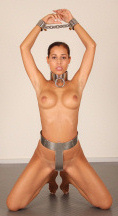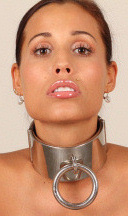 Marloes signed up for our casting, she wanted to try 'this metal bondage thing' too! She did not expect an introduction this hard though! Her RigidFiddle model '8' is locked to a very heavy slider on a pole. Because of the angle of her wrists, she can not move the slider up the pole, and the whole contraption is so heavy that she can not hold it up for long. Every time she gives in a little, the metal slides down a few inches and Marloes has to bend down to avoid hurting her wrists too much. After a nice fight against the metal and gravity, Marloes has to kneel down, unable to stand up, a truly evil trap!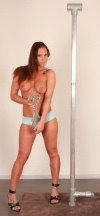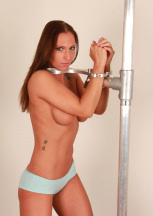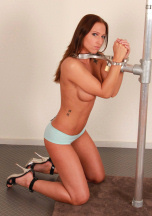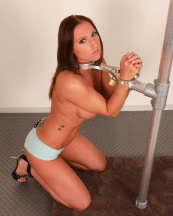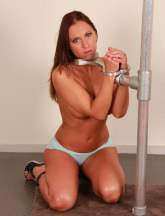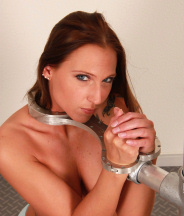 6 point, meaning both wrists, both ankles, neck, and waist. A full restraint set for this bondage loving girl from the UK! Natalia Forrest is joining MetalBondage.com, agreeing to take bondage a step further every time she will shoot! For her first time, we keep things fairly simple, but very heavy. The combined restraints are weighing her down, with her wrists locked to her waist and her ankles spread by a nice metal bar. We did not lock any of the restraints, so we can challenge Natalia to escape… and she almost made it… Next time she won't be so lucky!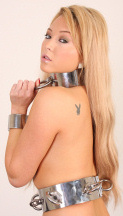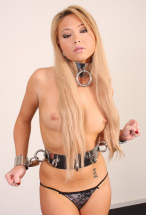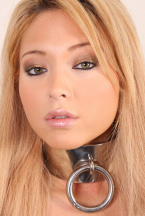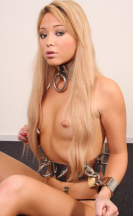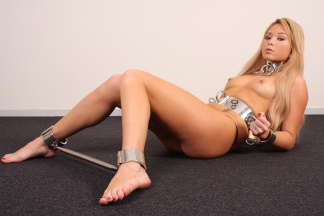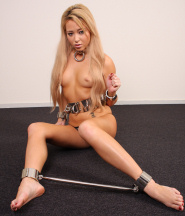 Yasmine was belted in a huge metal diaper experiment last time, but now we finally managed to lock her into a real chastity belt! Even though she claims to like chastity belts, she is still tugging and prying like mad. We understand, it is her first time, but we would like to teach her to keep those hands away from that belt. So the Iron Crown is brought in, and Yasmine is powerless… Or is she? Watch Yasmine do something incredible in the video :)