All updates for
December 2018
We received some requests for more maid training! The metal serving tray is perfect for new slaves to get used to their restraints. It is hard to walk with a lot of metal locked onto your body, and balancing some drinks at the same time makes sure the girls pay extra attention to their posture. We locked a super tight metal waist band onto new girl Keira Lavelle. It was so tight she said it felt like a corset. Her hands locked behind her back, collared, and ballgagged, Keira now had to try to move around with two cups on the metal serving tray. Not so easy, but she did very well!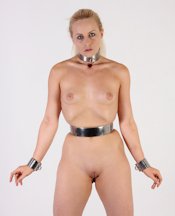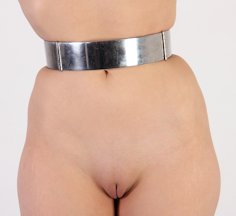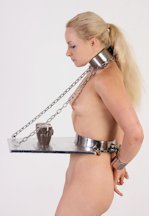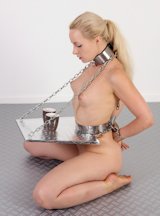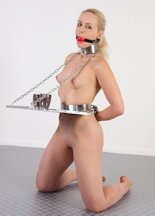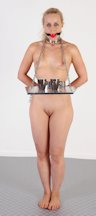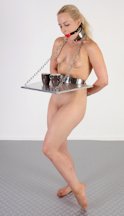 Famous gymnast babe Atlanta Morena is here for some metal bondage! Her extreme flexibility is so much fun to play with! We can lock her in positions that seem impossible, but Little Lanta can do them with ease. We chain her to the wall by her wrists and ankles, leaving her very vulnerable and wide open for some magic wand fun! There is absolutely nothing she can do about it, she is very helpless! Little Lanta never did any bondage shoots before, but after this one, she immediately asked when she could come back! We would love to play with her flexibility again, there is so much we can do with/to her! Enjoy this update!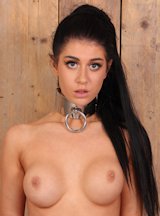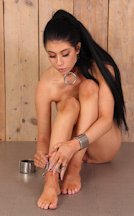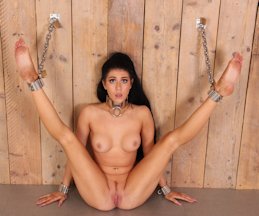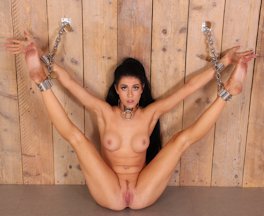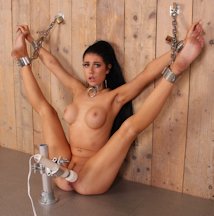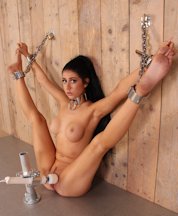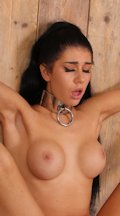 The lioness is back! Bondage addict Muriel from Germany is here again to get tested. This time we put her in a metal bondage predicament that is not as easy as it looks! Her arms are bent and locked to her tight steel belt and her elbows are chained together. Wearing a tight ballgag, Muriel must attempt to escape this position, but it is already hard to reach the keys on the floor! She tries to take out the gag, but she can't reach that either. And then, when she gets close to her escape, we sneak in and take the keys away. This will be a fun struggle to watch!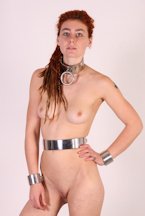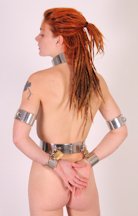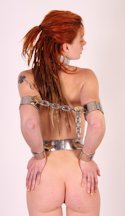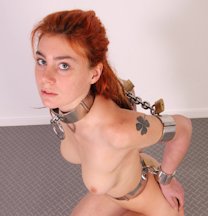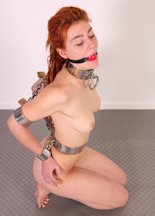 Wow, 500 updates since May 2009! That is a long time of locking girls in steel! Let's celebrate with a very special update: Cobie wanted to try our Spider device and make it to the highest level! No girl has ever been bent further than level 3 (see this attempt by Stella Cox, or this attempt by Samantha Bentley) , but Cobie wanted to make it to level 5! The Spider device has 5 adjustment holes on the vertical bar, and at level 5 a girl is really bent very far with her legs and chest completely off the floor! Cobie is a tough one, and of course she made it, making her the first girl ever to reach level 5 on The Spider!! JOIN NOW to see this update and 499 other great sets of hot girls in cold steel!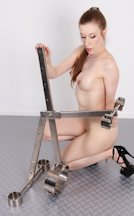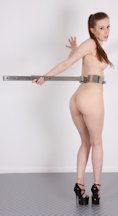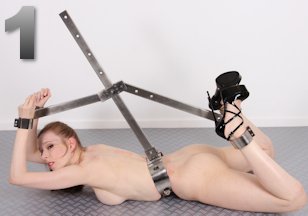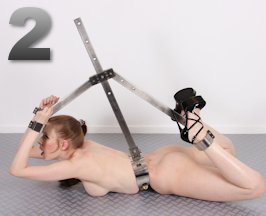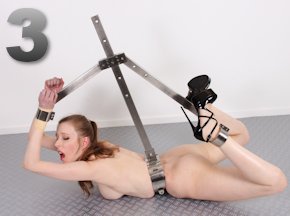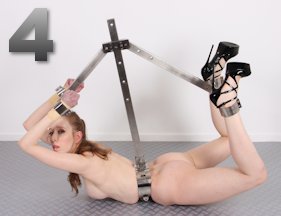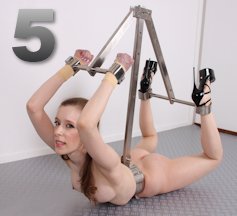 UK girl Lucy Lauren noticed our RigidSpreader escape challenge and she thought she could do it! Well, no problem, let's see her try! Lucy is locked in a super heavy steel collar, so when she rolls over, it will only get harder for her with the weight on her neck. She is a true kinky girl with lots of bondage experience, but she was never locked in rigid steel devices. Watch her roll around completely nude and vulnerable, until she gets her hands on the key and tries to escape the RigidSpreader! Lots of fun!