All updates for
March 2015
Little Caprice! Who doesn't know her :) She is back, all naked except for a heavy collar and wrist cuffs, and she is looking at the metal pipe construction we built for her! It looks scary, and Little Caprice isn't too sure if she wants to do this… But she has to! She is told to mount the horizontal pipe that makes her stand on her toes. We quickly lock her ankles in place, and attach her wrist cuffs high above her head. Little Caprice is now unable to escape this metal frame, she has to stay on her toes!. Watch her struggle as her legs start trembling and she has to rest her pussy on the cold metal bar.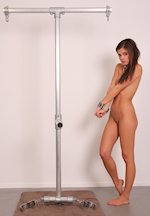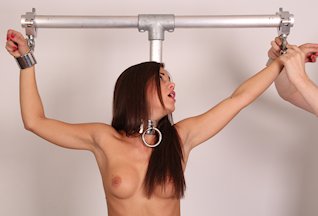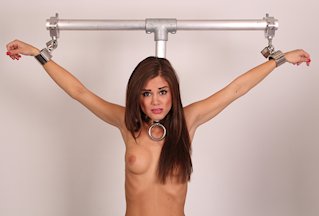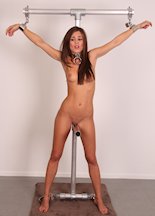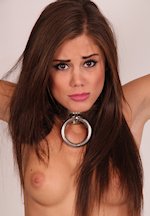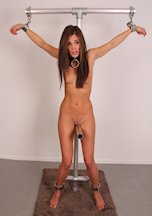 An email from a cute 19-year old UK girl grabbed my attention. Vina wanted to come over to spend a weekend in chastity. If you are following ChastityBabes.com, you know how that turned out! It was amazing! Little Vina is a pure submissive: tiny, innocent, shy, and she LOVES bondage! When we were adjusting the chastity belt, she just kept saying 'tighter, tighter, tighter!'. She really wanted it super tight, no cheating! I also locked her into a chastity bra, and a huge heavy collar. Let's see what this girl can do! Without any further instructions, Vina encountered the slave post in my studio. Would she lock her collar to the post like a good girl?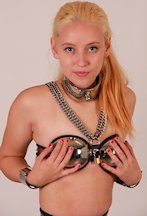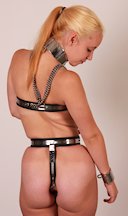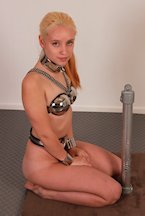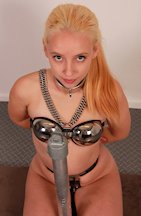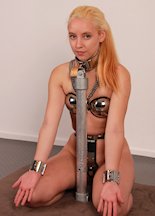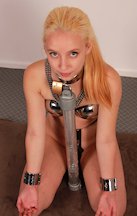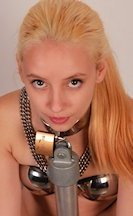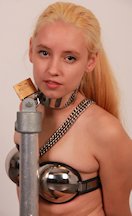 The incredible Honeyhair returns! This famous fetish model has a certain doll-like look, which makes us want to put her in a really immobilizing postion, like a doll would be packaged! We have done frames before to lock a model's wrists and ankles in place, but what about the neck? We found the perfect solution by using our custom built stocks to rigidly restrain the gorgeous Honeyhair in place. She couldn't move an inch! She started to protest a little so we had to gag her. This is a statue everyone would like to have at home! Especially if the keys to her chastity belt are included!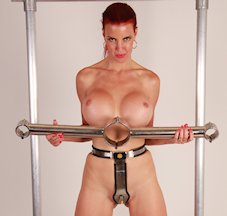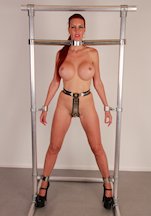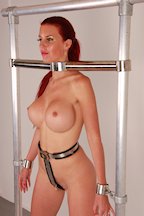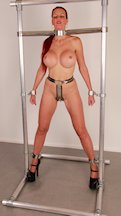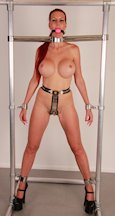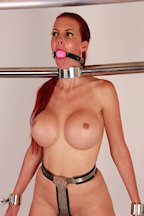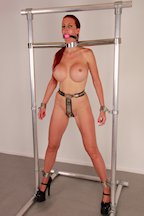 When we introduced our new Rigid Box Tie Device, Yu was not locked in a chastity belt. So a lot of people started wondering if a chastity belt could be worn in combination with this device. The answer is: yes! Of course! Especially when we have a model like the bondage loving Elise Graves, who wanted as much metal locked onto her body as possible! She wants to struggle, feel the unforgiving metal, she wants to be made completely helpless! So we gagged her, and chained her legs to her waist so she couldn't stand up. A lot of locks were needed for this gear, and we just threw all of the keys on the floor so Elise could struggle and try to escape! This is one of the best struggles you have ever seen in metal bondage, for sure!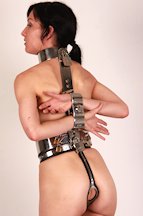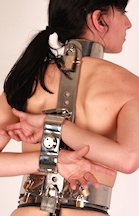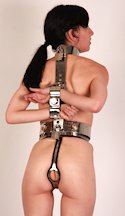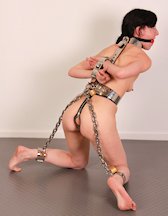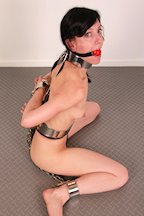 Aah the cage with the built-in collar! A fan favorite and one that we didn't feature for a long time. Let's get one of our pet slaves to lock herself in the cage again! With her bright blue eyes and massive boobs, Leyla Gold is a perfect play thing (well, she would be if she wasn't locked in a chastity belt for her own protection). Submissive and sultry, Leyla manoeuvres herself into the small cages, locking the door with a padlock. She then locks herself into the built-in collar, leaving her completely helpless. To make sure, we even lock her wrists to the corners of her cage, so she will have to stay on her knees, boobs dangling, big blue eyes pleading… Nice!