All updates for
June 2012
Beautiful Melissa will now try our maid training exercise! She is a natural submissive, but she still has to learn to walk around with the metal serving tray strapped to her belly and neck. Kneeling down, and getting back up again, without spilling anything, that is the hard part. The coffee cups are empty for Melissa's first time, so she does not accidentally burn herself. It turns out that was an unnecessary precaution: Melissa is a perfect maid! She can walk, kneel, and serve the coffee without spilling a drop. She is very obedient and careful, and she sounds so very sweet the way she says 'Your coffee, Madam' to our mistress. You passed, Melissa!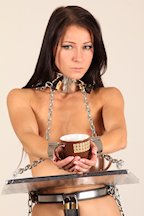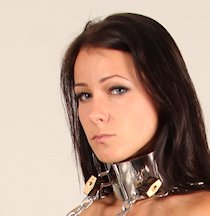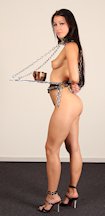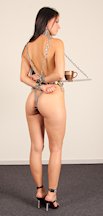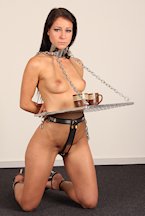 Please welcome the Lady Roswell Ivory to MetalBondage.com! She is quite a high class British woman, but don't be fooled by her posture and posh accent, Roswell is a true submissive bdsm player! We make her feel right at home by locking her into the biggest and heaviest collar we could find. Naked, Roswell Ivory is presented with the RigidSpreader and left to figure out how it works. She eventually works it out and pleads us to lock her into it, because it looks like fun. After about 30 minutes, all fun is gone however, and Roswell is behaving rather un-lady-like…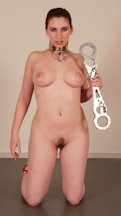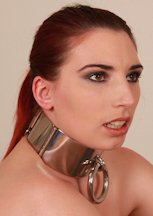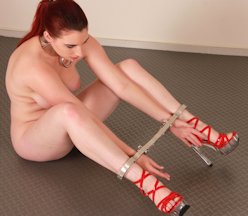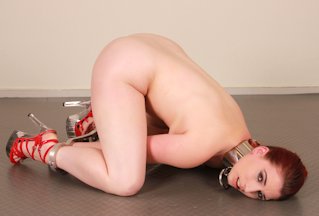 A very popular member request today: the radiant blonde girl Jenni C locked into (her own!) chastity belt, and a chastity bra! She is also locked in a very heavy collar and a set of chain linked manacles. The belt was especially made for Jenni (the crotch piece is not adjustable, it is Jenni size), and it is very tight between her legs. The small metal bra is squashing her boobs, making sure she can not touch herself at all! Jenni C is a super slave girl, she looks like a captured princess on some kind of slave market! We would definitely buy her, who wouldn't!?