All updates for
December 2016
The gorgeous Sylvie is back in full chastity (bra, belt, and collar) and she is super curious what we have in store for her today! Well, we think she is going to regret her curiosity when we present her with two new items that are very extreme! First, we squeeze her arms into the Bagno Arm Screw, a classic design made for wrists, but we use it to push her elbows all the way together! Tight metal elbow bondage!! And then, to make sure she doesn't run off, we introduce our Ultra Heavy Ankle Cuffs to her: these cuffs weigh in at about 2 kilograms each without the heavy chain! Sylvie is stuck and going nowhere… unless we help her a little.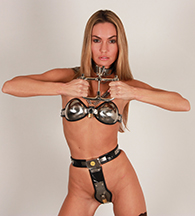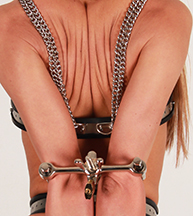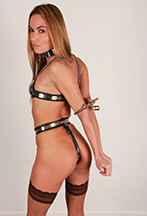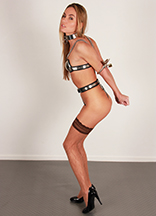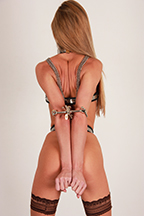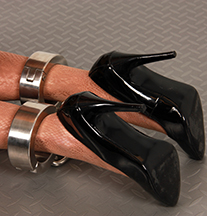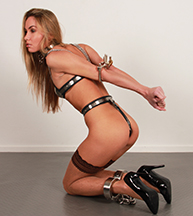 When the endless legs and flexible arms of Britney visited us, we locked her in full chastity, as you will have seen on ChastityBabes.com. She had to hang around the studio for quite a long time, to see how she would do in her chastity gear, so we had plenty of time to shoot her in some more metal, specifically the Wonder Cuffs. These cuffs need a flexible, tall, slender model, so Britney was the perfect girl in the right place! We locked the cuffs on her wrists separately, making her look like Wonder Woman, before attaching the middle piece that locks these cuffs together in a very rigid way. Britney is awesome, we could keep her in metal forever!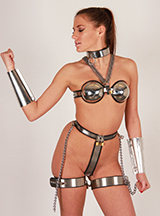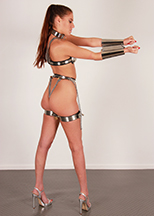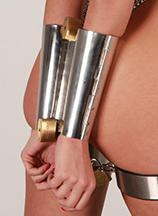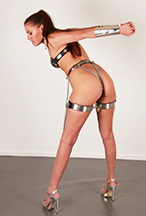 And… she's back! We knew she would be back! Melinda was brutally elbow bound and nipple clamped on her first shoot, but still… she is curious what else we have. Well, that's a long list! First, Melinda needs to be belted of course. This new style belt fits her very well! It's secure enough, but we don't want Melinda to test this, so we have to keep her hands away from the belt. What better way than our heaviest custom stocks! Melinda did not really like those, but we certainly did!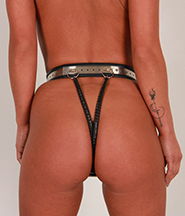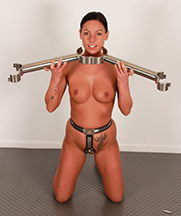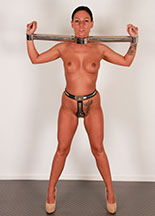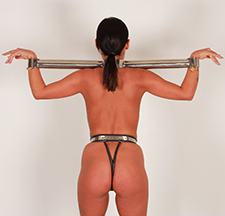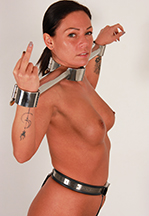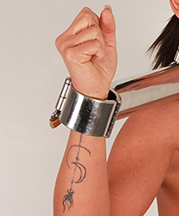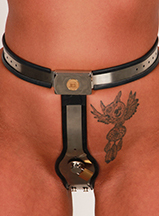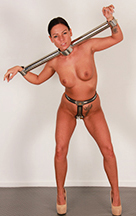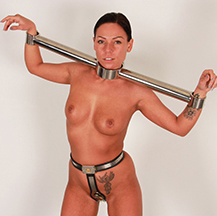 It is so simple! Two Chinese girls, two RigidFiddles, and a spreader bar! Even with the keys on the floor, they can not help each other since they are too far apart! Both fiddles have a different padlock, but it doesn't matter since they will not get out anyway. It's great to see them get more and more annoyed by the fiddles and by each other, since every move is felt by the other girl. Ting and new girl WeiWei are getting very frustrated, and we are not letting these tiny Chinese girls out for a while! Let's hope they don't start a fight!