All updates for
January 2012
Marloes is not a perfect slave girl… yet. It is her second shoot, so this time she is locked into a chastity belt. It is her very first time. In fact, everything we do to Marloes is her first time. She needs to get used to bondage gear fast. We give her a pair of heavy shackles, connected by a short chain, and tell her to cuff herself. It is interesting to see Marloes did not even question us about this, she did not ask why, and she did not even ask if there were any keys for the padlocks. We tell her to gag herself with a white ballgag, also a first for Marloes. She is so obedient, you will not believe it. No questions, Marloes just does as she is told.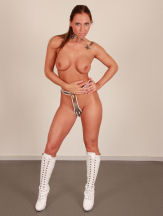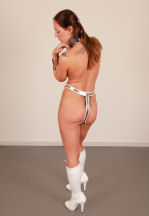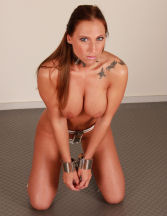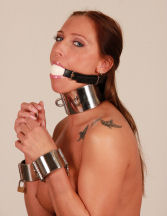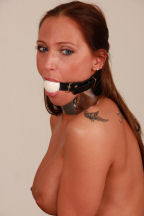 Another unique piece of metal bondage gear you will not see anywhere else on the internet: we are very excited to introduce our latest custom built contraption: the Sleepless Collar! Jenni C is less excited however, because she will be the first of our lovely slave models to test this huge heavy collar. Perfectly belted as always, Jenni was actually relieved at the start of this shoot that we were only going to feature a collar. No bondage? Well, wearing the tall posture collar with solid (heavy!) spikes for more than 5 minutes is bondage in itself. Jenni was locked in our newest item for over 2 hours, and she was getting tired. Then she found out why we call this the 'Sleepless Collar'. Can you guess why? Watch the video clip to find out ;-)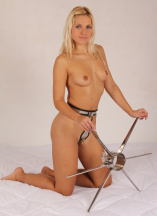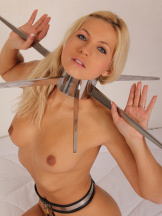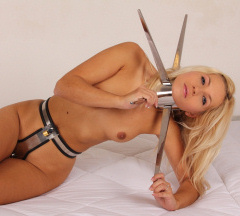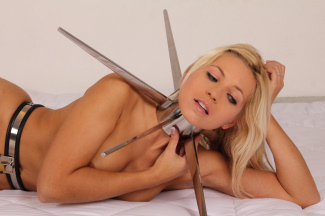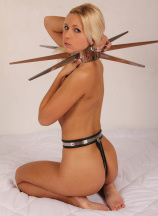 We received a member request: 'Can a model reach her clamped nipples while restrained in the custom SteelBound stocks?'. We can only answer that by trying it! And again, it is the fearless Adrienne who was first in line to take on this challenge. This woman is tough! Still firmly belted, Adrienne is locked into the very heavy stocks. The nipple clamps are applied at the tip of her nipples, where they hurt the most. It hurts a lot, judging from Adrienne's expressions. Now try to get them off :-) Lowering one hand means the other hand goes up, putting a lot of strain on the shoulders. Can she do it?