All updates for
November 2022
Arabella doesn't like her boob bands. I always lock her boobs in steel, and she is getting annoyed by this. The boob bands are tight and uncomfortable. She tries pulling on the padlocks, but without a key, the tight metal bands aren't coming off. But to stop her from prying at the locks, I decided to lock her in a posture trainer as well. Now she really is the perfect secretary! Locked boobs, exposed, and helpless. I even left all of the keys on her office chair, but unfortunately this predicament is very inescapable!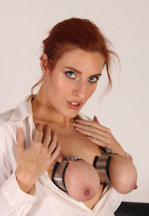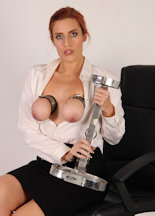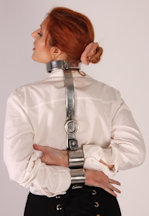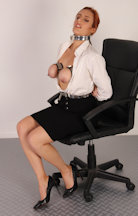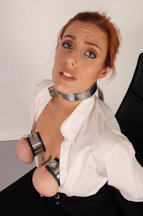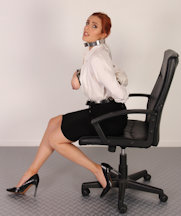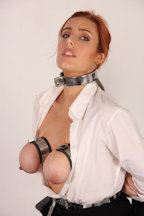 Liz and Blondie are two hot Spanish girls who love to touch each other! They like kissing, and fondling each other's boobs. So I tried to keep them apart by impaling both of them on One Bar Prisons. Did it work? They only got more horny, and they still tried to touch each other, but leaning over on a One Bar Prison is not without risk! Balancing precariously in their high heels, Liz and Blondie try to grab each other's boobs, and even kiss! Wow, they must be really getting aroused from the 3-ball metal dildos inside of them!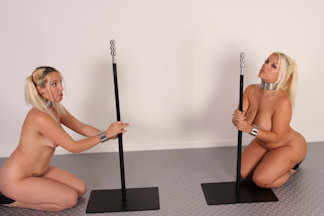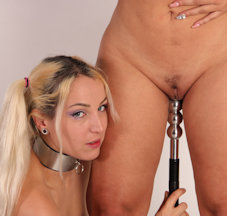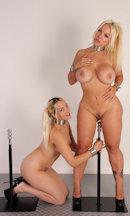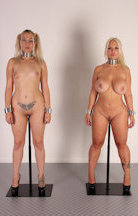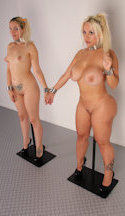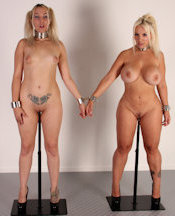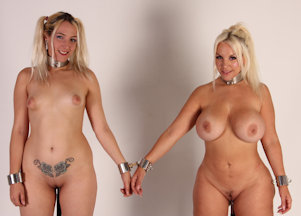 By popular request, Alisa is back in the studio for some more metal bondage! She is a gorgeous tall brunette with huge boobs! And she is very curious, expecially when she finds a HUGE heavy steel collar, some cuffs, and a chastity belt next to a curious piece of metal pipe. She looks at the gear, touching it, as if she really wants to try it on. Well, moments later, Alisa seems to have gotten what she wished for, and more. She is now naked, locked in the chastity belt, cuffed behind her back, and her massive collar is locked to a slave post. Some time in this position is the perfect training for submissives! Welcome back Alisa!