All updates for
June 2023
The mysterious big boobs of Anc1lla are all over the internet! Definitely one of the best bodies ever, check her out if you haven't seen her content yet! I was very surprised when she messaged me about my One Bar Prison, she was really eager to try it! Anc1lla was very prepared. She brought her tallest heels to ensure there would be no escape from the One Bar Prison. Within a few moments of seeing the device, she was already impaled. What a sight! Anc1lla loved the feeling of being stuck, only kept in place by her pussy. I wanted to keep her forever, put her in my living room like this, as decoration. Anc1lla's body is art. Just simply stunning!!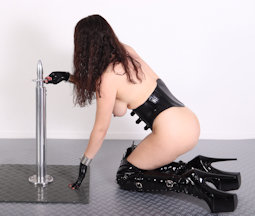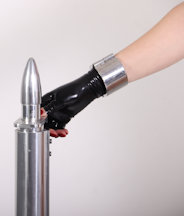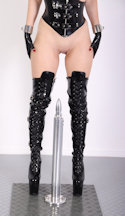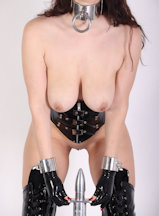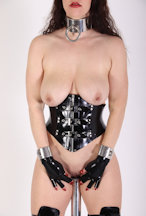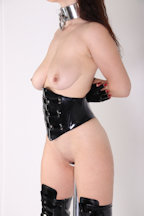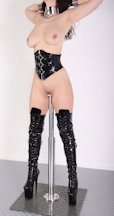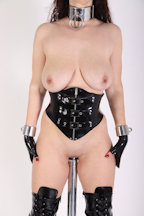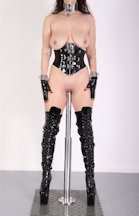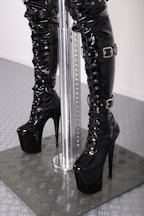 A fan sent me this script for a 'modified escape challenge video' as he called it. It would involve an extreme steel hogcuff with everything locked on, even a ballgag. The keys to the locks would be taped to the wall at various heights. At the start, the fully restrained and hogcuffed model would only be able to fetch the lowest key and bring it to me to get something unlocked. Then, as she gained progressively more mobility, she would be able to get the next key, and so on, each time bringing them over to me to get another item unlocked. Denise was the happy victim for this one, she is very tough, and she LOVES a challenge! If you have a challenge you would like to see on video, feel free to write me, I know a lot of competitive girls!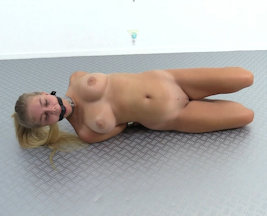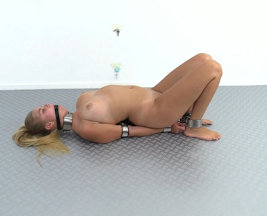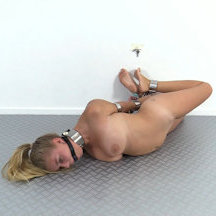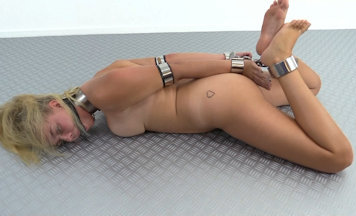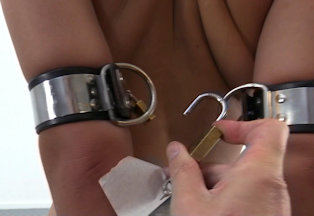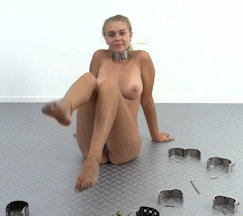 Incredibly powerful Alexis Luna is back for more! Every time she thinks she can defeat steel, and every time she gets very frustrated! The NeoSteel chastity belt is unbreakable, even though Alexis tries very hard to get out of it. She HATES chastity belts! But what she even hates more are nipple clamps! Her nipples are her only weakness. She gets chained overhead, her wrists connected to her belt in the back. Keys are on the floor. Alexis will have to try to escape, but every time she moves, the nipple clamps hurt her. She got very angry!!!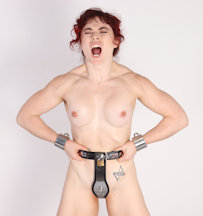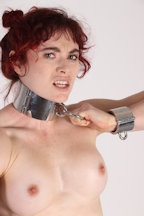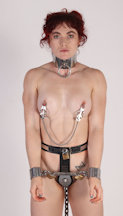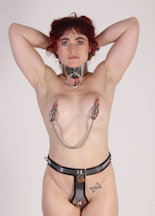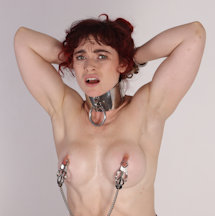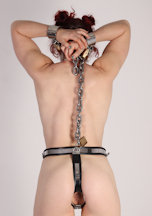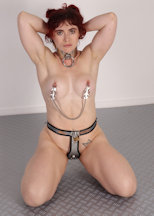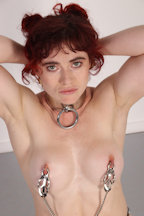 Pure and delicate Ivy Red is such a stunning beauty. She is almost fragile, so tender and elegant. That's why I wanted to lock her into a super heavy and tall steel collar, and attach her with a HUGE padlock to a 12 kilogram chain that is bolted to the floor. Ivy wouldn't even be able to lift the entire chain. It is such a nice contrast between the vulnerable grace of Ivy and the cold ultra heavy steel on her neck. I just love overdoing things! Enjoy this wonderful picture set and video! Ivy Red is a local girl, available for custom shoots!