All updates for
January 2023
Young Denise doesn't like nipple clamps on her big boobs, she has very sensitive nipples! So I came up with an elaborate way to stop her from removing them. It involved a lot of metal! Denise is boob cuffed, and locked in a heavy waist belt and a collar. She also got locked in a scold's bridle which was attached to the doll stand frame. A spreader bar keeps her legs apart. Her arms are kept up by chicken wing cuffs and wrists cuffs attached to her head. Now I can finally enjoy playing with her nipple clamps, and tease her by tightening the boob cuffs. Denise can not stop me!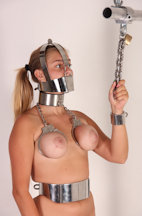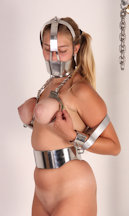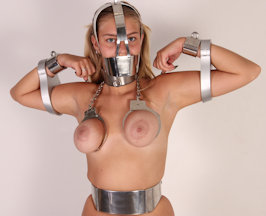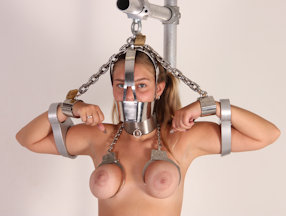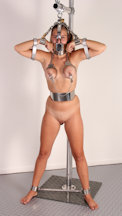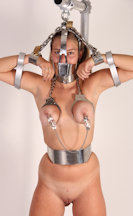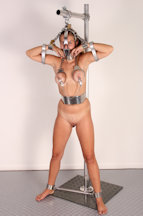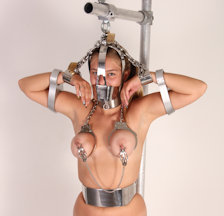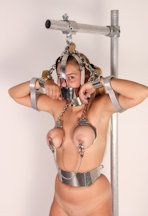 New girl Anita was a little unsure of all the gear in the studio. Before she knew it, she was locked in an extremely heavy waist belt and her nipples were clamped. Wide eyed, Anita was getting worried there would be more to come. And she was right: the heavy stocks were also locked onto her neck and wrists. Now she couldn't take off those clamps anymore! To make things worse, the clamps were locked to her waist belt, so every time she stretched and moved, Anita was pulling on her own nipples.
I thought it might have been a bit much for the first shoot, but Anita has already been emailing me, asking if she can come back!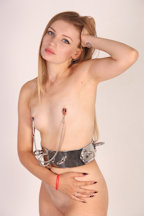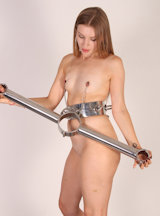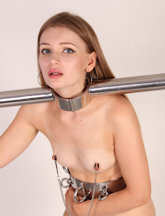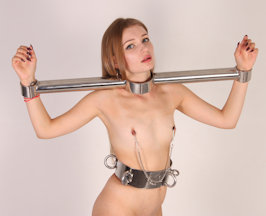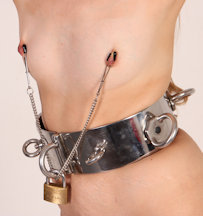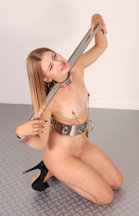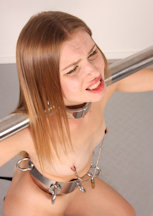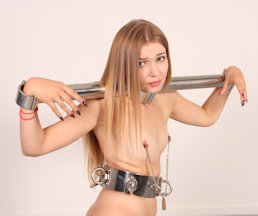 Of course I had to put Alba in the steel hogtie! She loves hogties, and especially struggling in rope, but my steel hogtie is much more immobilizing. Alba is restrained by her wrists, elbows, ankles, and head to a steel pipe, leaving her almost no room to move. She tried, but all she could do was drool a lot, and fight a little by moving her hips. She was really suprised at how rigid and exhausting this position is! The harness gag marks on her face lasted all day!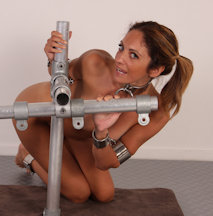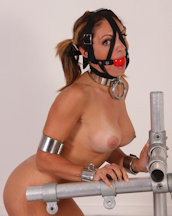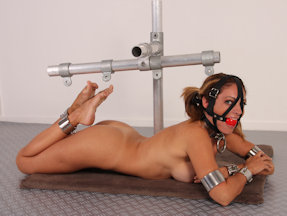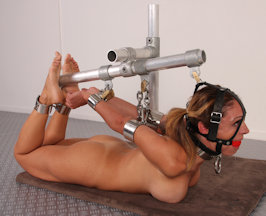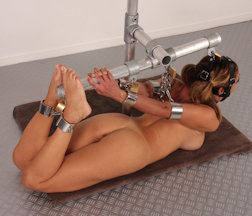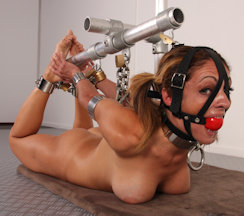 This new girl is gorgeous! She has been modelling for a few months only, and she was very amazed at all the gear in the studio. I padlocked the Iron Crown collar on her neck and she was very confused about the cuffs on the sides. Before showing her how it works, I told her to put on some nipple clamps. It was quite painful for her, but tolerable. Then I secured her hands in the Iron Crown and now Vivian realized she wouldn't be able to take off the clamps. Of course, I just had to ballgag her, Vivian has one of the most perfect gag mouths I've ever seen, I am sure you will agree!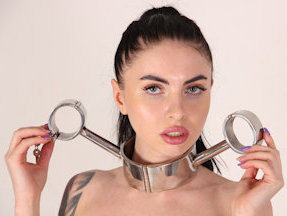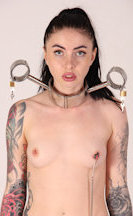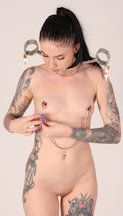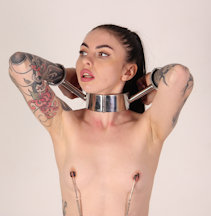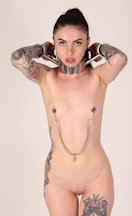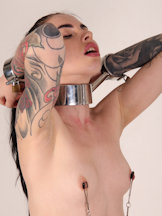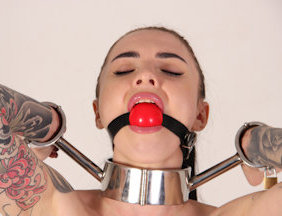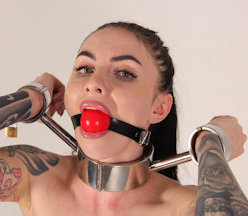 Huge permanent septum ring and boob cuffs… yes it is Thiccy Niccy, the ultimate submissive! She's back again! This time I put her on the One Bar Prison and left her standing there for a while. It is such a weird predicament! Wearing high heels, you can not escape the One Bar Prison. All you can do is stand there, impaled and helpless. Niccy is so much fun, she is one of the resident submissives at HuCows.com, having dedicated her life to being a good slave girl. She is always available for custom videos, but please note: her septum ring can not be removed.