All updates for
September 2015
Wow, it has been a long time since we featured our Posture Trainer! Because it is such a heavy device (almost 10 kilograms), it is very tough to be locked in it! Very tough! So we found our most reluctant model ever and tried it on her to get the best reaction!! Natalia Forrest is perfect for this! She always knows how to express her feelings very well, and she is not feeling very comfortable, to say the least!! This version of the device is even heavier and tighter, since we added the chastity belt module to it! Natalia can barely move! Even so, this is not the heaviest or toughest version of this device. We could always add the solid collar spikes, which would make this device weigh over 11 kilos!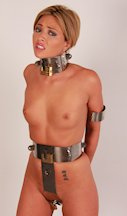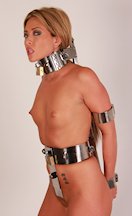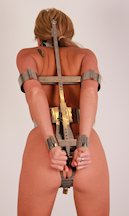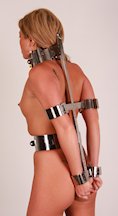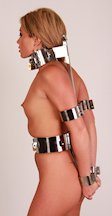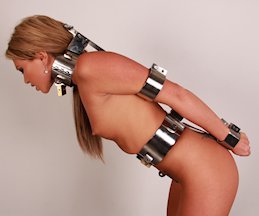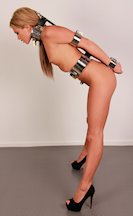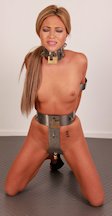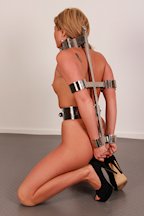 Uh oh, we have pissed off Yvette Costeau again! Her chastity belt is super tight, she is locked in RigidStocks, and we have padlocked her ankles together. And we had to gag her as well, because last time she was swearing and cursing so much!! She is furious!! We better toss her the keys and get out of the way before we get hit by these metal stocks! Yvette will try everything she can to escape, she will even try to break the stocks! She is a very powerful girl, but don't worry: these stocks are sturdy enough to hold her. She is mad! We are afraid to approach her, so she will have to stay like this until she cools down!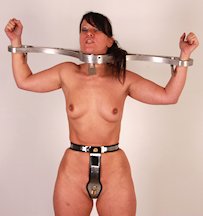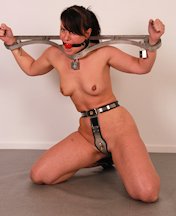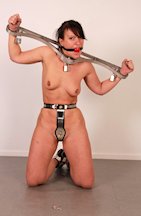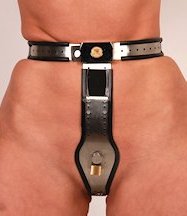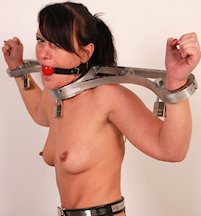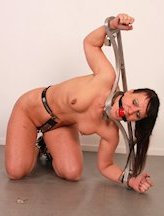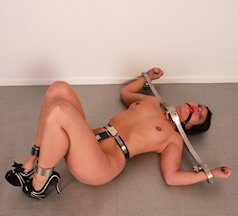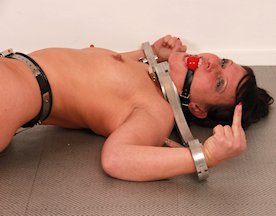 Chloe joins MetalBondage.com! We definitely have the prettiest girls in bondage, just look at this tiny gorgeous girl! Chloe has to be one of the prettiest faces we have ever locked in a chastity belt! And the heavy steel cuffs and collar looks huge on her, that's how small she is! She is not scared by all this weight though, she curiously approached the metal pole that we set up for her. She really did not know what was going to happen. When her ankles and neck got locked to this post, she was still having fun, but the strappado position… that wasn't so easy for poor Chloe. Oh well, let's just enjoy watching her deal with it!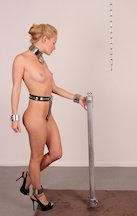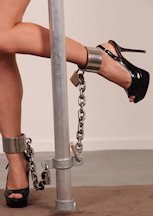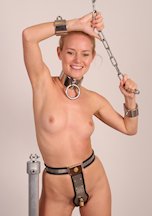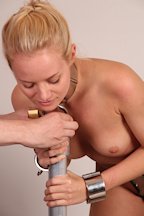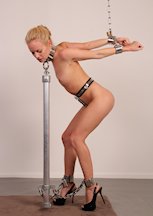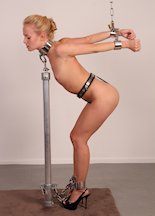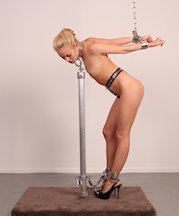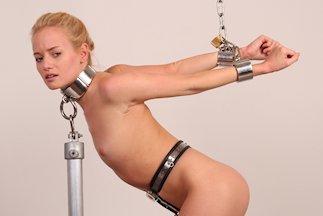 What if we put the Lady Roswell Ivory in some metal, chained to a frame by her ankles and harness gag? She needs her hands to support herself and her wrists are locked together. Still, Roswell is able to do some creative posing, even managing a planking position, which is quite a good workout! We are not sure if she is completely secure, this pose may need some changes! Members, please let us know how you would change this to make it even more interesting!! In the meantime, enjoy a naked Lady!!