All updates for
September 2013
Chastity belts are so great for training! It isn't really bondage, but since we hold the keys, we can still make the girls do anything we want. Tracy and Nicole were in the belts for a few hours already (we did this first), and they REALLY didn't want to go to the toilet in their belts. So we told them they would stay locked in the chastity belts until they tried nipple clamps to our satisfaction. Now remember, these girls had never seen nipple clamps before, let alone tried them, and these Japanese clover clamps have the nastiest pinch of them all! It was just a matter of how badly they wanted out of their belts… Even though they both have very sensitive nipples, they were real troopers! Anything to get out of chastity! Tracy and Nicole did great, and once they were over the initial pain, they really got into it. They were even tugging each other's clamp chains for fun! Ouch!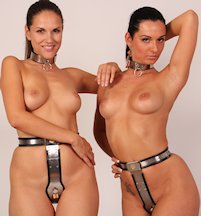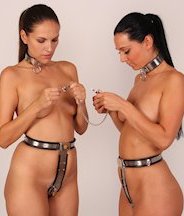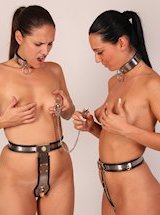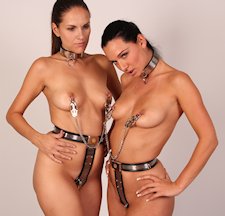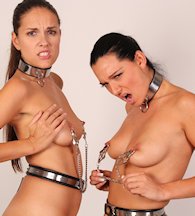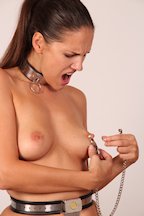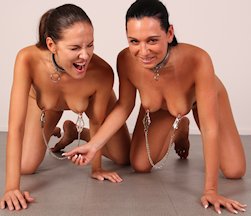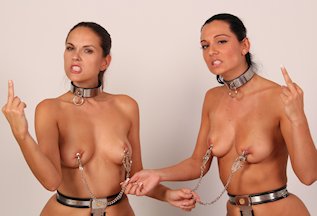 We only tried our custom upper body harness once, so it was about time to test it a little more, with our favorite reluctant test subject Natalia Forrest! The metal brace padlocks onto one of our heavy metal collars, and strangely enough the back of the device is completely open! Unlike last time, we crossed the model's arms behind her back, making it one of the most insanely tight metal bondage devices we have! It is like a reverse metal straitjacket, only a lot less forgiving. Natalia could not move her arms at all, her upper body was completely immobilised. We felt so confident we even tossed her the keys! Natalia, as usual, could not really appreciate this kind of humor and she kept protesting and complaining all through the shoot. Don't you just love her? :)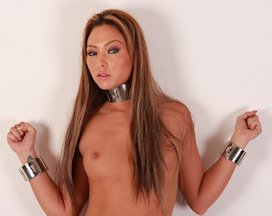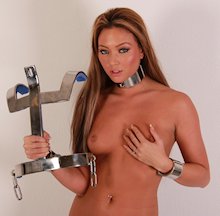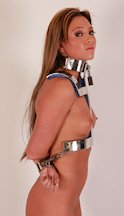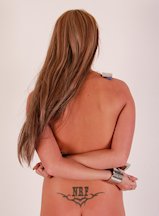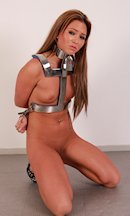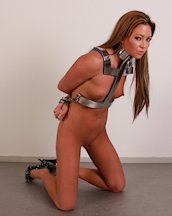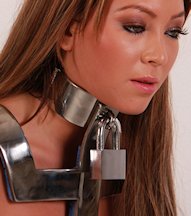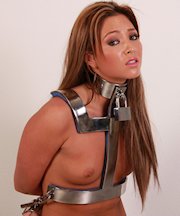 The MetalBondage.com headquarters looked a little boring and empty, so we needed something to decorate our office. A work of art. Like a painting… or a statue! Yes, a statue was the thing that came to mind when Adrienne visited us again. She has this statuesque look about her. Big boobs, proud face, perfect body to lock into loads of heavy metal! We made a nice stand for her, so she would not go anywhere… she wasn't even able to move! Is the chastity belt really necessary when you restrain a girl like this, we hear you ask. Yes, it is (that's the short answer). Enjoy the view of a truly immobilised Adrienne made to stand in heels, nice posture, belted, heavy collar, and legs locked to a spreader! Who wouldn't want this in their office?!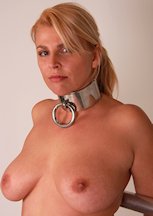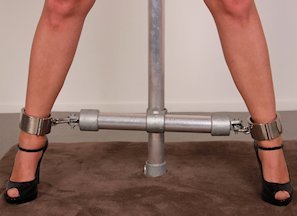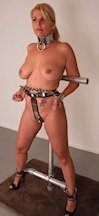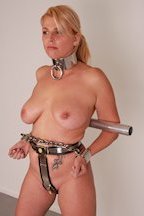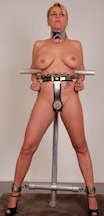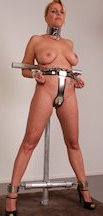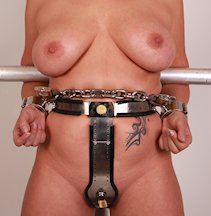 Look what we made with our Connect-A-Model System™! We found out we had enough pieces and cuffs to make a rigid collar connector (hanging from the ceiling) and two pairs of rigid handcuffs! We were so excited! We guess that our super cute young bondage girlfriends Nelly and Little Caprice weren't as excited. But we had to separate them somehow, because they were trying to get their chastity belts off, and we don't allow that. After a good while of precarious balancing on their toes, we decided to let them try to escape! One pair of cuffs requires a special tool that we placed on the floor. Will they work out how to free each other without getting choked? Don't miss this intense challenge! It's one of our best… and it's Little Caprice and Nelly!