All updates for
March 2016
It can be so simple: two big boobed Emmas, two chastity belts, and two RigidFiddles! Spectacular! Emma Green (you know, UK page 3 girl) asked if she could bring a friend, and this friend turned out to be the awesome Emma C! Both girls are adequately boobed, which makes it a little bit of a shame to lock them in fiddles, because these devices hide their boobs somewhat. Still, two belted Emmas in fiddles is not something you can see every day! Enjoy!!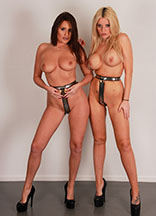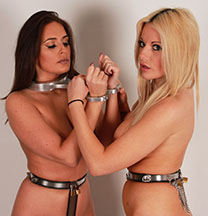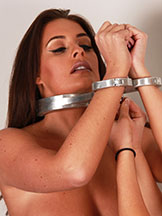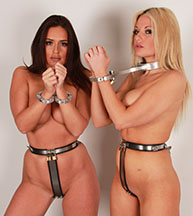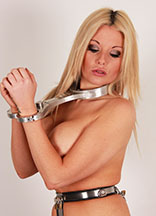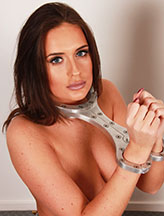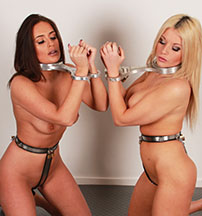 Please welcome the curious Melinda to MetalBondage.com! She is a super tough girl, up for a challenge! Ah, so let's test her elbow and shoulder flexibility: her elbows don't touch yet, because she is quite muscular, but we will get there. This position will be very hard for Melinda. Naked, in a collar and waist belt, her arms will be pulled back and her wrist will be spread apart. This makes sure the elbow cuffs won't go anywhere, and it makes the position even harder on the arms. A few light nipple clamps to distract her a little, and we can sit back to watch a beautiful struggle!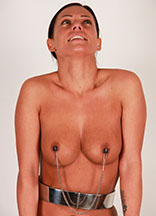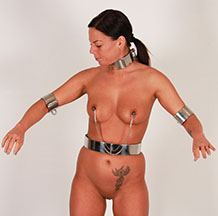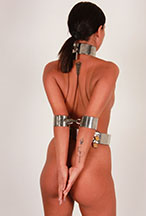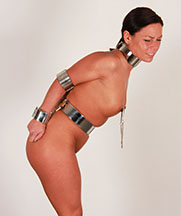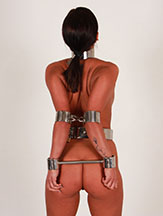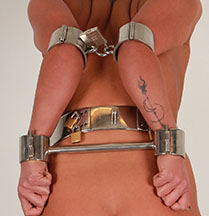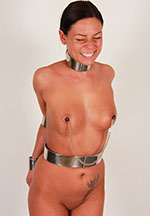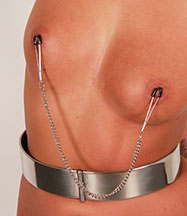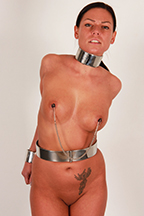 Even we have known Tiffany for years, we did not know she is actually very flexible! But when she told us, she wished she hadn't, because that gave us all kinds of new ideas! We decided to test Tiffany's flexibility by locking her to a low spreader bar in a brutal leg split! Usually that would not have been super difficult for Tiffany, but she was in a VERY tight chastity belt too! She was all spread out, and with her hands locked behind her back, there was no chance to escape this predicament! Beautiful!