We are on a constant quest to put the most beautiful girls in the most insane metal contraptions we can think of! And we are not even close to running out of ideas, which is bad news for our models… Today we are very proud to introduce a bondage device you definitely never have seen before: the heavy Ballet Stocks! It is a curved version of our custom metal stocks that have already plagued many models. This version is even more extreme, forcing the wearer in a classic ballet pose, completely defenseless. Satin Bloom, with her super body, is the perfect victim to try this device. You will be amazed at the moves she will show you!
By the way, we are not very sure about the name for this device. We considered 'the curved stocks' and even 'ape hangers', but if you can think of a better name, please leave a comment here!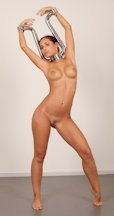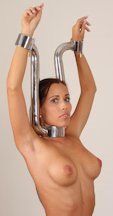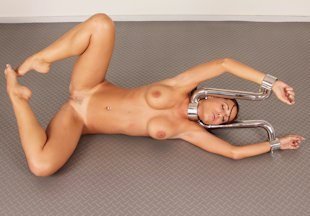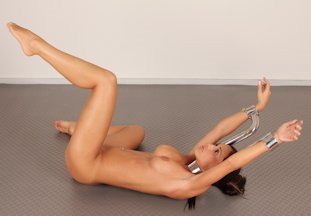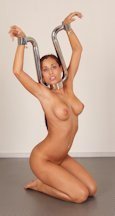 Natalia Forrest is facing a huge dilemma. We have her completely naked, locked in very heavy restraints. Her wrists are chained to the back of the extreme 'boxing' belt, and her pretty neck is locked in a big tight metal collar. She just wants to get out of these things. The spoilt British girl is used to having everything her way, and now she is even begging to be released. So we make her a deal: she will be released after she nipple clamps herself, one of her worst fears in the world. Natalia has super sensitive nipples, and the clamps we give her are the worst kind: Japanese clover clamps. Watch Natalia go through her ordeal, leaving her nipples marked after a very painful clamp removal. It may be the last time Natalia has modeled for us…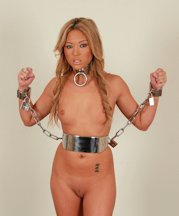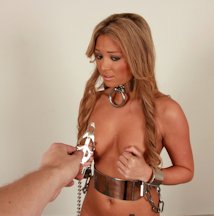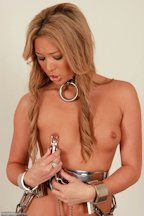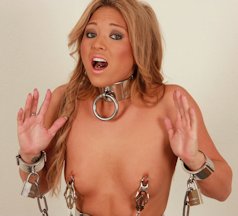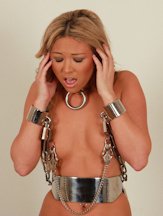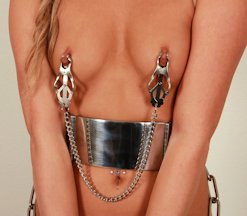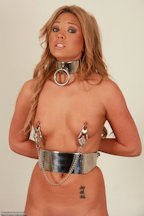 Last time we invited Davon Kim and her girlfriend Ting, they could not keep their hands (and mouths) from each other. So we locked them in chastity belts as soon as they came through the door. It didn't help. These Asian girlfriends are just so horny they try everything to get some satisfaction, even exploring the chastity belt's anal openings. So we had to take more extreme measures, locking Ting in a RigidStock and Davon Kim in a RigidFiddle. Still there was no stopping them, they just used their tongues and mouths to lick and suck each others boobs. Two shiny tight red ballgags put a stop to that, but did we stop love? Nope, these two just continued their sexual games, even trying to hump each other to get off on the belt's friction, while drooling a lot!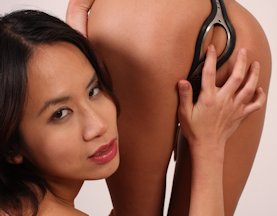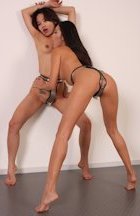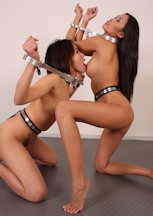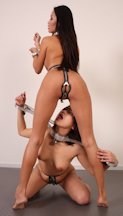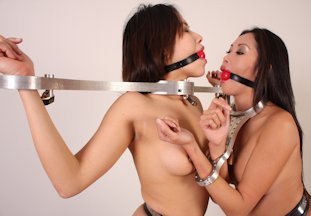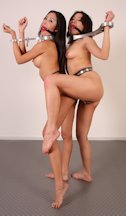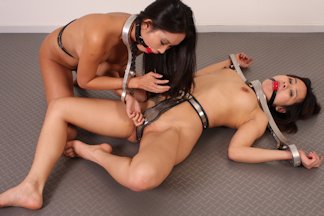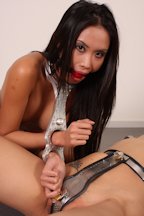 And now… cute little AnnaBelle Lee will show you how it's done! Haha, this tiny girl really loves the feel of heavy metal, as we found out a few months ago. This time she is enjoying herself with a piece of equipment that is super heavy, especially for AnnaBelle. She squeals for joy as she is showing us how to lock on this huge diaper shaped piece of steel onto her waist and crotch. Pulling the chains tight, she locks all padlocks into place and then goes on to pose for us in a playful manner. She tries touching herself, but there is simply no way!