All updates for
July 2015
Wow, Satin Bloom is pretty agressive! She is also very hot, gorgeous face and super fit body… time to lock her into one of our custom devices: the Iron Crown! Satin hated it of course, but there was not much she could do with her hands locked to the sides of her collar! We tried to improve her mood by giving her the keys, but it without any help it took her a long time to figure out how this device worked… which made her even more angry!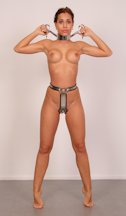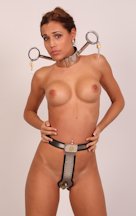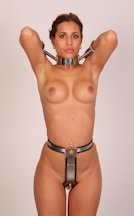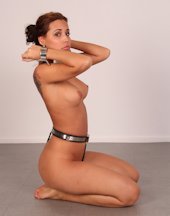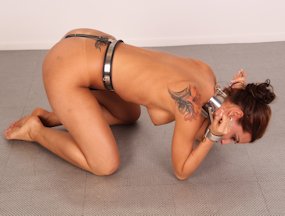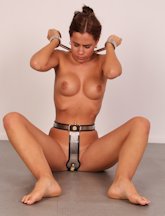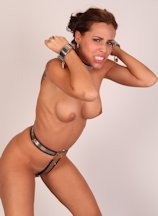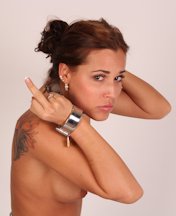 A new installment in our FEATURE series! The lovely Ariel Anderssen is an accomplished ballet dancer (as well as a very kinky bondage model), and she has done many ballet shoots. We asked her to come over in her ballet outfit and perform a little dance for us. "I don't think I can do any full splits today", Ariel said before we started. Well, don't worry about that… we will help you a little! Ariel woke up in heavy chains, collared, and waist belted, with her arms high above her head. Her long legs are pulled all the way into a very extreme full split and chained to the wall. Good exercise Ariel, just stay there for a while, that will stretch those muscles!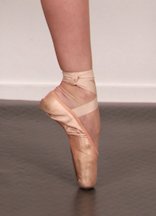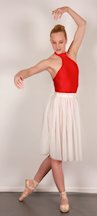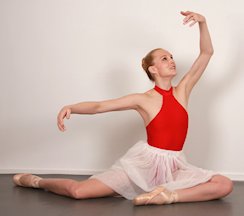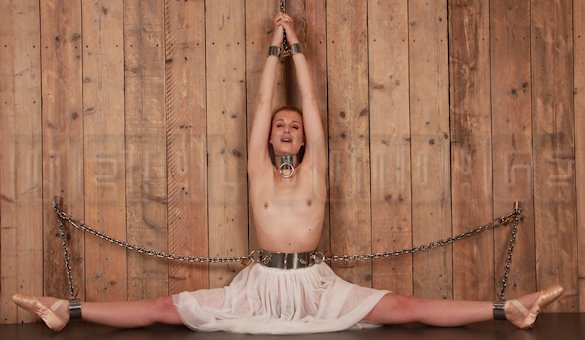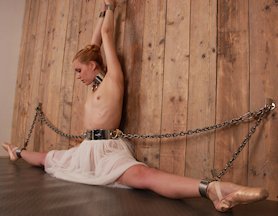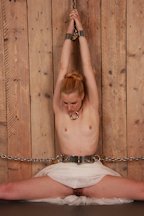 Elise Graves is back for another challenge!! She hates clover clamps, so that is a great starting point for today! We have The perfect device to prevent her from removing these harsh clamps. The Ballet Stocks are a variation on our heavy stocks that lock the wrists high above a girl's head. It is seriously heavy, but Elise still manages to struggle, get upside down, lie down, and she even gets back up again. But there is simply no way she can reach the nipple clamps, the swinging chain hurting with every move! Awesome struggle by one of the net's toughest bondage girls!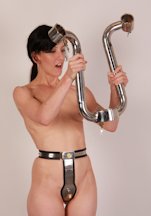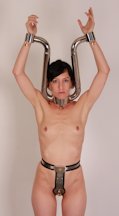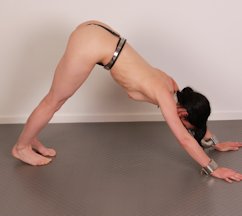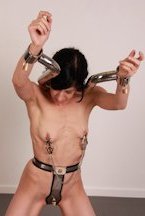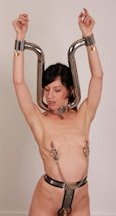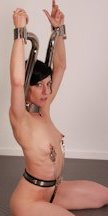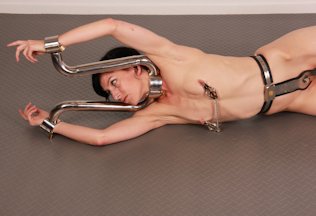 Big boob, big mouth UK hottie Chessie Kay brought her friend to the shoot! And if possible, Jasmine James has got even bigger boobs!! These two are so horny, they can't stop kissing and touching, even though they have been locked in tight chastity belts (for their own protection of course). Time to separate them! We locked their heavy collars to a dual slave girl kneeling post, just far enough apart to stop them from kissing eachother. Unfortunately, they soon found out that they could still rub their boobs together (and squeeze them)…. sigh… Big boobed slave girls these days…