In this picture and video set, Aubrey is in a prison cell, locked in millions of kilos of steel. She does not enjoy this at all. It is very painful and unnecessary. There is so much steel, she can't even move. She is afraid to lie down. Aubrey is locked in a full chastity outfit, including belt, bra, and thigh bands. She is also locked in super heavy SteelBound restraints: a collar, wrist cuffs, ankle cuffs, and elbow cuffs. Two pairs of cuffs are added to each of those heavy steel cuffs: on her ankles, elbows, and even 4 pairs on her wrists. A pair of thumbcuffs makes her set complete. The guard comes and locks a chain to her collar and pulls her out of her cell. She is moved to a wall, where she is restrained even further: Aubrey is chained to the wall by her elbows and ankles, and an X-chain to finish off the position. Poor Aubrey!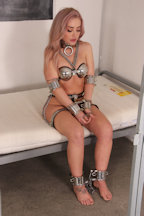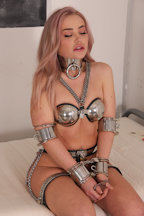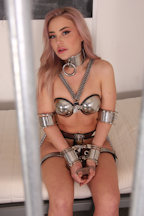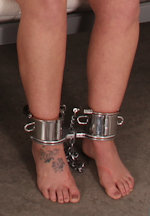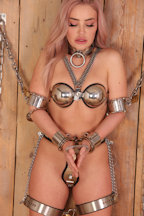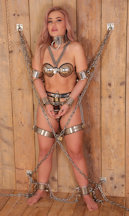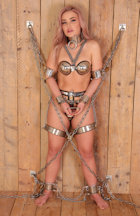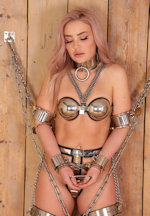 Cute 18-year old Olivia is back for another challenge! Remember her update with the One Bar Prison? She is just so awesome! Today, Olivia is locked in heavy steel: collar, waist belt and wrist cuffs. She nipple clamps herself, and it is painful and exciting at the same time. Soon, Olivia finds her clamps locked to a 2 kilogram weight resting on the floor. Her wrists are locked to the back of her waist belt. Can she escape? She can't move too much or it will hurt! Don't miss this cute update!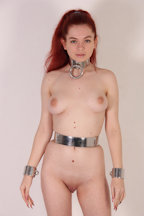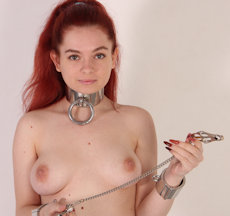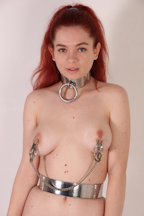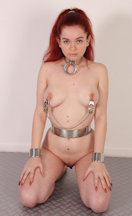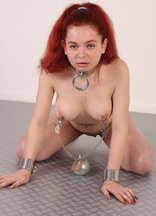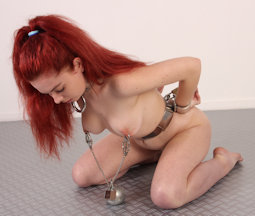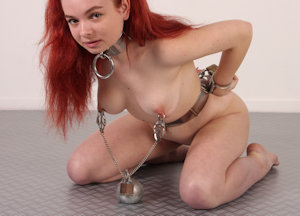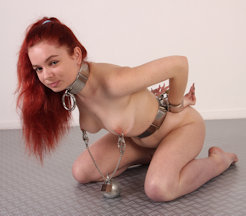 Inspired by a member request, I really wanted to do this hard endurance challenge where a girl has to stand on her toes. Of course, the very tough Naomi Denise was a perfect candidate, being very fit, submissive, and she never ever says no to a challenge! A RigidFiddle pulled up to the ceiling is already enough to keep her on her toes. She can't go down any further. But to make it a little more interesting, I added Irish8 ankles cuffs, a muzzle gag, and of course nipple clamps (she hates clovers!). It requires a lot of strength and focus to keep standing like this. What a girl! If you have a challenge for Naomi, please let me know!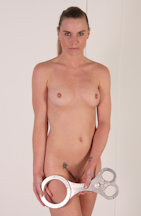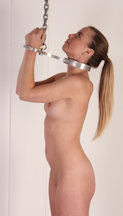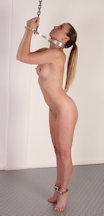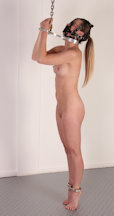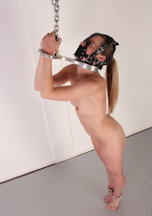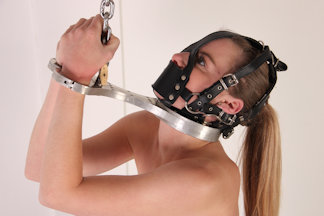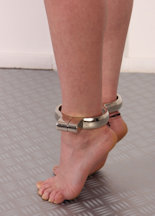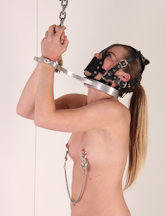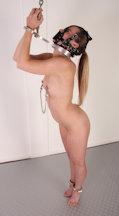 Beautiful Sasha is back! Remember her first shoot in a chastity belt? She is so pretty! This time, she is going to attempt the One Bar Prison. Yes, this stunning blonde is getting a massive steel dildo shoved into her! Wearing high heels, the One Bar Prison is inescapable! Poor Sasha, she will have to stand there until someone comes to the rescue. It is a very frustrating device!