All updates for
April 2017
Always a good training trick: get your girls to lock their collars to a training bar. Then tell them to nipple clamp themselves. They probably don't want to, but just tell them they have to if they ever want to get released from the training bar. Eventually they will see they have no choice. The main problem here is that both Britney and Roxy have super sensitive nipples and I gave them the tightest Japanese clover clamps. This is going to hurt a little girls! You can do it!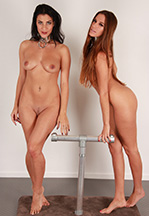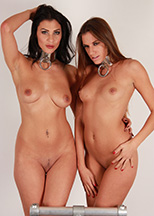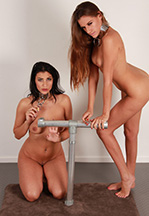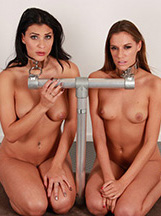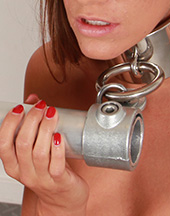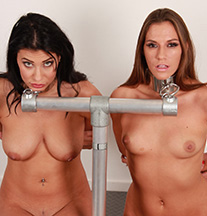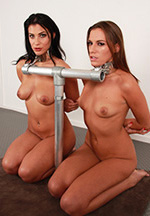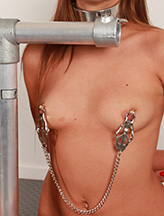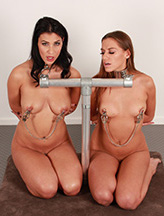 Why are young tiny girls always so curious? It's basically their own fault they get captured all the time. A huge heavy collar attached to a leash and a pair of heavy wrist cuffs with a spreader bar have grabbed 20-year old Keira's attention. She touches them, wondering what it would be like to wear these items that are clearly far too heavy for her. The next thing she knows, Keira wakes up, completely naked, chained to the post. Well, what else did she expect! These are some seriously heavy items though, they will soon get too much for our young explorer.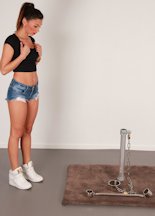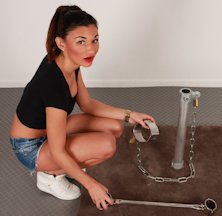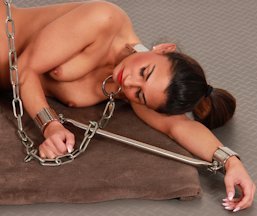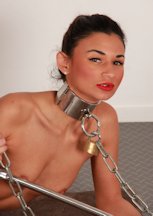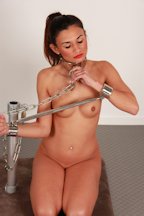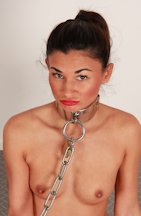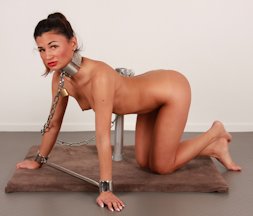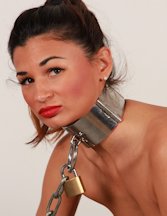 After a lot of testing and building, we can finally reveal our latest device: The Spider!! It is a very evil metal device, designed to make our models completely helpless. Stella Cox will demonstrate just how helpless the Spider can make her. First a waist band is locked on, with a rigid pole extending back. Stella then lies on her stomach, and the rest of the Spider device is attached. Her ankles and wrists are locked in the device above and behind her, so she is in a nice arched position. This is inescapable, and the beautiful thing is: we can arch her even more by pulling the Spider up and repositioning the pin on the vertical post. How much can we bend Stella? Just watch the video and see for yourself!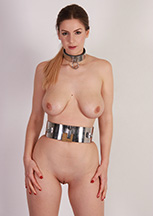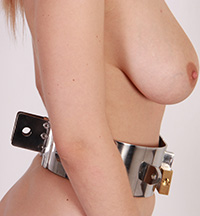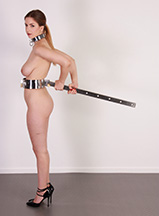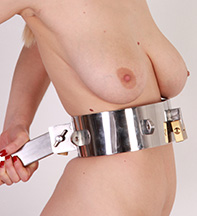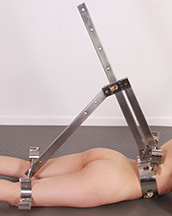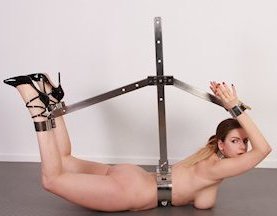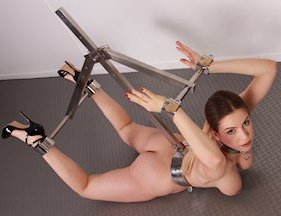 The lovely lady Ariel Anderssen is back! She is a lot more kinky than she sounds, that's a fact! So when we asked her to try our new Lips and Tongue Press, she was very curious about it. Locked in a chastity belt and heavy collar, Ariel was ready to try this evil little device. We clamped her tongue and lips in the press and turned the screws until she couldn't get her tongue out and her lips were trapped. Lots of drooling followed, and Ariel started to make interesting sounds. This thing is quite heavy to wear on your face! We secured her elbows and wrists very tight behind her back so she was completely helpless, lips and tongue trapped in a steel vice! Great stuff, don't miss it!