All updates for
August 2015
Gorgeous blonde Jenni C is enjoying a good workout on the treadmill in her sporty outfit. She is exercising for quite some time, when all of a sudden she finds herself chained to the treadmill by a huge heavy waist belt! She is locked in a heavy collar and her shirt is gone!! 'What the hell!', Jenni exclaims, as her captor approaches to restart the treadmill. 'Really?' But Jenni doesn't have a choice, after her hands have been padlocked behind her back, she can never reach the controls, so she will have to keep up the pace as her captor plays with the treadmill's speed. This is not what Jenni had in mind! But at least it will be a good workout with all the extra added kilos of metal!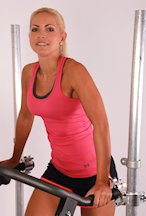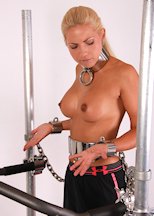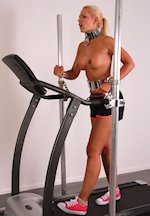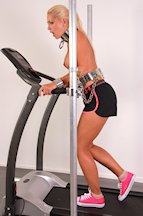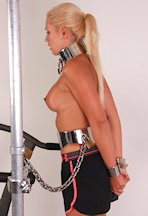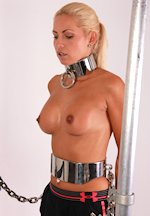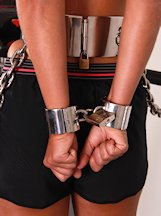 Chessie Kay and Jasmine James are back!! After trying to stop them from kissing last time, we just had to find something more challenging for these girls! We needed to lock them in metal devices, but leave their boobs exposed and vulnerable! There's only one solution: RigidStocks!! Jasmine got to lock Chessie in first, and she was loving it, until she found out that she would be locked in the triple weight RigidStock TL XXL!! It is literally three times as thick as Chessie's regular RigidStock. Boobs and RigidStocks, it's just awesome! Don't miss this!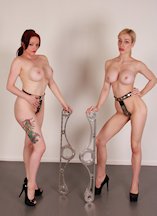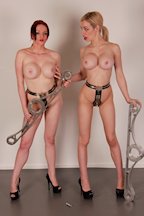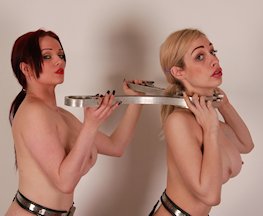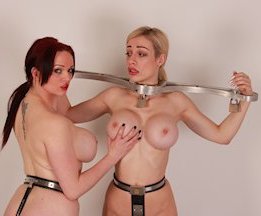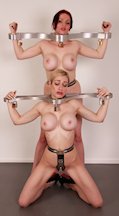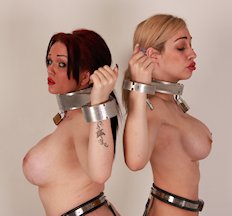 Tiny big boobed Cory Spice is back! New black hairstyle, but same submissive little bombshell! Of course she is locked in a chastity belt… and a very heavy tight steel collar. But the biggest challenges is on the floor next to her: the incredibly heavy steel hobble dress! We just know that this device is the perfect size for Cory! She can barely lift it, but with some help she manages to get locked into the dress. It's perfect! She can not even bend or kneel! And with the chastity belt AND this dress, Cobie is ultra secure!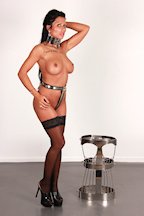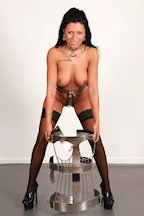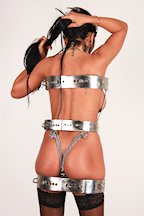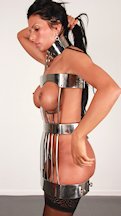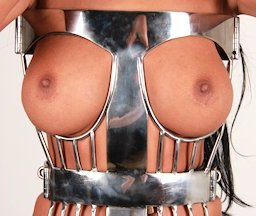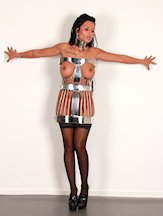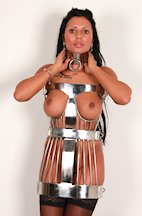 It's always good to introduce new young girls to metal bondage! Cute blonde Leah wanted to try a little shoot, so we invited her over to be locked in a chastity belt. Naked but protected, Leah curiously examined the RigidFiddle we handed her. Time for the RigidFiddle Challenge! We locked her in and handed her the key to the padlock that was dangling underneath the fiddle. Would she be able to escape? Probably not, but we would have fun watching her!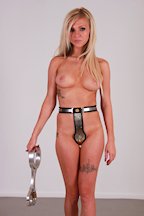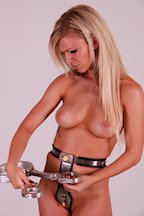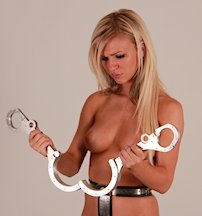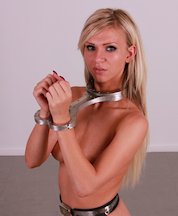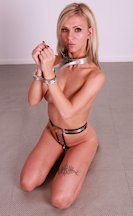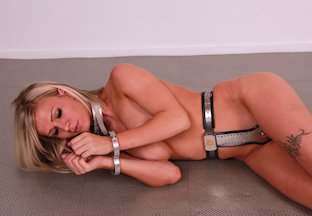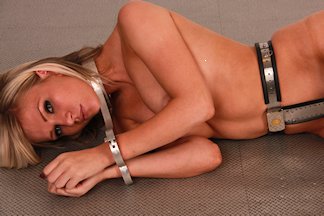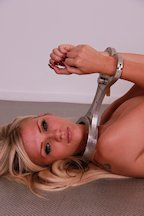 While I had the incredible Cobie from Australia locked in a NeoSteel chastity belt for 13 days, I figured: why not shoot her for MetalBondage too? I mean, she was already locked in metal and she was staying at my place anyway! Cobie is exceptional: she is famous for her ability to withstand extreme elbow bondage, so (at her own request) I took things a step further than ever: this is the most extreme metal elbow bondage ever done on this site! Instead of a padlock, her elbow cuffs were bolted together, which made them rigid with a minimal distance between them. Cobie's wrists and ankles were locked to her belt, she was really suffering, it was so tight! Yes… she loved it!