All updates for
June 2014
Nelly is back to face a new challenge! She has been away for a while, so let's refresh her memory by locking her into a chastity belt and 5 heavy metal restraints on her neck, upper arms, and wrists! Nelly is a tiny girl, but she is really flexible, so we came up with a position we would like to call a 'scale strappado', where the strappado point is not on the wrists, but between the wrists and elbows. This creates an interesting dilemma: Nelly can stand up straight (well, kind of…), putting more strain on her elbows, or bend over and go into a full strappado, keeping her arms level to reduce the tension. Watch her find her balance in this week's video clip!!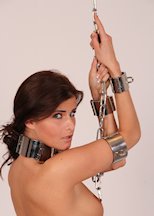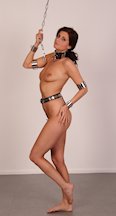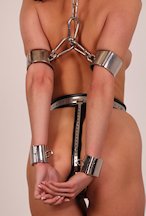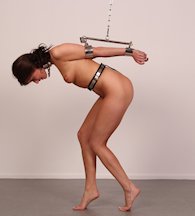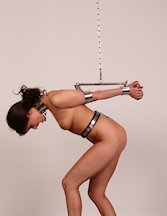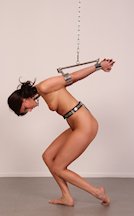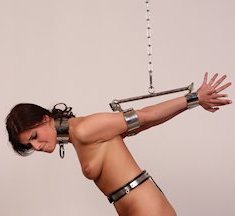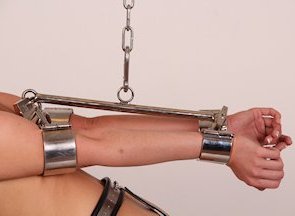 Basically, Cindy Dollar only had one question about this shoot: 'If I am going to be locked in this interesting looking heavy neck thing, why do I have to wear an ultra tight steel waist band?'. It was only much later in the shoot that she would understand, when we locked her ankles to her waist with chains that were just too short to stand up. It seems a little bit harsh to introduce a new model by locking her into one of the most rigid devices we have: the Posture Fiddle. The collar is extreme, and there is no movement in the arms at all (which you can only imagine after seeing the video). Don't worry, Cindy was alright, she is pretty though! And she even wants to come back for more, even though she knows she will definitely be locked in a chastity belt next time!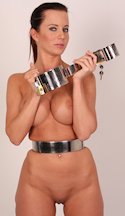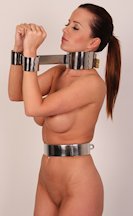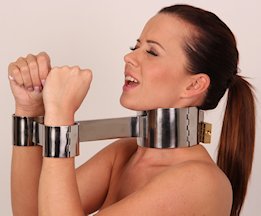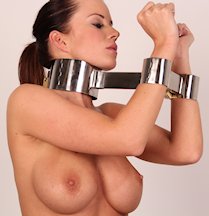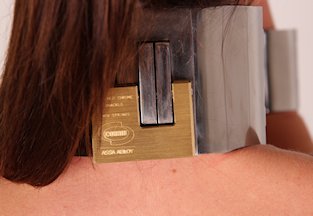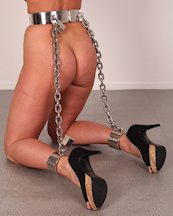 Poor Tegan! Our sweet blonde bondage angel returns, and she patiently awaits her fate in her tight chastity belt. A big challenge awaits her today, but first we lock a spreader bar to the back of her collar to keep her hands out of the way. We know how super sensitive her nipples are, yet still we are going to use the worst kind of clamps on her: the Japanese clover clamps! These sting so bad! Tegan is totally shocked, screaming and begging. She wants the clamps off as soon as possible, but we leave her like this for a while, totally helpless to stop the pain. In the end, just when Tegan can not take it anymore, we take off the clamps. Unfortunately, Tegan had not realised that this would hurt even more!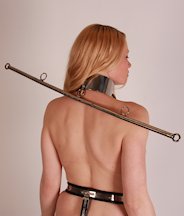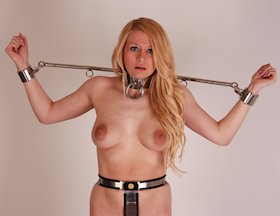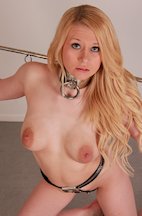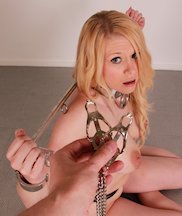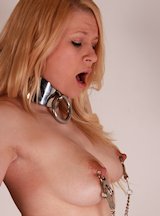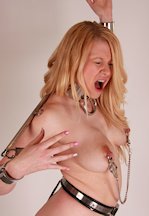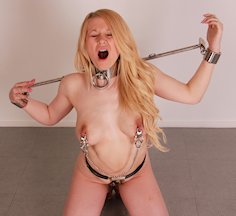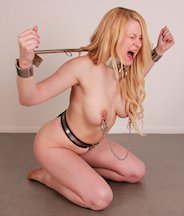 We received a very sweet email from Shay, saying she has a secret desire to be in heavy chains forever. All day, every day, serving a Master who shares her love for heavy metal. This website was the only one she could find that came close to her fantasy, and she was prepared to travel a long way to visit us! Imagine coming from very far to get chained by strangers! Shay was incredibly nervous, but she calmed down a bit when she was in her 'safe' super heavy collar and cuffs for about an hour. She was so excited her nipples even started lactating all of a sudden! This girl was born to be in chains, and she will stay with us for a few more days! Chained of course!
Shay is available for custom shoots, just email us if you are interested!