All updates for
July 2018
Gorgeous Liane continues her slave training. Remember her (first time ever!) bondage shoot with heavy clamps? That was so impressive. We think she has one of the most awesome figures in the world. Very tiny (smallest waist we ever belted) but great curves. She is special! Liane loves a nice challenge, so we locked her in the heavy Posture Fiddle. It has two locks, none of which can be reached, but we gave her the keys anyway, just to see her try. It's just beautiful to watch her, locked in metal, a bit shy but determined!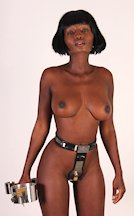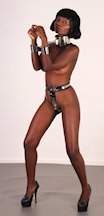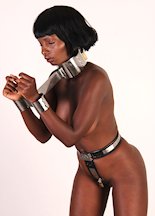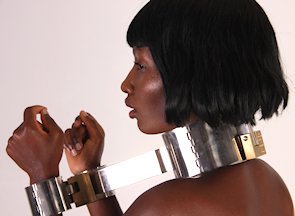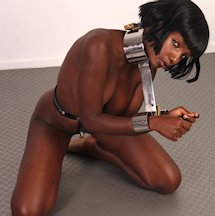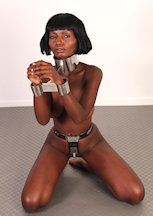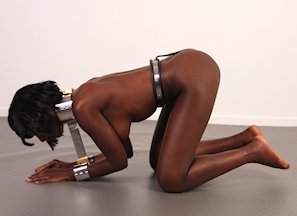 Tiny power woman Lana was once a mighty CEO. Now she is just another naked slave, locked in metal devices for our viewing pleasure. Her perfect round boobs are on full display when she is locked in the Rigid Box Tie device. This is a very rigid predicament, as she soon finds out. Even with all of the keys to the device on the floor, it would be hard for a girl to pick them up, let alone use them. But Lana gives it her best try! She struggles and struggles until she finds a way to pick up a key. Of course, she is still completely helpless after this small victory, because she can't reach any padlocks.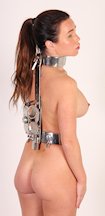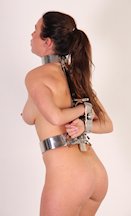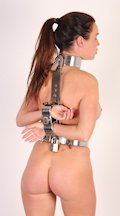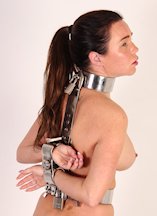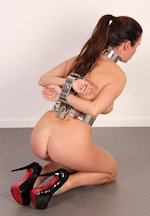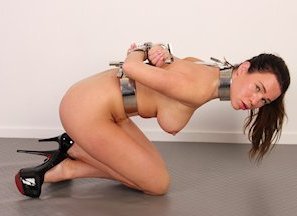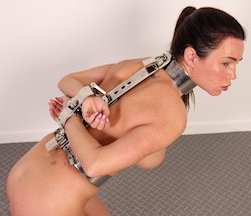 We have the gorgeous German bondage model Muriel again! And we took her into a newly built dungeon to do some raw photography and video. Muriel loves bondage so much, she couldn't wait to see what we had in store for her. She was a bit disappointed when we told her she just 'had to stand there'. Little did she know that standing can be a very harsh predicament. We added chains to her collar and cuffs, then chained her neck to the ceiling. Her feet were chained to a huge rock and her wrists were pulled up behind her back. Standing like this, with no option to rest or sit down, will become a very intense punishment very quickly! Muriel discovered that during this afternoon of fun!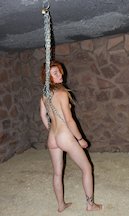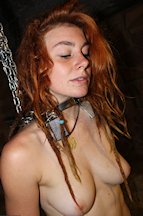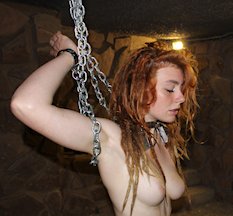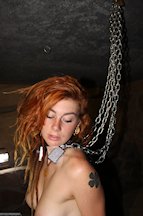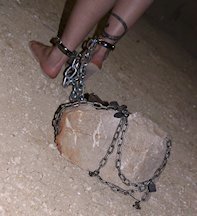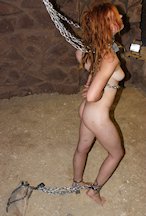 A new girl! Redhead model Abigail was posing in her glamour dress and high heels when we told her to remove the dress for some lingerie shots. Surprisingly, Abigail wasn't wearing any bra and panties, just stockings and a garter belt. She was very hesitant about revealing herself like this, and tried to cover herself up with her hands. We told her to fold her arms behind her back but she kept trying to hide her perfect perky boobs. There was only one solution we could think of: the very heavy steel stocks! Now Abigail couldn't hide anymore, unless she figured out how to escape from the stocks! Enjoy this perfect view of her boobs, there's nothing she can do to stop you!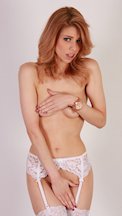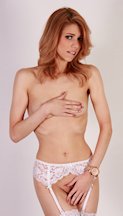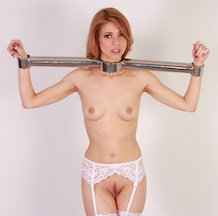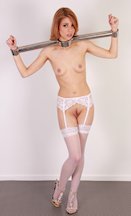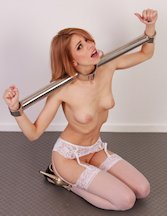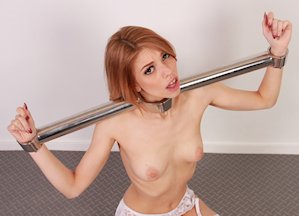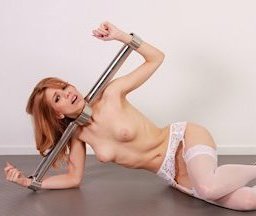 Giant boobs and a One Bar Prison. Katerina is back and she will be impaled today! At first, she was very playful and she thought it was funny. But once she was stuck on the One Bar Prison, she found out she couldn't escape because she was wearing high heels. She couldn't take off the heels either, that would be very unwise and painful. She had to admit she was completely stuck. We wanted to keep her impaled for a while, so we kindly pointed out that the dildo was actually a vibrator. We gave her the remote to play with, so she wouldn't get bored standing there. It's a beautiful sight, Katerina knew we were not going to let her go for a while… dont miss this!