Well, Liz Rainbow does not like nipple clamps! She hates them! Which makes her a perfect candidate for our 2kg weight challenge. Can she move away with 2 kilograms of steel attached to her nipples? Probably not! But what if she just took off the nipple clamps? Well, we have a perfect device to prevent that: the Ballet Stocks (or Ape Hangers, or Overhead Stocks, we're still not sure about the name). Liz can't take off the clamps, and she can't run away. It's perfect metal bondage!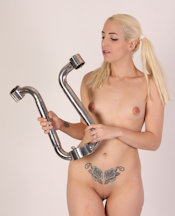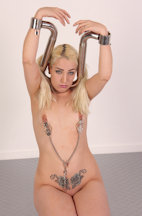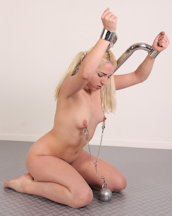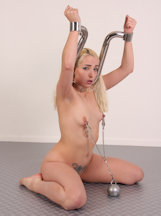 Over 10 years ago, when we first started this website, we did some casting shoots with models who were not completely sure about getting locked in metal. Some were hesitant about bondage, some were not sure about nudity, but they all came to the studio (mostly in pairs) to try various things. One day, we had these two girls over and we locked them in RigidCuffs! One in a RigidStock TL, and the other one in a RigidFiddle. We did a nice photo shoot with great pictures and then we filmed them trying to figure out how to cooperate and escape! Great fun! A shame they never returned for another shoot!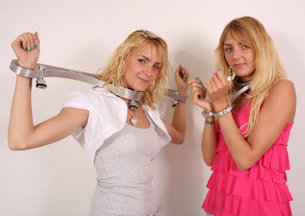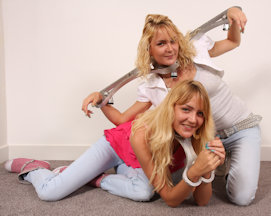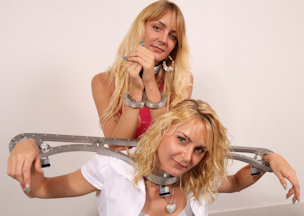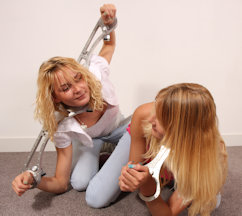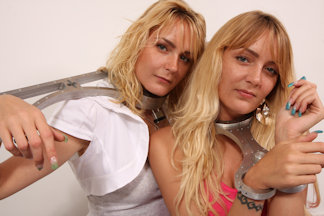 Remember when Nicole Vice and Cindy Dollar tried the One Bar Prison together? Well, Nicole Vice is back, and she brought a new One Bar Prison friend for support! Young Daphne is very inexperienced but curious, and she would never have tried this if Nicole wouldn't be with her. Locked in big collars, and wearing nothing but high heels, the duo is impaled on two One Bar Prisons. The challenge is to stand around until we come back to lower the dildos. But they don't know how long we will leave them there, with a cold metal dildo inside them and no way to escape! At least they have each other!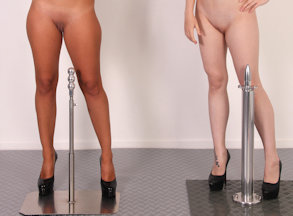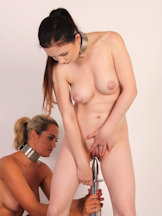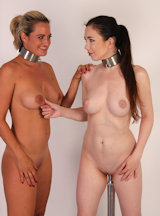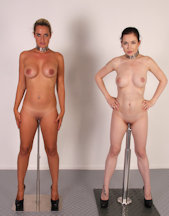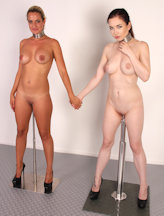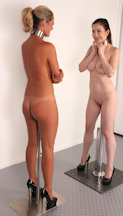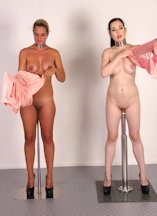 Sophia Smith is doing a Chastity Deal over at ChastityBabes.com. She is doing a lot of tasks and challenges there while locked in full chastity (belt, bra, and thigh bands). She was also locked in a collar, but we took it off for this shoot (which was also part of her Chastity Deal), because we had something more exciting for her! Our custom built Posture Fiddle is a very tough predicament device. It is small, with a very tall collar and oval wrist cuffs. Once locked on, you are really stuck in one position. With a big padlock on the back of the collar and another one beneath the fiddle, there was no chance for Sophia to escape this device. She tried though!! Such a fierce lady, she should be permanently locked in metal!!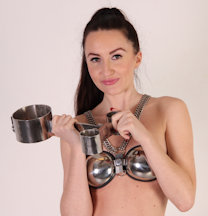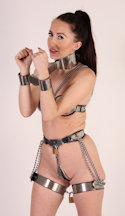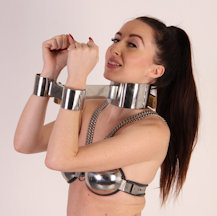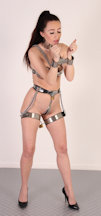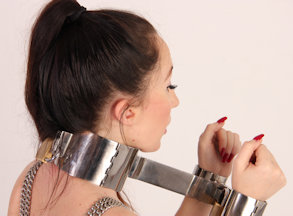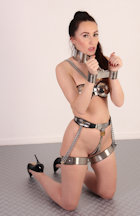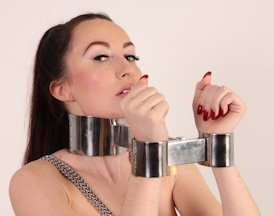 Our pretty redhead Yvette will take on the Heavy Stocks escape challenge! It's impossible, but we never tell the models that. Grabbing the tiny keys off the floor is the first problem, our custom made stocks are so heavy, it is hard to balance. The chastity belt makes it harder to bend over. Yvette is a tough one, she manages to grab the keys to the small padlocks and then stops to think what to do. All three padlocks are on the back of the stocks and it is so tight she can't turn her wrists. Impossible mission, but fun to watch!