All updates for
August 2012
Ladies and gentlemen: we got her! The incredible Brittany is a girl we have been wanting to put in metal for ages. But she was always a little afraid to do it. She only likes soft bondage, and she does not want to end up in a chastity belt, like all girls here on MB, because that would drive her insane. This sporty blonde should not complain about the level of this first shoot, we only use a RigidFiddle and heavy ankle cuffs. We give her some keys to escape (only 1 of them works) and watch her struggle. Let's send her over to ChastityBabes.com next, to get her belted… what do you think?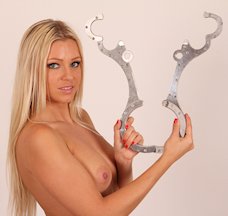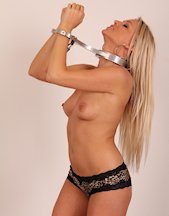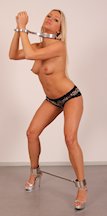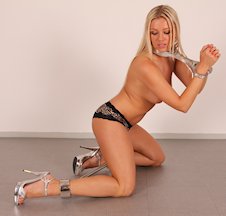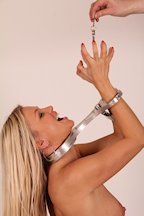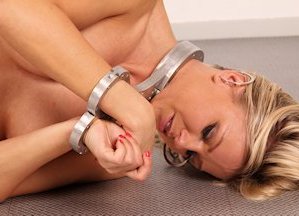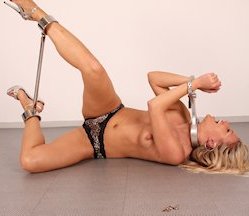 The moment you have been waiting for: the super hot (but inexperienced) duo Claudia and Nelly locked in chastity belts! They did not want to do it at first, but after a little persuasion we managed to lock them in the belts and collar them in stylish slave collars. To add a little challenge, we chained their collars together in such a way that they will have to cooperate. If one of them wants to stretch and get up straight, the other girl has to bend all the way down to the floor. Let's hope they will get along for the next few hours!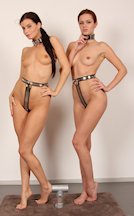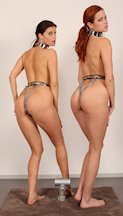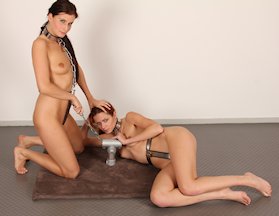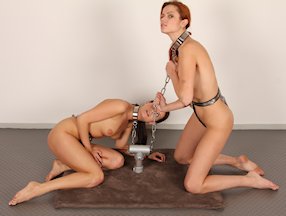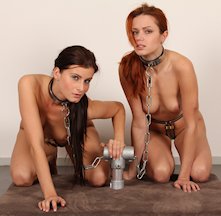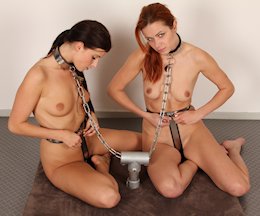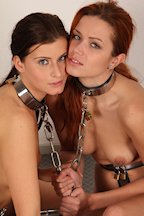 These short stocks are a new addition to our collection. They are very heavy and they consist of ankle cuffs and wrist cuffs welded together at the shortest possible distance. We knew we would need our most flexible girl to try these stocks, so we invited the amazing Lily over to lock her into some impossible positions. Unfortunately, one of the positions we had in mind really is impossible with these stocks. In our similar RigidSpreader Jo-2, a hogtie position is possible, but only very few models can do it (piece of cake for Lily). But with these short stocks, the angle of the ankle cuffs is just not suitable for the ultimate position. Oh well, we tried. Actually Lily tried, and she was very disappointed, but rest assured: we have more crazy challenges in mind for her flexible body!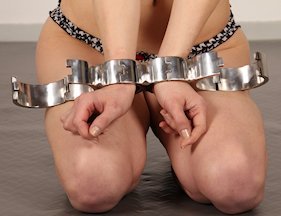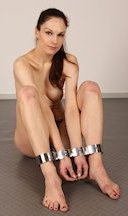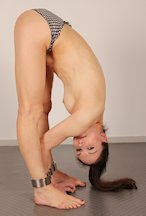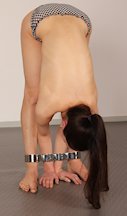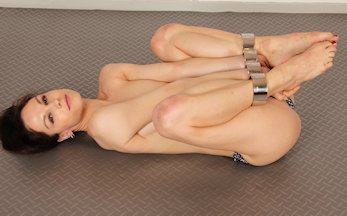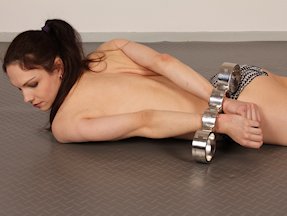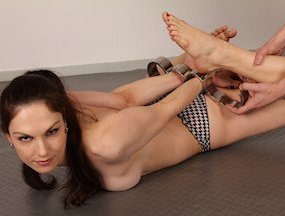 Today we are introducing the lovely Tyra! She certainly has got the looks! A tiny waist and big boobs, a body you want to lock in a chastity belt (to give her that corseted feeling) and a RigidStock (to allow everyone a good view, because she keeps covering herself with her hands). But it is only her first time at MetalBondage.com… surely we are not going to do that to her? Well, we couldn't help ourselves. It is Tyra's own fault really. She is too gorgeous, and we could not wait until the next time to see her in a chastity belt. Tyra is confused, is she really expected to escape this frustrating RigidStock? It seems impossible…