All updates for
December 2019
Mistress Kristin is back! She never did any submissive shoots anywhere, but we make her do things she has never done before. This time, we challenge her to spend some time on the One Bar Prison. This usually requires high heels: the One Bar Prison works because the model is already on her toes in high heels so she can't lift herself any higher to escape. But for Mistress Kristin, we decided she should be bare feet, and stand on a little bar with her heels. This has the same effect: Mistress Kristin is completely stuck. She stood around for a while, and we even told her to put her dress back on. She was not a happy Mistress!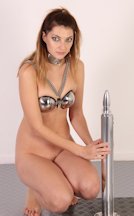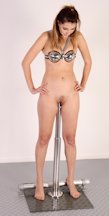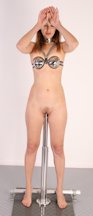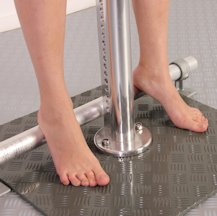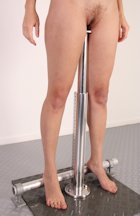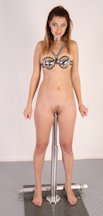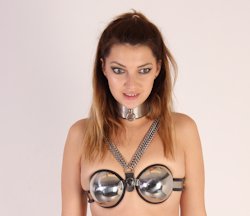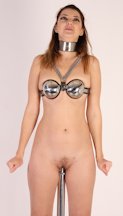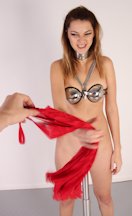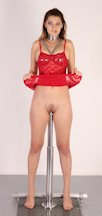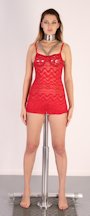 An often requested challenge is this one: two girls locked in the same RigidStocks, one girl cuffed behind her back. It sounds easy, but because of the angle, Penny Lee had to stay low and Bad Dolly (the only one who can pick up the key) couldn't really move at all, or it would hurt her friend. They were sitting on their knees, unable to do anything until we put the key in Dolly's hands. And even then, it was a very challenging escape. We love two-girl challenges! Can you think of another one? Send in your member requests because there will be more two girl shoots soon!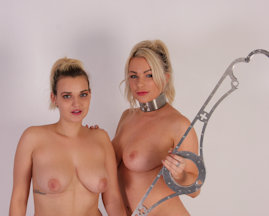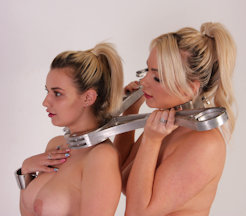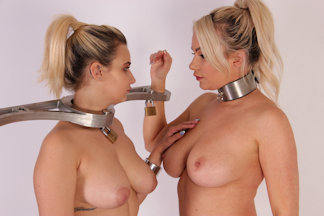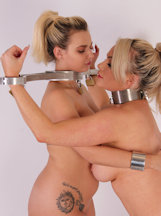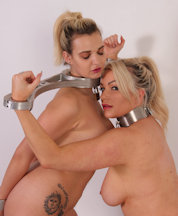 Remember our young neighbor girl Roxy C? She is literally the girl next door! So innocent, she doesn't know the different between a collar and a waist belt. She just smiles and has a HUGE curiosity. Today, we are going to show her a lot of restraints at once: it's the best way for her to learn! A nude Roxy nervously waited in her heavy collar, waist belt, and wrist cuffs. We locked the Scold's Bridle on her head and we locked her wrists to her waist belt. Then we attached the steel mask to a special frame, so she would just have to stand there like a doll. We pull her elbows back with a pair of handcuffs and Roxy is ready to be admired, naked and in steel, unable to move!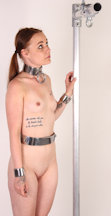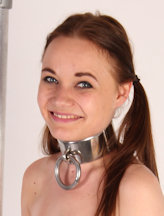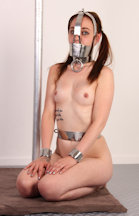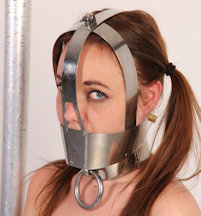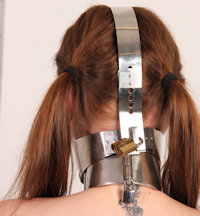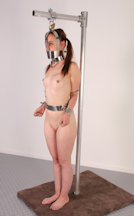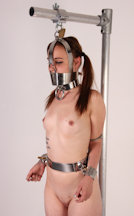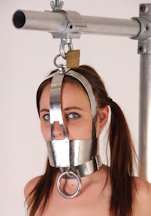 A new challenge for Darina: we told her to sit on the steel pipes, so we could attach her ankle cuffs to them. She was sitting there with her legs spread when we gave her the control box to the fucking machine. Darina smiled, she loves this machine! We let her play for a while, but she had way too much fun, so we decided to cuff her wrists to the wall, so we could operate the controls. Much more fun!!! Darina went for a ride, and she loved it!! Don't miss this awesome update!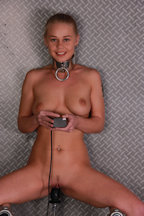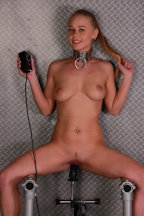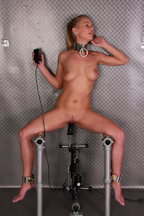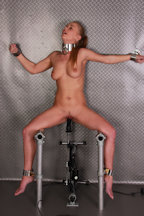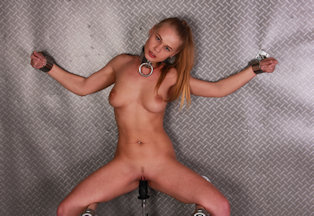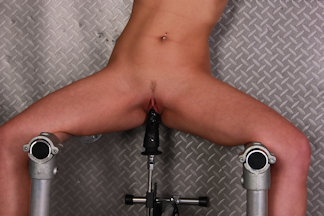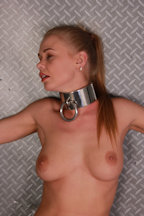 The famous Atlanta Moreno (Little Lanta) returns! She is a gymnast champion and that's just so much fun for us! She is the perfect toy for our metal bondage experiments: bendy, flexible, and super submissive. We can literally do anything with Little Lanta! We had this idea of locking two ankle cuffs to the sides of the RigidStock TL, so Atlanta would be stuck in her well-known V-position. Neck, wrists, and ankles all in one line! No other model has ever been able to do this! Little Lanta was completely helpless and very vulnerable. We even stacked her against the wall in this position: easy storage for gymnasts slave girls!