All updates for
October 2022
Wow, Tiffany is back yet again! She has been on the website for over 12 years and she still looks hot as ever! Remember when she tried the Stainless Steel High Heels? She found out I now have even more challenging shoes: the Stainless Steel Ballet Heels, and she wanted to give them a try! Locked in a chastity belt, cuffs, and collar (of course), the awesome Tiffany locks the ballet boots on her feet. They are padlocked and they can not come off without a key. She tried to stand up, and even walk a few steps in these brutal heels! What a great first attempt, Tiffany definitely is a ballet boot talent!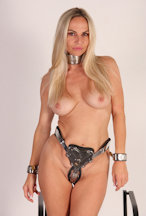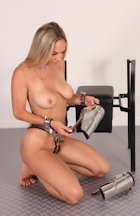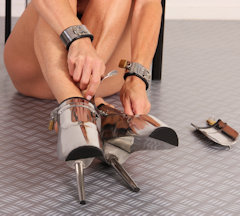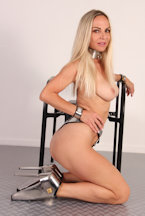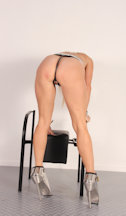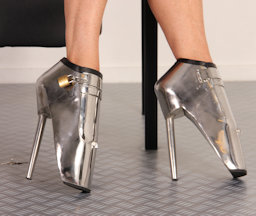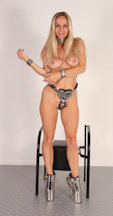 Please welcome the cute and tall Latex Rapture to MetalBondage.com! She is so kinky! I locked her into a Carrara chastity belt and a big collar, and she was already loving it! But there was more to come: a very tight fitting Scold's Bridle left her unable to speak, and heavy elbow and wrist cuffs were added to prepare her for the Doll Stand. Yes, she was going to be a full metal bondage doll for a while! Standing in high heels, her mask locked to the top of the frame, her elbows and wrists locked behind her. A pair of clover clamps were added, and Latex Rapture made some fun sounds in her mask. Even more so when I added a heavy padlock to the nipple clamps! You are a metal bondage doll now, Latex Rapture, a perfect display!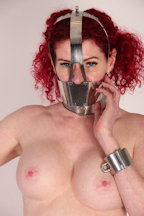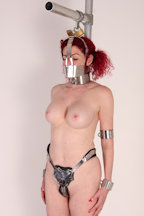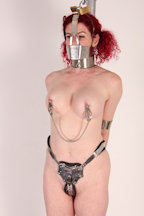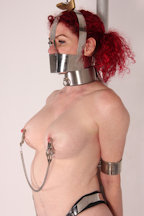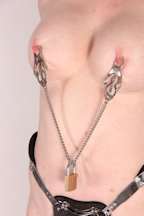 Please welcome Ivi Rein to MetalBondage.com!! She is a cute and curious young girl, willing to try everything at least once! Locked in a metal waist belt, collar, and wrist cuffs, she explores the Sybian with lots of curiosity. The dildo attachment is on there, which means the Sybian can not only vibrate, but also rotate the dildo inside of her. Ivi plays with the controls, and she chuckles. Before she knows it, she is locked to the metal pipes, with her waist firmly chained in place and her arms spread wide. This is going to be a fun ride!!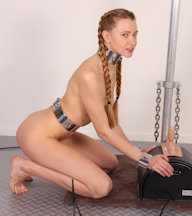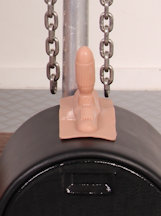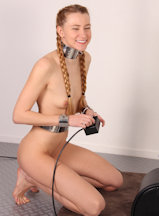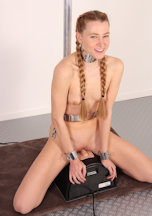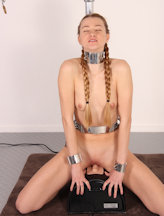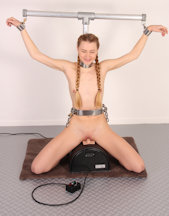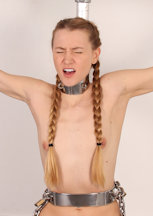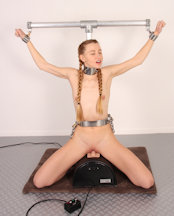 Awesome tall teen Dina Ket returns for another chance to say 'I hate you, FoToRo'. She probably has every reason to say that, considering what I had in mind for her. Balancing in tall heels, Dina encounters a ceiling chain and an ass hook. She instantly gets the message and locks the hook to the chain. After inserting the hook (without any hesitation or problem!), I tighten the chain so the hook can't come out anymore. Dina is now completely stuck. She can't lift herself up, because of the heels. She can not remove the heels as that would suspend her on the ass hook, which is not a good idea. The key is too far away, and even though Dina is super flexible and she can bend over to reach the floor, the key is just out of her reach. I guess she will have to stay here for a while… hating me.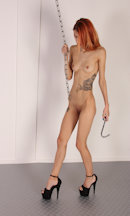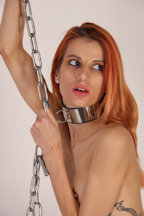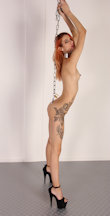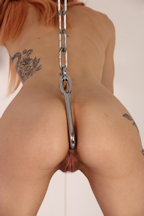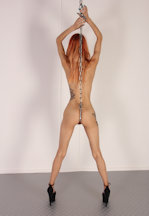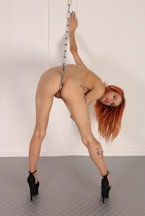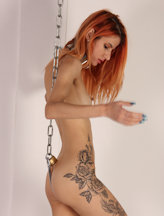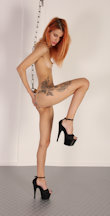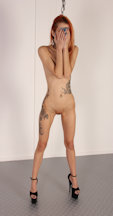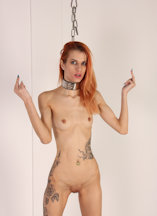 I like working with Naomi Denise, she is a super fit and flexible local girl, and she is incredibly tough! She will try anything! She has done some crazy extreme custom videos already, and she always messages me if she can come back for more. Today, she is getting locked in a steel hogtie position. Very hard on the back and especially on the face, since she is held up by her harness ballgag. Naomi Denise loved it! Don't hesitate to write me if you want a custom video with Naomi Denise, she is awesome!