All updates for
July 2019
It is time!! Katie Thornton is back, locked in her custom made boob bands, and she will test the Rigid Boxtie Device. Watching her try to escape this device is going to be awesome! Her huge locked boobs are actually in the way when she wants to get the keys from the floor. But most models can not even pick up the keys. The wrists are trapped in a very rigid way, so Katie will have to lie down to get the keys. A very hard task with those huge breasts!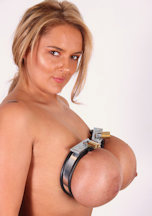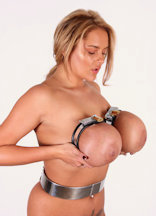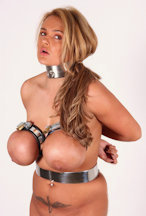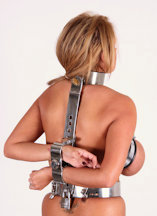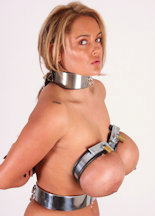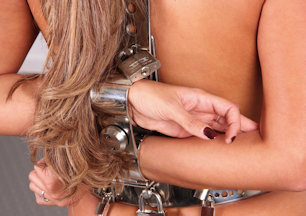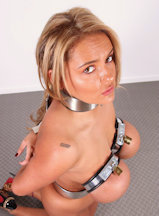 Please welcome tall kinky girl Vika Lita to MetalBondage.com! She is up for anything, she says. Well, we have an idea: why not create a magic wand harness out of metal! A heavy waist belt and some chains should press the wand right up against Vika's sweet spot. But what if she switches it off? We will have to put her in a RigidStock to prevent that! And a some nipple clamps for extra stimulation of course. Let's hope Vika can remain standing with this vibrator going at high speed! So much fun to watch her in this predicament!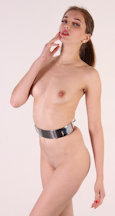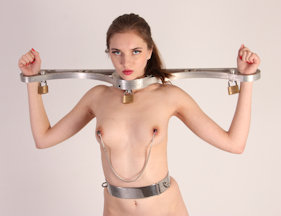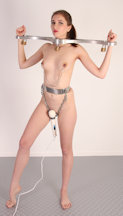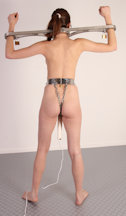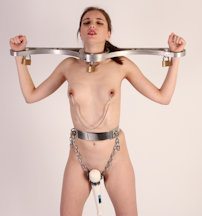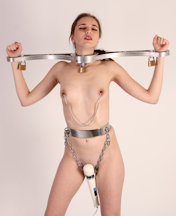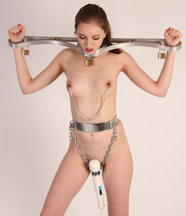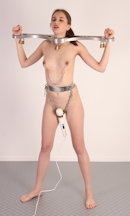 Russian Mistress Kristin has done terrible things to guys. She loves to lock them in tight bondage and chastity! But now it is time to test Mistress Kristin! She thought this would be easy, but we locked her in full chastity and chained her collar to the wall. She was then elbow and wrist cuffed, behind her back. And Mistress Kristin isn't super flexible. So that was hard! She suffers beautifully for us, as she tries to deal with the uncomfortable position until we decide to unlock her. But since she is a Mistress, we leave her in bondage just a bit longer than most girls! That should teach her!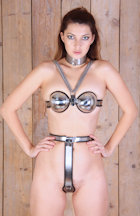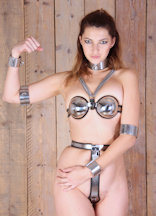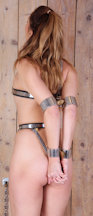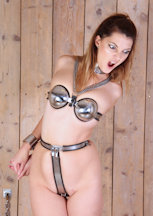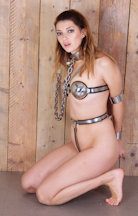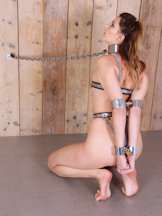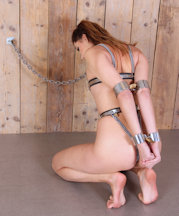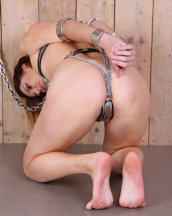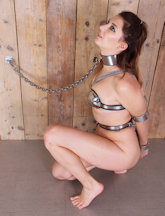 We found a new girl and you'll never guess where she is from. Roxy is from next door! Quite literally. She is not a model, but she is our neighbor girl! She is very cute, and a little oblivious about bondage and shoots. We asked if she wanted to try a fiddle. 'What is a fiddle?', said Roxy. That's a perfect start. But first, we asked her to get naked, which was probably more scary for her than the fiddle. We locked her in a chastity belt so she wouldn't feel so exposed. Then we locked her in a RigidFiddle model '8' and told her it is possible to get out. Fun times! Roxy is (of cours) readily available for any custom shoots you have in mind, she wants to do more and earn a little cash!