All updates for
September 2018
Remember Muriel's visit to the dungeon? Her friend Nova wanted to get chained up too! So they both went back to the dungeon to get chained together. It was a great experience for both, two nude friends, together in metal bondage. Muriel was locked in chalet cuffs and Nova was restained with long spreader cuffs. Nova's wrists were behind Muriel, so they were stuck together. They got ankle cuffed, and then a heavy crotch chain was added and locked to the ceiling. One girl's movement would definitely be felt by the other girl. Trying to keep still wasn't as easy as they thought!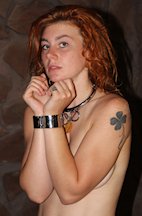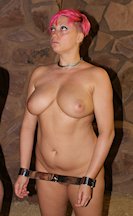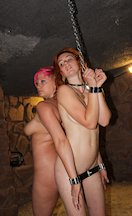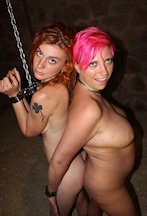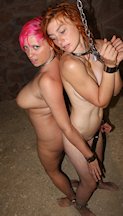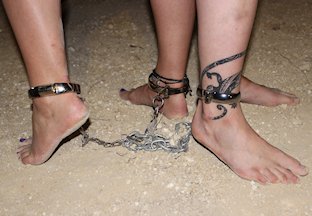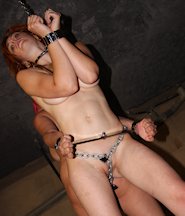 It's Yasmine's first week on the job and she already has a weird feeling about her boss, Mr Smith. He seems to be very bossy and specific about Yasmine's clothing style. And he is also calling her all the time, to check if she is still working hard. And the office! So old fashioned, there isn't even a computer! Yasmine tries to do her best but her boss is so demanding she is getting really tired. A quick nap couldn't hurt, could it? Imagine Yasmine's horror when she wakes up in an unknown location, chained to the wall by a very heavy and tight collar!! Her blouse, skirt and bra are gone! Who kidnapped her? Was it Mr Smith? What will happen next? Yasmine is very scared!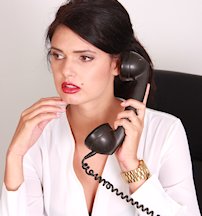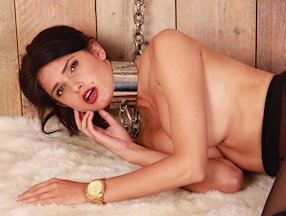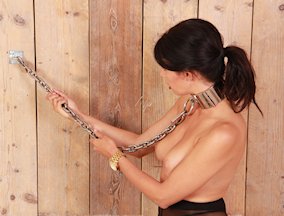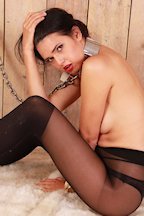 You have probably seen the ongoing Chastity Deal with Stella Cox over at www.chastitybabes.com. She is locked in custom made boob cuffs! And a chastity belt of course. Perfect opportunity to show you how submissive Stella actually is. Here she is displayed as a metal bondage pet, collared, boob cuffed, belted, and caged. She is also wearing a fox tail butt plug! Steel mitts are added so she can't pry at her belt, take out her buttplug or play with her boobs. Yes, this is all very necessary, because Stella looks cute, but she really can't stop masturbating. It's true, google it :) She's been told that if she behaves like a good pet slave, those clunky mitts might come off. Maybe…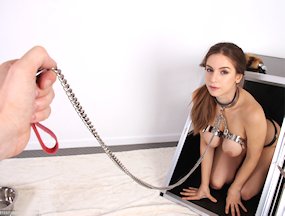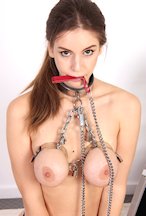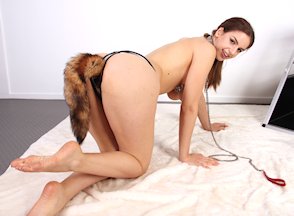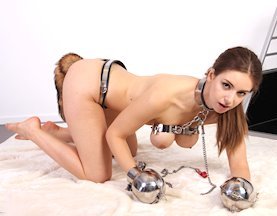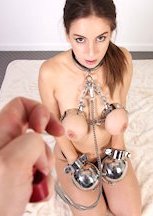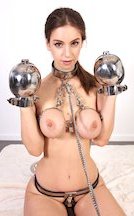 Tiny Keira is back! She is such a curious girl! Today she wanted to try the RigidSpreader, which is not as easy as it looks. Completely naked and locked in an very heavy tight collar, Keira tried to find the right position in the RigidSpreader. She rolled onto her back, stuck her legs in the air, got back up again (very impressive), and tried to move towards the keys. Let's just say we got to see a lot of Keira because of all this struggling and wriggling! Cute girls stuck in RigidSpreaders, we love them! Don't miss this fun update!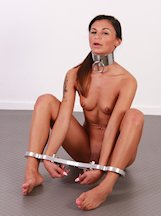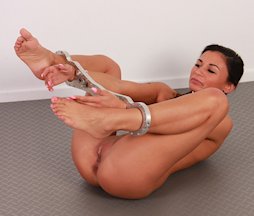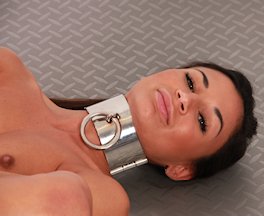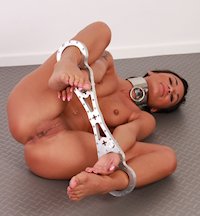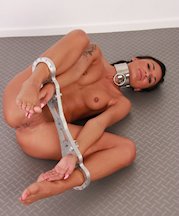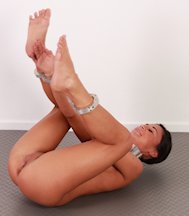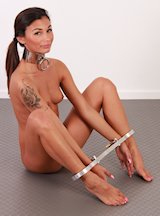 If there's one girl who is perfect for the One Bar Prison, it is Chessie Kay! We waited a long time, but we finally got to impale her! She is the perfect sex doll, and the One Bar Prison is great for displaying girls like a doll. Who wouldn't like to have an impaled Chessie in their living room! We used a new type of dildo on the pole today, a big black rubber one. Chessie was the first to test this one, in her tall stripper heels. It went in all the way and it was impossible for her to escape. She was completely stuck until we would use our hex tool to lower the pole again. Perfection!