All updates for
March 2021
We received many requests for more Aubrey shoots! She is very popular, and we can see why: Aubrey is stunning and a bit reluctant to try all of our heavy gear. That's a perfect combination! The amazing Heavy Stork is indeed very heavy, all bars and spikes are solid (not hollow), so it weighs a lot. It is a very uncomfortable position to sit in, especially when you're wearing nipple clamps and a dog bone gag! Aubrey hates clamps and gags! We put the hex key right next to her, to her frustration. There was no way she could even more, let alone grab the key to try and escape!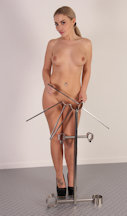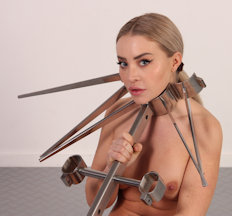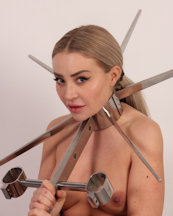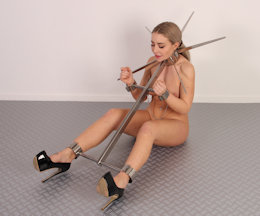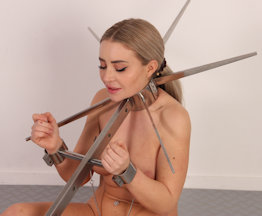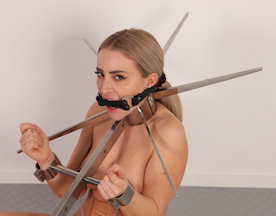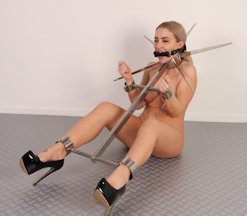 Liz Rainbow is back! Check out all of her legendary updates, we sure like to test this girl! She hates nipple clamps, so that's exactly what we are going to use today. But in order to prevent her from taking them off, we built a frame to hold her in chains with as little movement as possible. Over the top? Yes, of course! We love lots of steel on nude girls! Liz is chained by her ankles, waist, and head (scold's bridle!), while her wrists are clamped to the frame by pipe clamps. All she can do is moan as we play with her nipple clamps.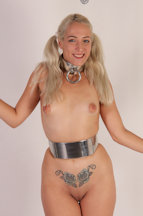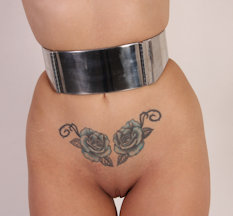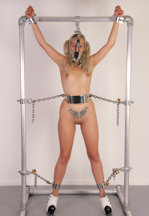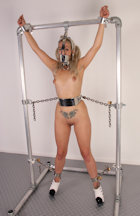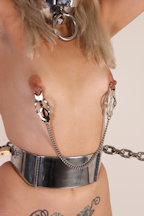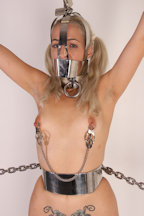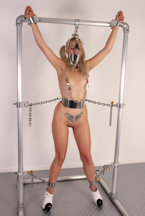 Cute little Camushii was very nervous for her first ever nipple clamps challenge! She has very sensitive nipples, with piercings, so clover clamps were going to be quite hard for this inexperienced girl. But such a cute submissive needs to learn how to wear nipple clamps for a while, so we instructed her to crawl to the slave parking spot, nipple clamp herself, and lock her heavy collar to the post. Camushii did as she was told, but the urge to remove the clamps was very big. So we locked her wrists behind her back and gagged her with a 2 inch ballgag. Now all Camushii could do was wait… and deal with her nipple clamps!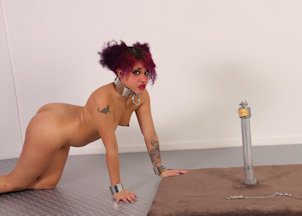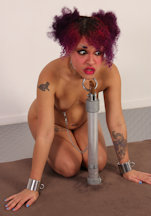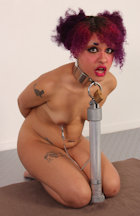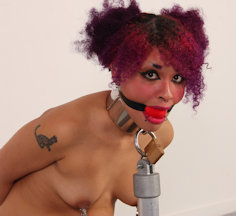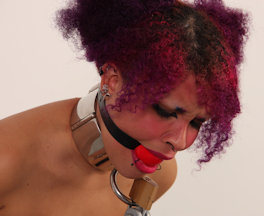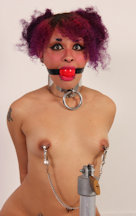 Lolly Anne has never seen any steel bondage items, so she was very intrigued to find a locking mask chained to the wall. There was also a pair of steel mitts which interested her, even if she had no clue how all of this worked. Of course, moments later, she found herself waking up locked in the super tight mask, with her hands secured in the steel mitts. Her clothes were gone, and her nipples hurt a LOT from a pair of nipple clamps. Poor Lolly! She did not tell us about her extremely sensitive nipples, and her mask was so tight she couldn't even speak. Lolly tried everything she could to remove these evil clamps with her fists secured in metal, a painful ordeal!