All updates for
March 2022
Rosie Mot is such a spoiled lady. She is used to getting whatever she wants and she never ever stops talking. Dressed in the finest lingerie, she scoffs at the new small Posture Trainer. The waist belt is as big as her head, will she actually fit into this? Once fitted, she complains about how rigid it is. Well, yes, it is a Posture Trainer! After her hands are locked in too, we open up her lingerie to expose her boobs. There's nothing she can do about it. Rosie Mot is on display. In a very tight awkward Posture Trainer. Yes, that's how it should be. Time to teach her a lesson about submission and vulnerability!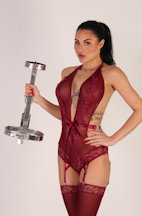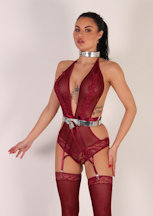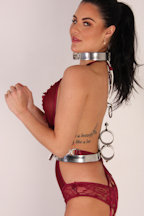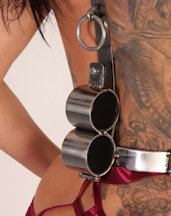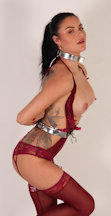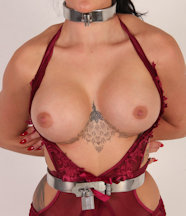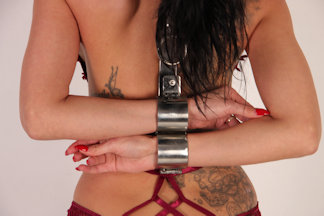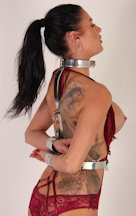 Many requests have been emailed to me for a Double Blowjob Trainer! So I tried building a prototype for best friends Liz Rainbow and Blondie Fesser. Their collars are connected by springs. The idea is that one girl has to deepthroat her dildo to allow her friend a breathing pause. It's a prototype so it needs some tweaking as the girls were stronger than I expected. Well, at least at the start. As soon as they got more tired, this new FoToRo invention started to work! Would you save your friend? Or pull the dildo into your friend's throat so you can breathe? It's a hard choice!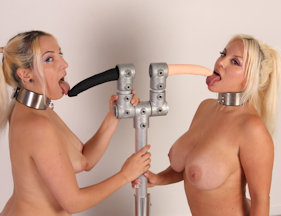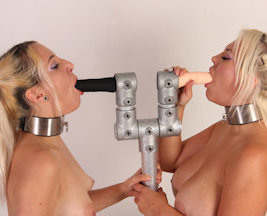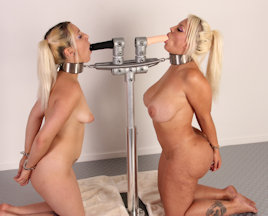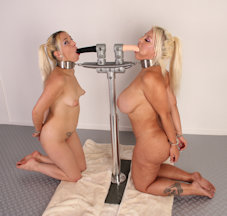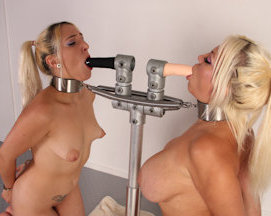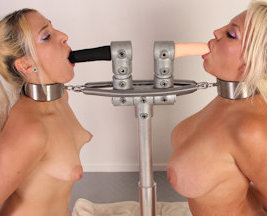 Nelly is back! Can you believe she has been shooting Metal Bondage gear for 10 years now? Wow! Her amazing eyes and funny attitude are always a guarantee for a great update. Nelly loves shooting strange and heavy challenges, but she hates nipple clamps. Unfortunately, that's just what I had in mind for her today. She will be trained as a MetalBondage.com waitress! With a serving tray chained to her body and to her nipples, Nelly will have to learn how to carry cups without dropping them, kneeling and getting up, and walking around in heels. Locked in a heavy collar and waist belt, with her hands behind her back, Nelly tries her best to move very carefully with these cups on her tray!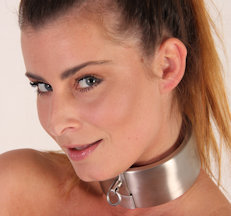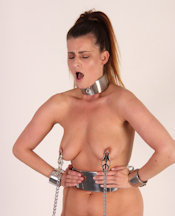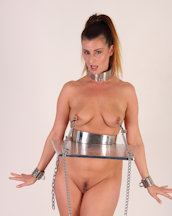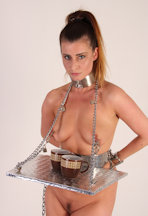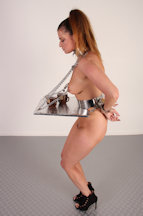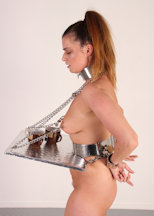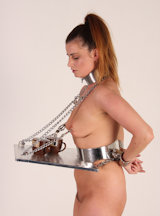 Who else thinks tiny Lina Roselina needs some more nipple clamps training? She is such a naughty girl! Time to teach her a lesson with the Nipple Clamps Training Machine. But this time, it is installed vertically. Lina is lying down, locked to a frame with heavy cuffs. She knows what is coming… and she knows she won't like it. Lina Roselina has very sensitive nipples! She moans and wriggles as the machine pulls relentlessly on her clover clamps. Faster and faster it goes! There's nothing she can do to stop this torture!