All updates for
February 2022
Medusa is back and she is still very crazy! In a good way! She loves all of my gear, and she wanted to have a go on the One Bar Prison to see if she could escape. In her tallest heels, Medusa was soon impaled on the steel 3-ball dildo. Of course, there was no way she could lift herself off this device, so she was stuck. Medusa loved it! It really turned her on, as you can see. I locked her in the Steel Upper Body Harness, so I could restrain her hands behind her back. It was an awesome look. Such a sexy girl stuck on a steel dildo, enjoying herself a lot! Don't miss this!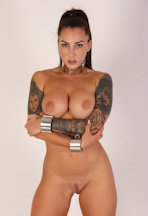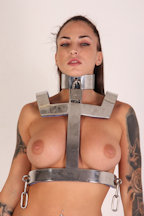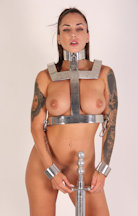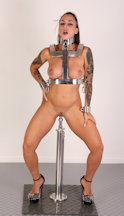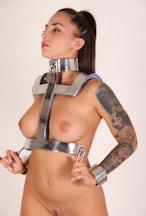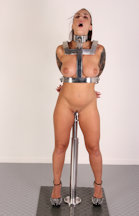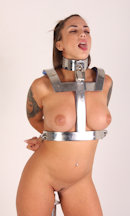 Slender teen Dina Ket is back for more metal bondage antics! She is so funny and flexible! I challenged her to a RigidSpreader escape, which is always fun to watch. Girls rolling around in this device really give you a good look at everything, while they are focusing on an impossible task. With this huge heavy steel collar on her neck, Dina looks amazing! She is definitely perfect for heavy steel bondage, being very light herself, which is a contrast I love. I think I'm going to keep her around to play with her some more! What would you do with Dina in this position?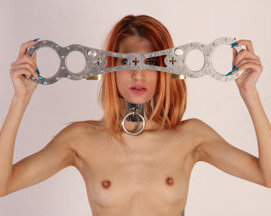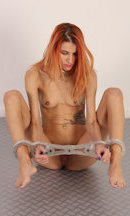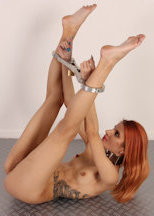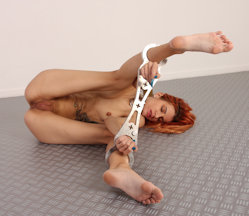 In update 666, the tattooed friends are back! Remember Lolly Anne and Dandelion, the alternative girlfriends trying to work together in the Rigid Escape Challenge? They will have to cooperate again today, as I prepared a very special challenge for them. With their wrists cuffed behind their backs (to a waist chain), they will be clamped with connected nipple clamps! The chain runs through a pipe above them. Lolly Anne and Dandelion have to stay on their toes or they will pull on their own and each others nipple clamps! It's hard to balance and it's very painful on their nipples. Gagged with huge ballgags, they can only communicate in moans of pain. It's not easy when you realize you are hurting your best friend's sensitive nipples!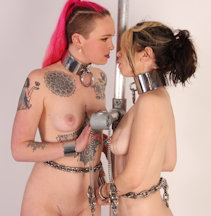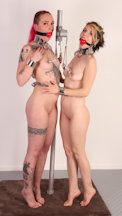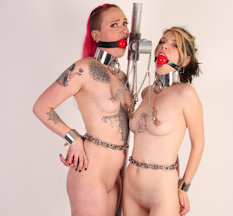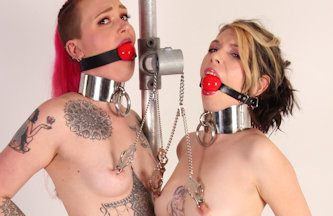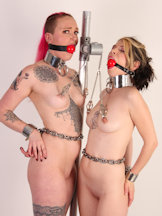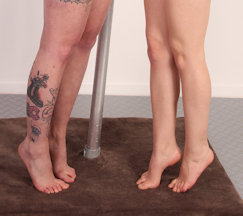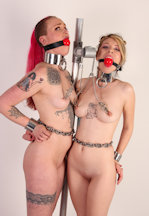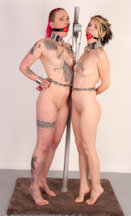 Cute new model Emilia is really inexperienced. She looked a bit scared, but that's because she wasn't sure what was going to happen. All she knew is that she was nude, locked in a My-Steel hip belt. Presented with the RigidStock, her eyes went wide. What was this thing? Emilia was already locked in this device before she knew it. There was a key on the floor. Surely she wasn't expected to escape from this thing? It seemed impossible!