All updates for
November 2021
Remember curious teen Dina Ket? She always seems to get herself in trouble! The slender teen is not easily impressed though. Even with one hand locked in the Automatic Handjob Trainer and ballgagged, she is defiant and even gives me the finger. But the machine doesn't care. It will train her right arm to give nice handjobs, whether Dina wants to or not. I even add a little lube for smoother action! Dina will learn, she's still young!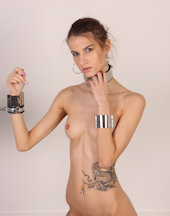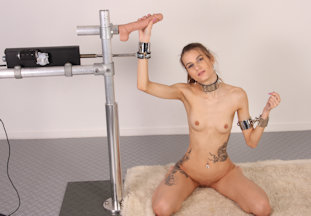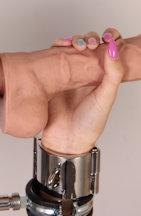 This new girl reported for a shoot at MetalBondage.com, and she is quite awesome! Flexible and toned, she looks like she can handle a challenge. I locked her in a super heavy collar, which made life quite a bit harder for her. She tried to deal with it all through the shoot, but the collar was definitely the most difficult to wear. It looks like it reminded her of her submissive nature. I tried locking her into a tight spreader bar hogtie and wow, did she look awesome! I am definitely going to keep her around for a while, to see what else she can do!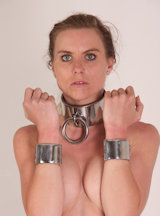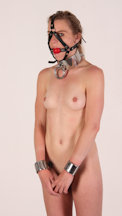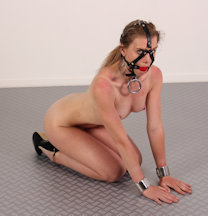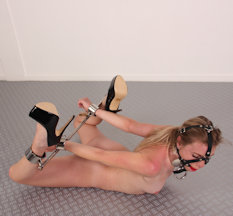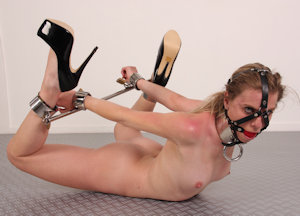 New model Azul is such a fun tiny Mexican girl! She is very colorful and she definitely loves a challenge. Time for a naked Azul (ok, she could keep her awesome boots on) to be locked in a chastity belt to battle with the RigidStock TL. Escaping this device is very hard, and only a few models have been able to do so in the past decade. To make things a little more fun, we added a shiny ballgag to the challenge. Azul was determined to get out! It's awesome to see a tiny belted girl try so hard! Did she manage? Watch the video to find out!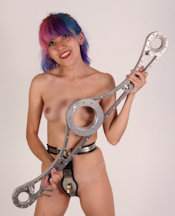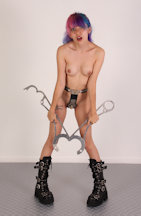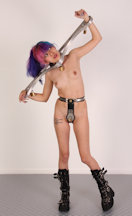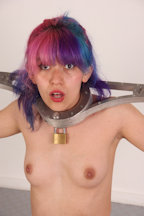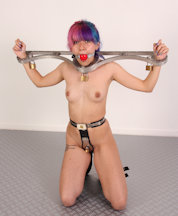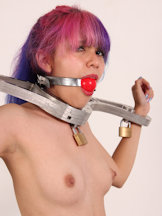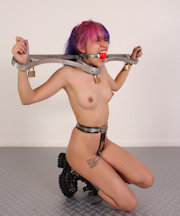 The Nipple Clamps Training Machine was a terrible ordeal for young Diamondly a while back. I decided to bring it back for our awesome reluctant volunteer Cindy Dollar. The problem? She has very sensitive nipples. So I had to make sure she was really secured very well, with no movement in her neck, arms, and legs. Cindy was completely stuck and unable to move, her labia clamped (she didn't like that either). The machine certainly did its job! Training her sensitive nipples, hurting with every stroke. Cindy made a sound through her harness gag every single time, at the rhythm of the machine. Very beautiful to watch. So relentless and mean, it is one of the most evil machines I have designed so far!