All updates for
July 2022
Through very fortunate circumstances, I got my hands on the original Pichard Cage from House of Gord! The famous models who have been in this cage!! Wow, it is a big honor and I will definitely try to shoot some updates with this famous cage. It is super heavy, and very well made. But the most important thing is: it is a very hard challenge to get locked into this cage. There are two dildos mounted in the back, which is pretty intimidating. However, the main challenge is the position: with your arms locked back over the bar, it takes a lot of strength to maintain the position. That's why it also requires a harness gag to secure the top of the head to the front of the cage. My awesome model Cindy Dollar is the first girl to try it! Don't miss this! And check out the picture set too!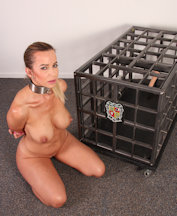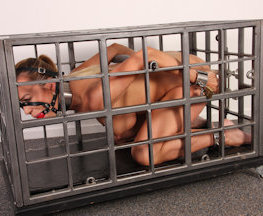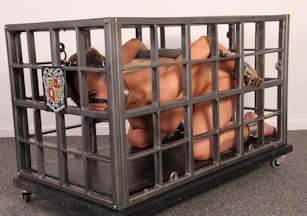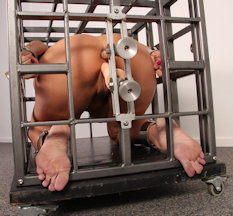 After her recent nipple clamps torture, I thought Lina wouldn't come back… but here she is again! Ready for more steel in this member request! Lina is tightly cuffed and her ankles are locked together as she waits for what's coming next. In her chastity belt, she tries walking around the frame, but with her feet locked together, she can only shuffle or hop. Soon, she finds herself locked in the frame, on full display, with her chastity belt removed. Her ankles, thighs, wrists, and upper arms are locked in place and she is gagged. Who wouldn't want a framed Lina Roselina in their house? It's a work of art!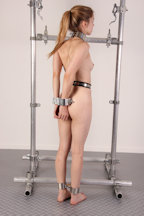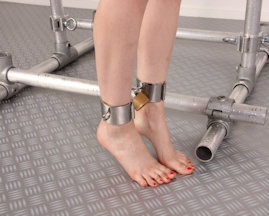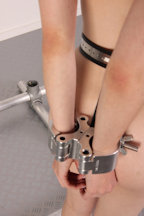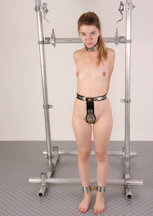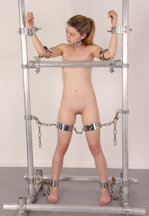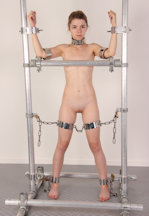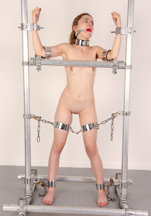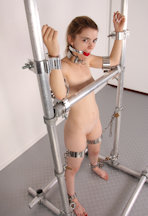 The handjob training machine is back! Alexandra did not really feel like she needed any training, but there wasn't much she could do about it. Her arms are quite weak but fortunately that doesn't matter with this machine, it will continue forever, no matter what. I can even regulate the speed, and Alexandra was getting tired after a while. Even if she falls asleep, the machine will keep going, so that's no problem. It's better if she stays awake though, so a sudden change in speed always gets her attention. Everyone needs a machine like this at home!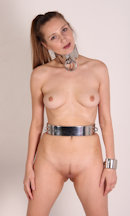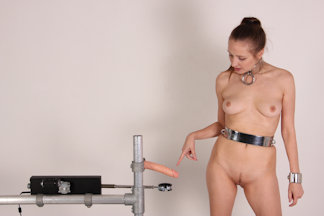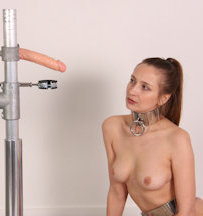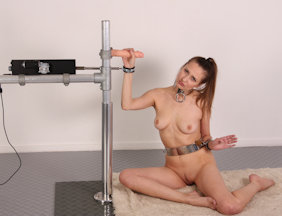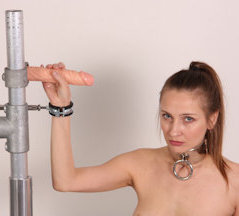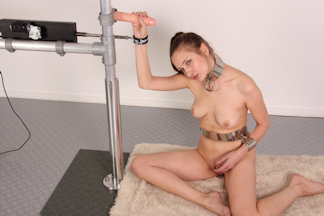 The small solid steel ball has defeated a number of models already. Elizabeth is a brand new local girl, and she says she loves a challenge! Well, the challenge is to escape from this metal bondage setup! Or even just move away from your spot. Will Elizabeth be able to do it? Her beautiful boobs are stretched as she tries to get up, but 2 kilos is a bit much for her sensitive nipples. With her hands locked behind her back, there's not much she can do!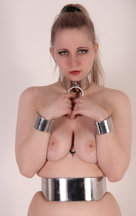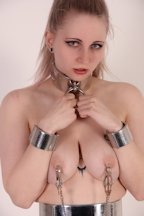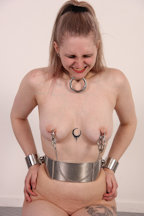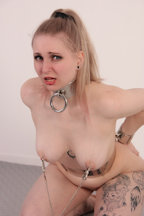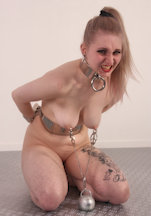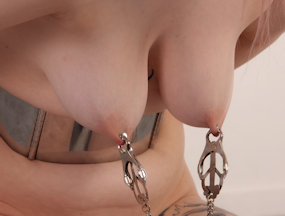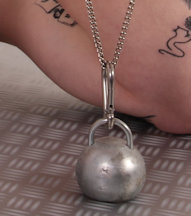 The Iron Crown is strange. It is not a crown at all, but a collar. Tiny Emilia is locked in a chastity belt, but to be absolutely sure she can not touch herself, I locked her in the Iron Crown. That will take care of any naughty ideas! I even left all of the keys on the floor, I was sure Emilia wouldn't be able to grab them. Eventually I gave her one of the keys, but when she got too close to opening a padlock, I took it away again. She was so disappointed!