All updates for
February 2011
Tracy really loves to touch Ashley Bulgari's boobs. And we don't blame her! How come these girls are so horny all the time? Aaaah, of course, it's the chastity belts! And probably the heavy metal collars too… We try to separate these girls by putting Tracy in the cage and cuffing Ashley to the outside. But even then Tracy finds a way to fondle Ashley. We'd say the chastity belts really did their job! Cage fun with Ashley Bulgari and Tracy, a must see!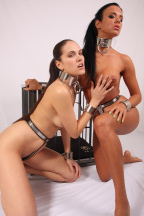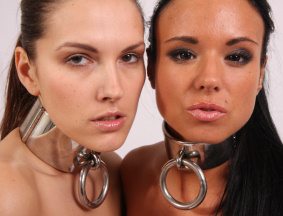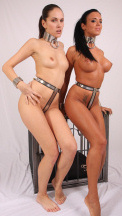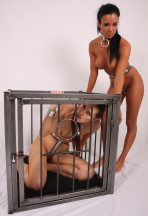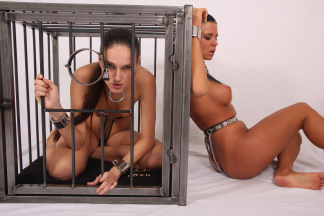 Last time Bella was with us, she was so afraid of our metal gear, we thought she would never come back. So we were quite surprised she wanted to have another go, even when we told her the condition for a second appearance: a chastity belt. Bella is a small girl, and she looks great in a chastity belt, although she seems to have some trouble getting used to it. As part of her therapy, we tell her to cuff herself this time, so she can overcome her fear. Bella does not protest, she seems intrigued by the simple locking system. The wrist and ankle cuffs are so easy to close without any tools, but they will not open that easily!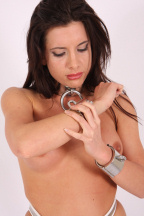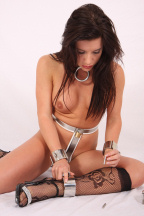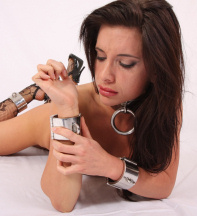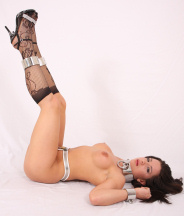 Aaah, a new girl! Let's be gentle again, no extreme stuff, so she will be back ;-) Young Laetitia thinks the RigidFiddle 'oo' is very funny. And we can't help it, we have to smile seeing her play around with this bondage device. Laetitia is cute and confident! We waste no time locking her neck and wrists in, on video as requested by many of you. After some posing and waiting, however, Laetitia's smile slowly fades away. You can see she has had enough. We tell her that she has to unlock it herself or she will not get out. Hmm, from funny to angry in just one hour! We hope Laetitia still likes us, because we would love to take things a little further with her!