All updates for
March 2019
Muriel loves steel bondage so much! She is going back into the dungeon for another challenge, she will be locked in a lot of steel for the afternoon. But even when she is waiting for what is going to happen, one pair of thumbcuffs already changes her breathing. She is almost moaning in anticipation for more heavy metal. Soon, a lot of gear is locked onto our lioness girl. First, her neck is locked in metal stocks and chained to the ceiling. Then a RigidFiddle is added to her neck and wrists. Muriel is getting more and more excited. A spreader bar keeps her legs apart, and finally a chain is locked from her fiddle to the bar so she has sit in an awkward position. But it's awkward for Muriel at all, she's loving it!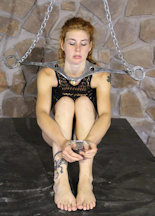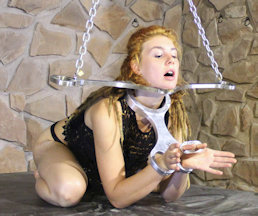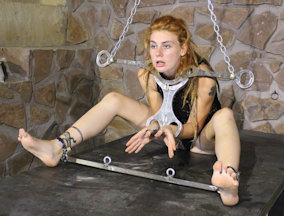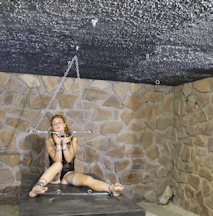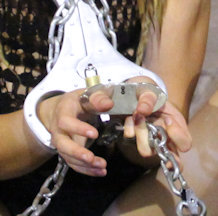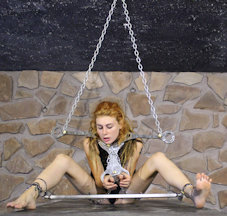 Surely 2 boobs cuffs will fit on each of Katarina's huge natural boobs? We cuffed her boobs with 1 cuff each before, but two makes it more secure. Katerina in a chastity belt, boob cuffed, wearing a heavy collar, that's something you don't want to miss. To make this a bit harder for her, we cuffed her left wrist to her right boob and her right wrist to her left boob! Behind her back! With double handcuffs of course. Then we gave her the key and watched her struggle, those giant natural breasts swinging as she tried to reach the keyholes. We love Katerina. She should be in bondage permanently. Especially her boobs. Did we mention boobs?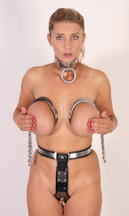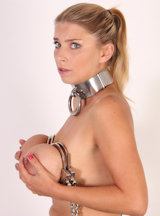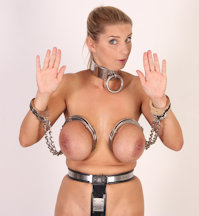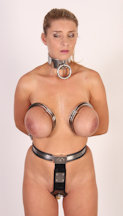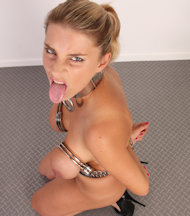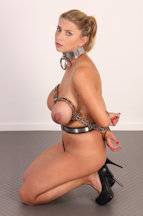 We tried something new with Stella Cox: we chained her to the wall in quite an unusual way! She was told to insert a steel buttplug with a ring so we could padlock her ass to the wall. Stella would of course be able to pull it out by tugging on the chain, so we did a little crotchchain thing to keep the plug inside her. Technically, she was still chained to the wall by her ass, we think. Stella couldn't escape, and that was the main goal. She was so glad when we handed her the key!!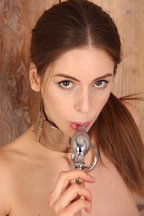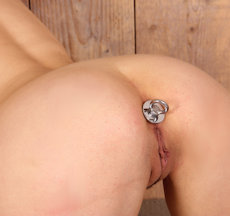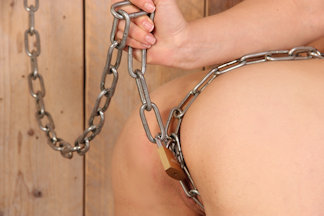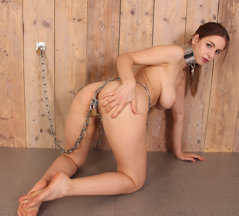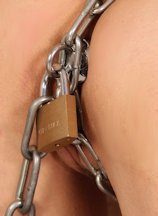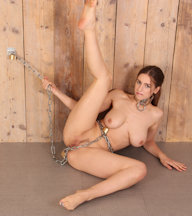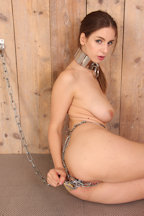 After our metal bondage exercise series on the treadmill, we thought we'd invent something new for the girls to have a workout. Chaining them to an exercise bike would be fun! Not releasing them until they burn a set number of calories. So we invited our friend Natalia Forrest to try this. Just before she arrived, we thought it would be even better to replace the seat with a steel dildo! Natalia was not so sure about this… and she was right. In her high heels, she was chained to the bike and she tried to get the pedals round, going up and down the metal dildo. It was a lot harder than she expected, but it also felt pretty good! Don't try this at home though!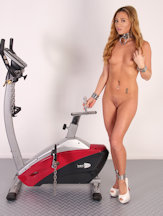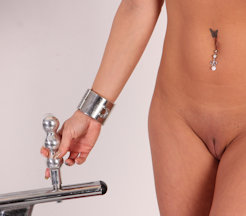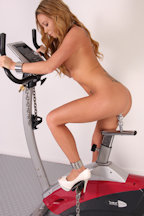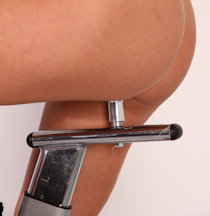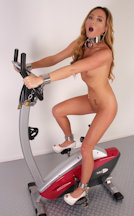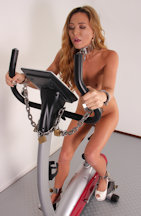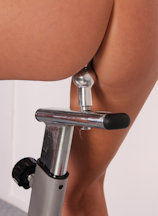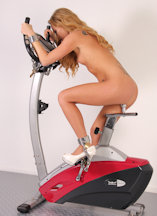 You have probably not seen this before! When Polina was doing her Chastity Deal at www.chastitybabes.com, we noticed something unusual about her. Polina is super flexible and one of the rarest bondage talents we have ever seen! This is only the second girl we ever shot who can do elbow bondage with her PALMS OUT!! This incredible skill does not even seem to take any effort from her. She is so relaxed with her arms twisted in this tight, almost impossible position. We use a Bagno arm screw for the elbows, added butterfly cuffs for upper arms, Irish 8 for her wrists and thumbcuffs to keep her from rotating her wrists back. You have got to see this picture set and video! Don't try this at home!