All updates for
August 2013
This tiny curvy bombshell from the UK is perfect for our gear! Kayla Louise probably doesn't agree, but we are still training her, so we will ignore her protests for now. In this update, you will see her go through the stages of getting used to heavy metal bondage gear. All of the equipment that is locked onto her is very heavy, don't be mistaken! Classic coverage of all six slave girl attachment points with locking steel that weighs quit a few kilos! Waist, neck, wrists and ankles! Kayla is protesting, denying, trying to escape, and finally settling into her predicament. It was an educational afternoon for all of us!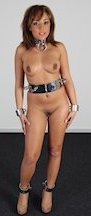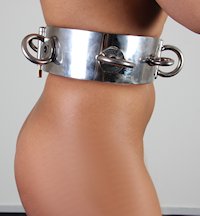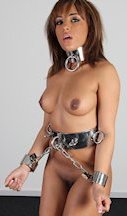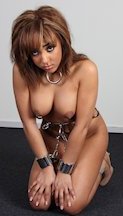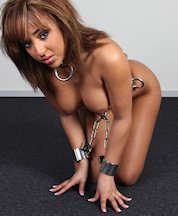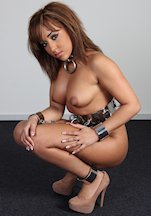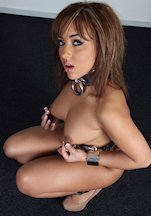 Interesting! We had this idea to attach tiny girl Cory to a metal frame by her neck and waist, and then bending her over a piece of horizontal pipe. Her ankles and wrists chained wide in spread eagle style, she should resemble something that goes on the front of a ship! And she did! It all worked amazingly well, Cory's huge boobs dangling happily between the steel frame! Cory couldn't move an inch, even though this position looks fairly easy (just bending over), you have to keep reminding yourself that her neck and waist are connected to this huge contraption! It was too heavy for Cory to get her upper body upright again, so she was just stuck there, in a perfect position! Next time we may bend a girl over even more, so she will have to stand on her toes!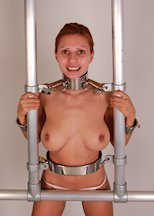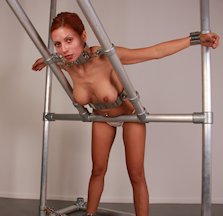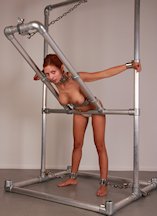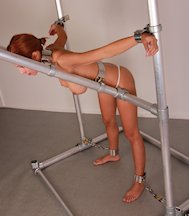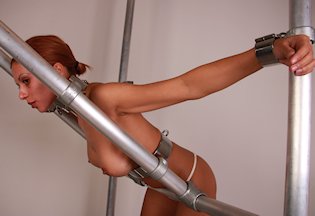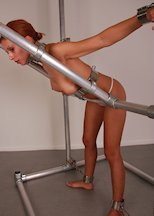 A young girl trying to be a bondage model, that's Tess Lyndon. But she is trying hard! Last time, she was nervous, but it was straight into a chastity belt and RigidFiddle for her! And now, she will be locked in our custom heavy stocks for a few hours. Possibly even more nervous than last time, she was again locked into her chastity belt. She posed a little with the stocks, but she could barely lift them. After she was locked into the stocks, she did not complain once about the weight! She had a hard time even picking up the little keys to the padlocks, but escaping this device is impossible anyway. Maybe she isn't a bondage model yet, but she sure looks hot in metal!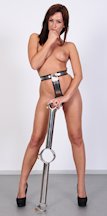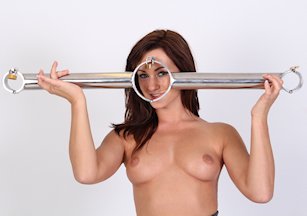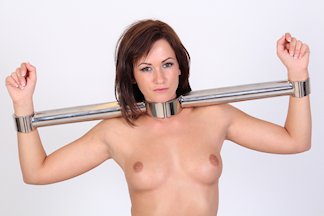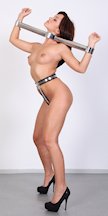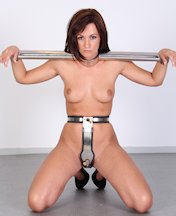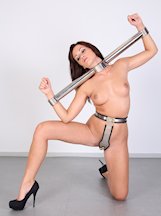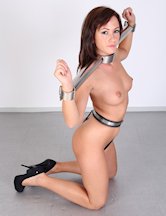 We have some of the most creative members! We received a suggestion to build an extremely long fiddle that would stretch a girl's arms all the way out. Many thanks for that great idea! Not from Natalia though, she isn't very happy that all the new ideas seeem to get tested on her. The truth is, she was just hanging around the studio (yes, in her chastity belt, for another website), so we grabbed her and our custom Connect-A-Model-System to try this! A girl and this modular bondage system is really all you need to have fun, the best toys in the world! It turned out to be quite harsh, because she has to keep her arms completely straight, any bending of the elbows and she is choking herself with the collar. Let's see if Natalia can escape from this!