All updates for
August 2019
When we did the high tension spring hogtie with Melisa Mendini, it was so much fun to see her get more and more exhausted, fighting the resistance of the springs pulling her arms and legs back up. New girl Ariel is a bit puzzled when she sees the pole and the springs. This young busty girl looks so awesome in heavy steel! We found a big heavy collar that fits her so perfectly, it looks like it's made for her! Once she is attached to the Spring Loaded Hogtie, the fun begins. Ariel is quite strong so she can keep her arms down for a while, but eventually she will get tired!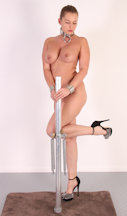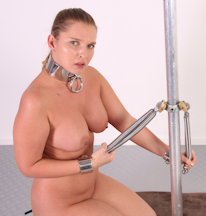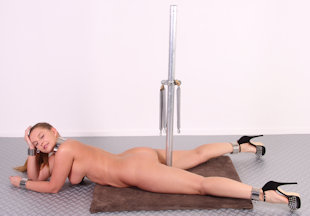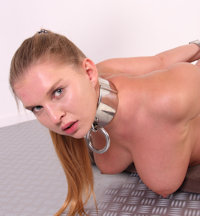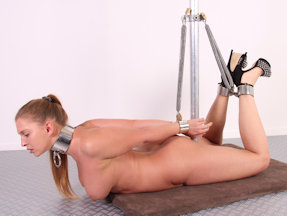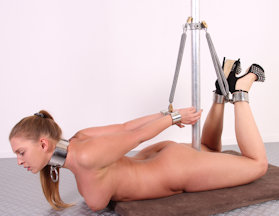 We found a new model with a perfect body for metal bondage! Arabella is a stunning red head diva, with some very unique bondage skills. Her small waist, super flexible arms, and her ability to open her mouth really wide are surely going to be a lot of fun for tight belts, extreme elbow bondage, and huge gags. But her most fun feature are her natural boobs that can be cuffed and locked! Arabella did not expect her boobs to be cuffed in this update. In fact, she did not know what to expect at all. But with her boobs chained to an overhead frame, balancing precariously in her super high heels, Arabella must have been wondering what she had gotten herself into!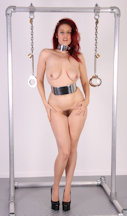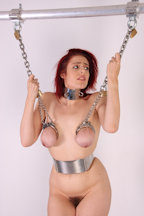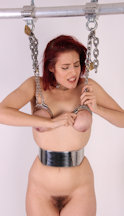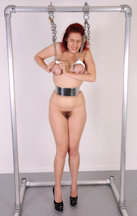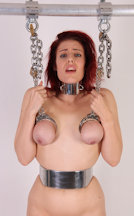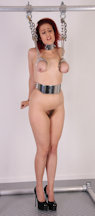 Remember Bree, the amazing flexibile submissive girl from the USA? She is back for more! We love to play with her flexibility. Not only can she do easy full splits, but she also can do crazy back arches. We made a small steel frame to chain her ankles to. Then we bent her around the frame by locking her toe cuffs to her Carrara mask! She supported herself with her arms, creating a beautiful arch with her amazing boobs pointing out straight ahead. We need to work a bit more on this position but it is an amazing first attempt!