All updates for
December 2014
Lady Roswell Ivory can take huge ballgags! I had a brand new shiny 2 inch gag waiting for her, but I know she is a stubborn lady. She would take it out after a few seconds, because it would stretch her jaw too much. That's not proper gag training! So I turned her into a slave girl once again, big heavy collar, chastity belt and chain breast harness. The lady is hard to tame, she just isn't used to being treated like this! To prevent her from removing her gag, I enclosed her hands in steel mitts! The huge gag was stretching her jaw for over half an hour! Watch the helpless lady try to remove her gag, it's a beautiful sight!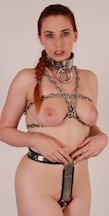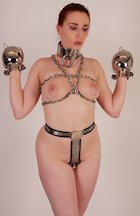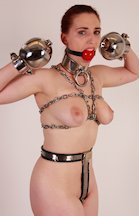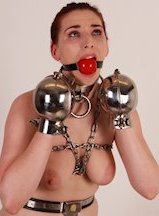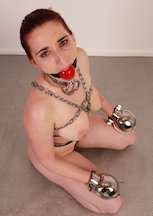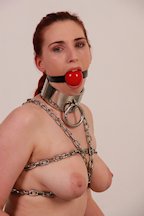 Elise Graves returns! She is such a tough girl, perhaps the toughest of all!! She can do anything, any extreme pose, and she really WANTS TO stretch her limits! There was only one position I could think of that is a challenge for Elise! She has done reverse prayers before, but never in unforgiving metal! I started warming up her shoulder muscles by cuffing her elbows together in heavy steel. The extreme Giraffe Collar made sure I got her attention. Then I proceeded to lock her into the reverse prayer position, with a heavy chain and padlocks to make sure she couldn't move an inch! A bit gag completed this awesome challenge, now let's see her struggle!!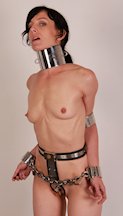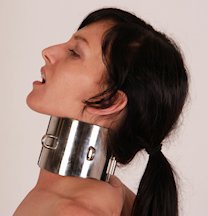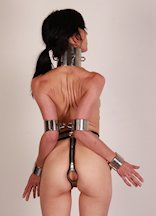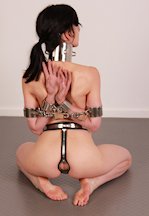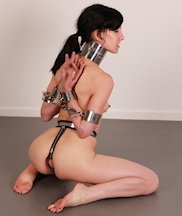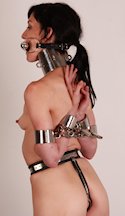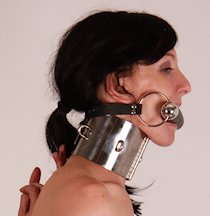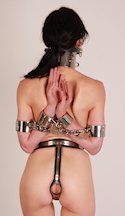 Swedish fetish model Pling is such a cute girl! She genuinely loves bondage, and she is one of the few models who actually come to the studio in their OWN tight chastity belt. She usually doesn't even bring the keys, so we just have to shoot with the belt on! Pling loves to try all of my heavy metal gear, and she had been wanting to be locked in the heavy stocks for a quite a while! Well, okay… if you insist… Pling puts up a lovely struggle, her long long braid swinging around as she tries to get comfortable in this steel predicament! Nice!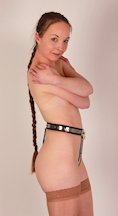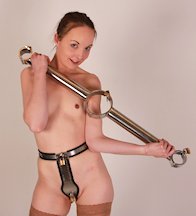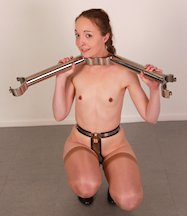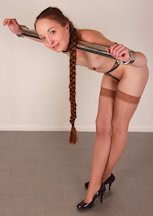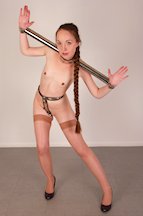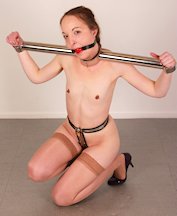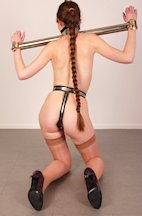 Containing the super fit Sarah Jain is not easy! This toned US model is one of the most powerful strugglers around! Funny though, how it is very easy to get Sarah Jain into a bondage contraption. Just lock some heavy restraints onto her, show her the frame, all in good fun… Then lock her neck and waist to the frame… still fun… Then padlock her arms in an awkward position and chain her legs to the frame… not funny anymore! Sarah can not hold the weight of the tilting frame with her neck and waist alone, so she is stuck bending over the middle bar. Struggling with all her might, she tries to lift the heavy contraption back upright, but she is fighting a losing battle! Nice :)