All updates for
September 2022
Denise! The young submissive wants to be owned 24/7, and she loves a good challenge! I think I might take her as my sub, she is just so perfect! Huge boobs that can be cuffed, very obedient, flexible, and so cute! Denise is boob cuffed, wearing a huge heavy collar, and her arms are pulled in a strappado. She is gagged with a 2″ ballgag, and I start tightening her boob cuffs. Click… click… so tight! Then I clamp her nipples, and hang two big padlocks on the nipple clamp chain. Denise starts drooling and moaning… what a challenge! She loved it!!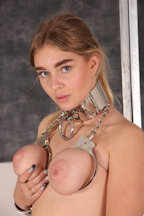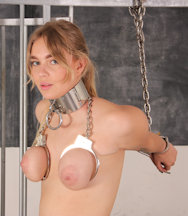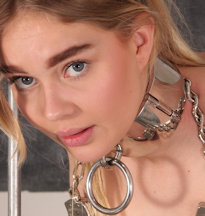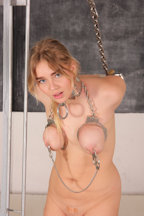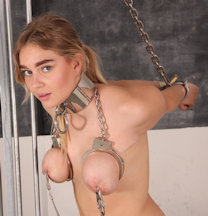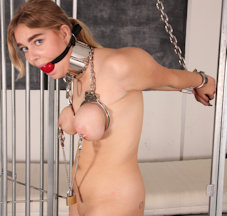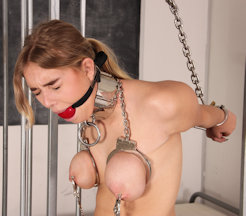 Yes! I finally got her: Alba Zevon, the fun loving Italian bondage girl is on MetalBondage.com! And she couldn't have arrived at a better time (or worse, for her): I had just created a new serving tray and I needed a test model. It is firmly attached to a tight metal waist belt, but to hold it up better, nipple clamps need to be used. Alba Zevon has very sensitive nipples, so this was a real challenge for her! Drooling and moaning, with her hands locked behind her, she paraded around the studio. Welcome Alba! There's many more challenges for you to come!!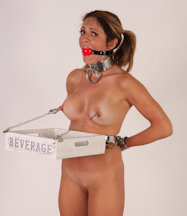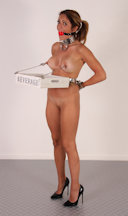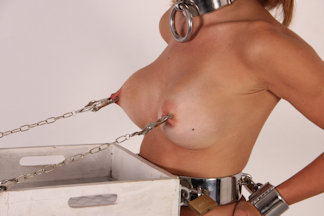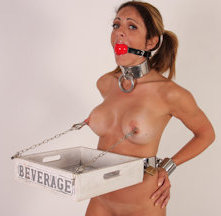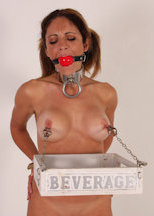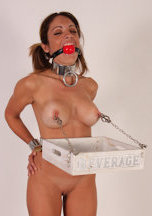 The Wheel of Steel is a crazy invention! This harmless looking circle is one of the most challenging bondage devices ever, as Dominique finds out. Locked in her trusty chastity belt, she is quickly locked into this contraption, making her butt stick out. It is a perfect posture trainer if you want your submissive to stick her butt out more. Dominique can't stand up straight anymore, and you can see her mind working to figure out how to get this thing off her. It is impossible to escape. Even when I threw her the keys, it was not so easy for her to get out, but managed in the end!