All updates for
February 2014
250 updates! To celebrate, let's try to fit two of our most popular models in the metal bondage frame! We are going to need a LOT of metal to connect Jenni C and Melissa to this frame… and to each other. Exactly the way we like to see two hot naked girls! Before connecting them to the frame, Jenni and Melissa are locked into 6 point heavy restraints: wrists, ankles, neck, and waist. The huge collars look so awesome on these stunning girls, wearing nothing but heels and stockings! After chaining them both to the frame, we let them struggle for a while, taking pictures and video… we can relax, they are not going anywhere, so let's enjoy and celebrate 250 updates, almost 5 years of girls in heavy metal bondage!
Join now to download EVERYTHING we ever did for only 1 month's fee! Now that's cheap!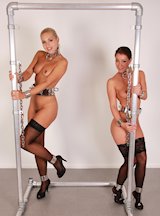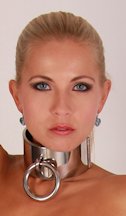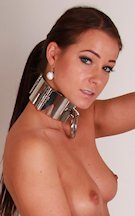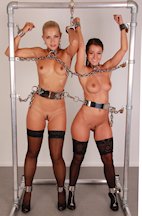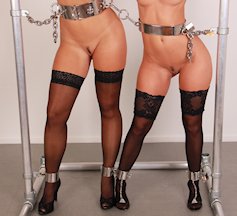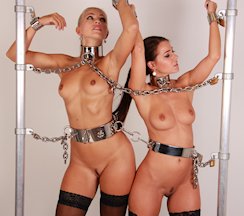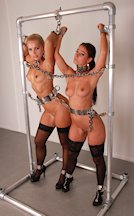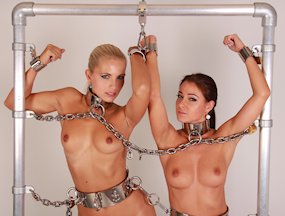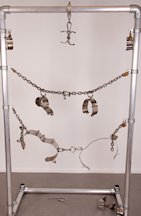 Ooops, we may have made a mistake here. We didn't really explain to Vanessa what we were about to do to her, and now she is extremely pissed off! We thought the frame on the floor and five heavy restraints on her body would make it clear, but apparently not everyone's mind is that kinky. Vanessa did not expect to be restrained in a doggy style position, and she was in it for at least half an hour to get all of the pictures and video. This is a pretty hard position, because her knees are very far apart, giving her almost no leg support, meaning all the pressure is on her shoulders and neck. She is fighting to keep her upper body up high, because the extreme collar is weighing her down. Still, she finds time to curse at us, so she should be alright, don't you think?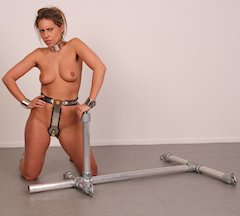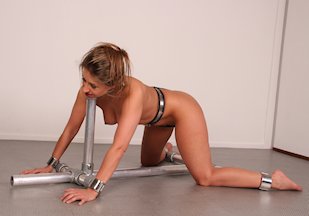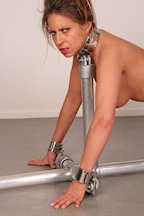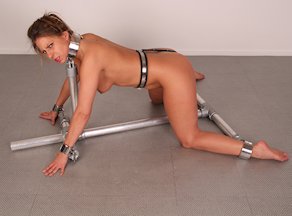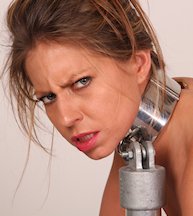 Adrienne is back, and we have some great plans for her! She is a tough one, which means we can test some new things on her before trying them on more delicate models! We don't know if Adrienne is happy to be used as a test subject, especially in this case, because she will be in a very hard position for quite some time! We lock her neck into a rigid steel posture collar, and we use chains to make a nice little bra harness. Then we tell her to lie down on her stomach for a very hard immobilizing hogtie! Why is this hard? Well, she can not move because of the ceiling chain, her chain-bound boobs are squashed, and it is hard to breathe in this rigid collar. Adrienne tried turning slightly to one side to relieve pressure on her boobs, but it was almost impossible for her to move! Great predicament!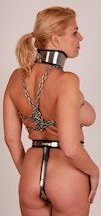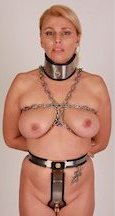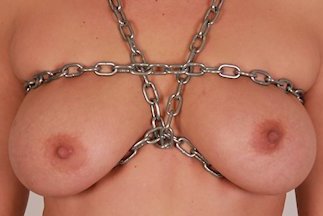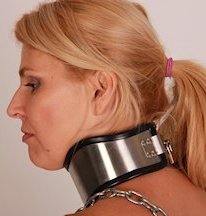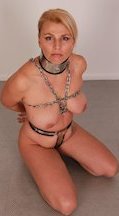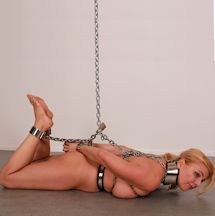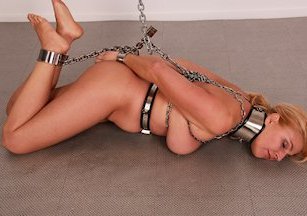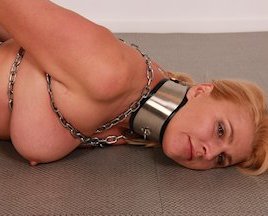 Sarah Jain is SO agressive! She keeps screaming and cursing and threatening, we are getting nowhere with her training… Let's just add some evil nipple clamps just to piss her off even more! Of course, she would rip those off in seconds, so we lock her into the Iron Crown to prevent her from saving her pinched nipples! Just like we thought, this infuriates Sarah Jain to the point she is literally going mad, struggling like crazy to get the nipple clamps off, but to no avail. She keeps complaining about the chastity belt too, so we guess we will just have to leave her like this for a while, maybe she will cool down… probably not…