All updates for
December 2022
My newest exclusive model River!! She is incredibly pretty and very curious. Once locked in a chastity belt, I let her roam around the studio. River quickly found a lot of my gear, and she was very interested in the Posture Fiddle. She soon found out how it opened (it is locked with two big padlocks) and I could see she was satisfied to figure out how it worked. Next thing she knew, River woke up in the Posture Fiddle! Not a problem, she thought, the key was right there and she knew how to open it. Or did she…
Do you want a custom video or picture set with River? Just let me know! She needs to try more gear on her muscular little body!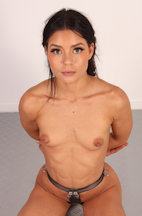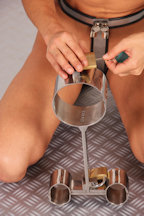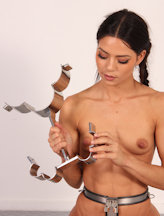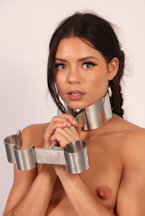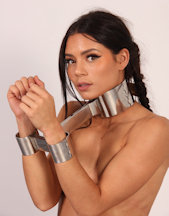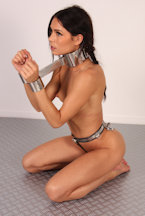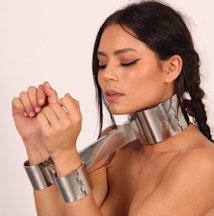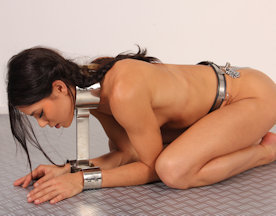 Can you believe Bella wrote me again after more than a decade to be back on the site! That's crazy! Remember her fun updates when this website was just starting up? She was so nice! Now Bella is back again and she still looks great! But things have changed here at MetalBondage. No more panties, and there's training challenges. Like wearing painful clover clamps. And then there's me trying to figure out how to prevent models from removing them. Like this update, where I just added tons of gear to Bella until she finally couldn't reach the clamps anymore. Did I overdo it?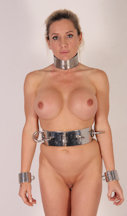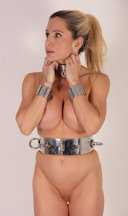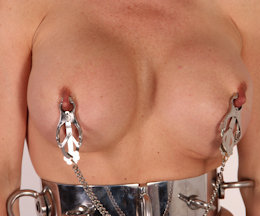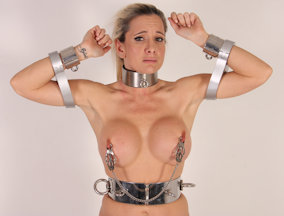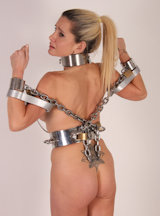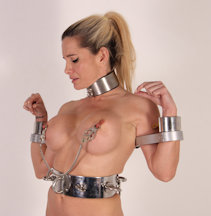 I showed Cindy Dollar my custom built Metal Stork device. It is extremely heavy, especially with the solid spikes added to the collar. She tried to lift it and immediately said 'no'. She said she was sorry but she had something else to do and wanted to get out of there as soon as possible. There was no way she was going to model this thing!
Of course, several minutes later, Cindy found herself locked in the stork, with a tight ballgag in her mouth to stop her from protesting. She was completely nude with painful clamps on her nipples. All she could do is sit there. She gave me the evil stare, but it wasn't helping her. Even the key right next to her on the floor was pointless. Is there such a thing as reluctant modelling?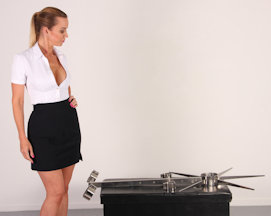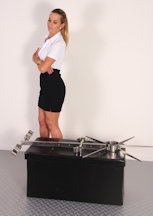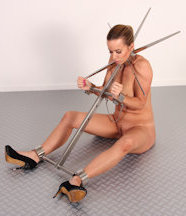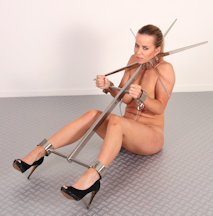 Nikki is back! This time, her flexible tall body will be folded into the orgasm frame. A metal contraption that leaves her very exposed and vulnerable. With her wrists locked to the top of the frame, all I have to do is strategically place a magic wand and turn it on. The orgasm frame will definitely do its job, there is no escape! It didn't take long for Nikki to reach a huge climax. I think she loves being helpless and brought to orgasm. I like her very much, she makes me want to build more contraptions to torture/pleasure her!