All updates for
July 2016
The beautiful Jenni C always looks great in metal! So when a member asked us to do a new 'pipe collar' position (like we did with Victoria Sweet), we immediately thought of this stunning Czech babe. But Jenni C does not like to be restricted and held in place by heavy steel. She can't stand still, but she will have to, because there is nowhere to go when you are chained by the waist and your heavy collar is connected to a pipe. Even when we eventually released her wrists, she still couldn't go anywhere! Frustration is beautiful!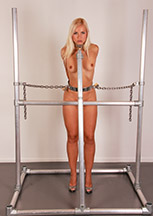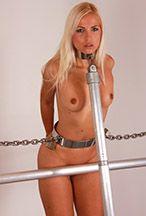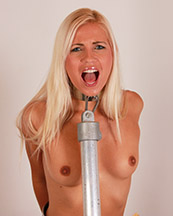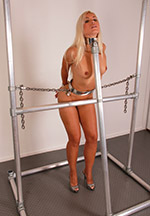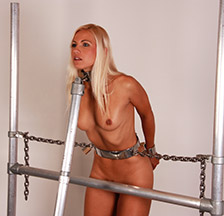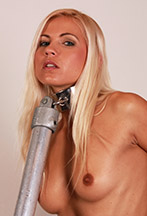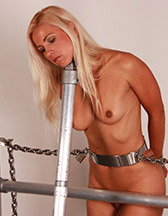 Jasmine James and Chessie Kay are in a bit of trouble! Their wrists are locked behind them, attached to a tight heavy waist chain around their corsets. The keys to the waist chain padlock are on the floor. But that's not all: their nipple clamps are looped around the pole, so they will have to go down very slowly and carefully to avoid pulling on their nipples too much, and even then… they need to help each other if they want to free their hands to finally get rid of those nasty clamps. How will they do this? This is evil!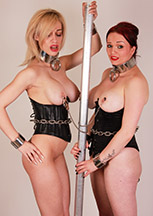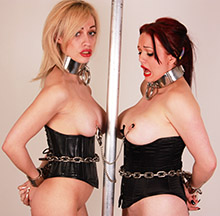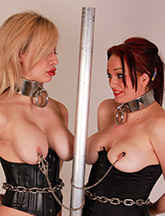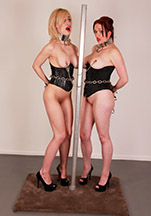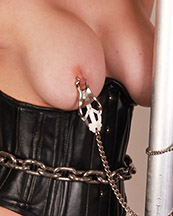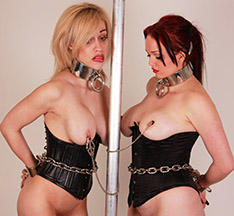 Yasmine is so gorgeous! And she is very slim as well, so she is one of the few girls who can fit into our custom ergonomic chastity belts made out of hardened steel. It is so tight, and the padlock is so well protected, if we loose the key, there will no way to get her out. It can not be cut off, it is too close to her skin, and the hardened steel is very hard to cut anyway. Any padlock malfunctions will be disastrous too. It's a risk, but it is such a beautiful fit, we just had to lock her into this belt, just like we did when she was locked to the bondage frame. So beautiful!