All updates for
April 2014
The beautiful Yu from Taiwan recently spent 24 hours at our studios (literally), locked in a chastity belt and a chastity bra for www.chastitybabes.com (go there if you haven't seen Yu getting a little upset about having to sleep in her chastity gear). So I thought we'd just as well shoot a set for this site, since she was already locked in so much metal, walking around in the studio with nothing to do. This has got to be the greatest frame I have built so far! Yu is flying! She is completely off the floor, her ankles lifted up by heavy cuffs and chains. She is in a side split position with her neck rigidly fixed to a pipe with a very tight collar. Even if I didn't padlock her wrists together behind her back, she still would not be able to get off this frame by herself! As demonstrated in the video clip! Don't miss this evil metal showcasing position!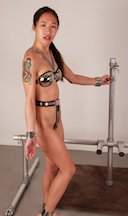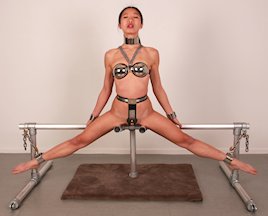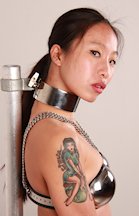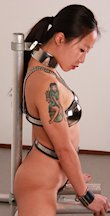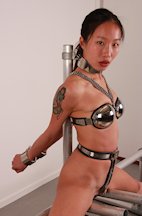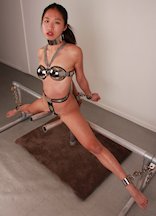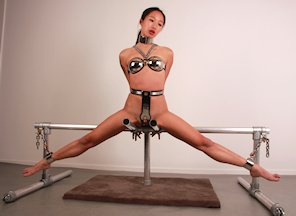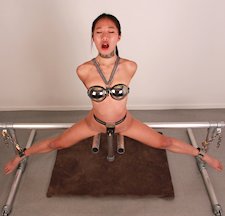 When we did the famous Ariel Anderssen ChastityBabes.com interview (watch it if you haven't!!), we had her locked in a belt for almost 24 hours. And it was tight! Believe it or not, Ariel actually wrote us to ask if she could be locked in a chastity belt… yep, she really loves new experiences! During that day, we also did a few shoots for this website. Ariel seemed to love wearing her garter belts over her chastity belt, and it actually looks very classy and hot with the secondary shield padlock exposed! She did not love the Sleepless Collar though, it is heavy and after an hour it gets really frustrating because you can not lie down (hence the name) to ease the weight on the neck. Still, somehow Ariel got excited by all this locking heavy gear. A shame she was still in her chastity belt ;)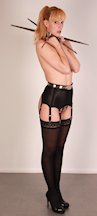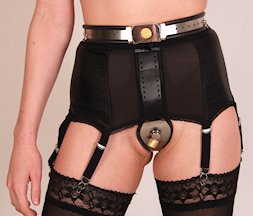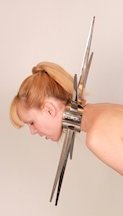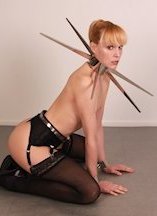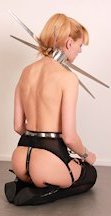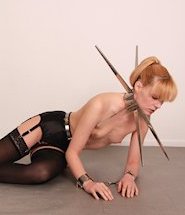 Aaah Vanessa… She always gets to test the best steel bondage devices here at MetalBondage.com! She has been with us over 4 years, and she was belted here for the first time in her life! Vanessa has tried many of our crazy contraptions, and she always regrets it, because we leave her locked in them for a bit longer than she can handle. A little mean, but we have to capture that angry struggle that we like so much! She will always be in a chastity belt, of course, and this time she is testing the versatile Connect-A-Model system. Be sure to check out this regular model: she is a struggler!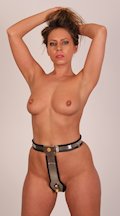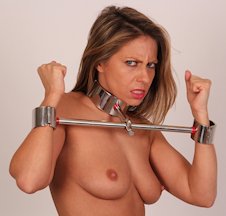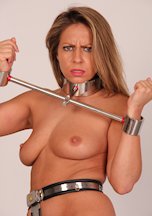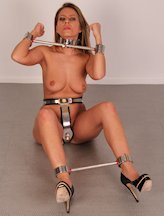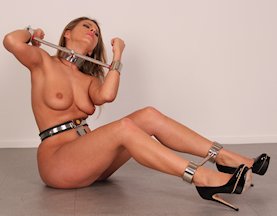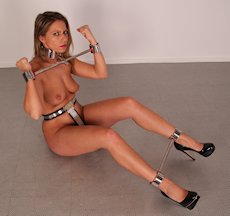 Finally, we have belted the incredible Honeyhair! It is her second shoot, so she had to wear the belt. And to get out of it, she has to do something very interesting: self clamping with Japanese clover clamps, which are among the most powerful clamps out there. But Honeyhair has a problem: her nipples are super sensitive for two reasons: her boob job and her nipple piercings made her nipples so sensitive she doesn't even let anyone touch them. And now she has to clamp them to get out of a chastity belt! Life can be cruel!