All updates for
January 2011
The lovely Ariel Piper Fawn returned to our studio for another shoot, and she went straight for the white chastity belt! It was locked on before we knew it. How's that for training? :) Today, we will show you more of our custom Connect-A-Model metal bondage system. We tried building a replica of a medieval classic: the stork (or scavenger's daughter). Locking it on Ariel was quite a job, but in the end she was fully restrained and unable to move an inch. The awkward sitting position was causing some discomfort because of her chastity belt, but she was a real trooper. It was a perfect creation, except for one little flaw… find out more about Ariel's fascination by watching the video!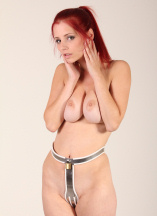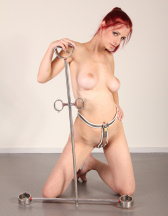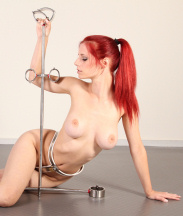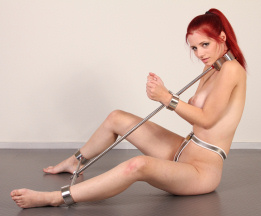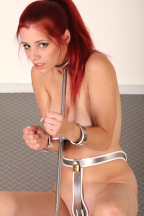 MetalBondage resident pet slave gets a good workout this week. We put her in a RigidStock and a RigidSpreader. She was in those restraints for quite some time, and although it is pretty hard on the shoulders, it was not much of a workout until Vanessa decided to lie down. Getting up in a RigidStock requires very good ab muscles, especially when your ankles are in a spreader. Then we threw her the keys… but only the keys to the spreader, because the RigidStock is inescapable anyway. Even so, unlocking a RigidSpreader while in a RigidStock is also quite a good workout! Vanessa was very tired and sore after this one :)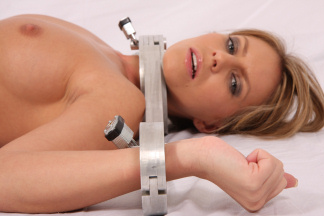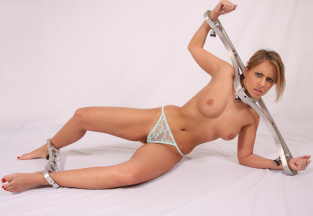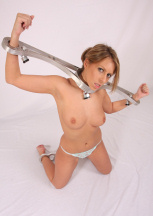 Carie asked if she could come back for a third time. What? A beautiful shy girl reporting for bondage? Well, okay, on one condition, from now on the chastity belt will be a part of the shoots. It turns out, Carie does not like having her private parts locked away, so we kept her hands out of the way by attaching her wrist cuffs to the giraffe collar by short spreader bars. The bars can only move up and down, if you remember from previous updates, so Carie is left quite vulnerable in the chest area. After some struggling, we challenged Carie to an escape, watch the video to see if she did it! We have to warn you, this is one very clever girl!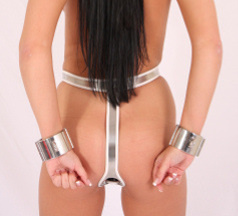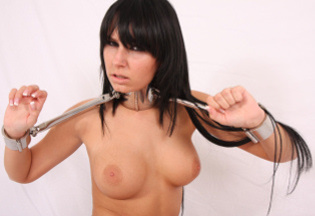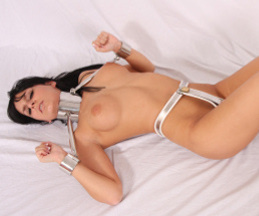 Something about Janna Grace makes us want to gag her really tight. First of all, Janna loves when she starts drooling (she really does!), plus it gives her a really angry expression. A nice comfortable RigidStock ensures Janna will not attack anyone. And to make her even more angry, nipple clamps were added, as requested by so many of you. She may like the bondage, but she really hates the stinging pain of nipple clamps. There is absolutely nothing she can do about it, thanks to the wonderful design of the RigidStock. But even with no way to take off the clamps, or the gag, Janna is still going to try. She has to, because these clamps are hurting her like hell! Good luck Janna!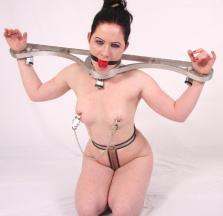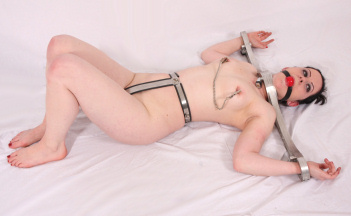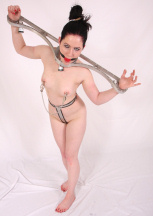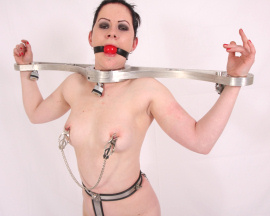 Tiffany and Vera are always very close, in fact these girlfriends are so close we can not even find separate pictures of them for our models page. So we tried a little experiment: what if we fiddle and gag both girls… will they help each other, will they stay close, comforting each other? How will they communicate through these tight ballgags? Since their first gagging (MB072), the girls are now adamant about having their own gag color, Tiffany only wants a pink gag, while Vera loves the classic red ball. Their fiddles are different models too, it's interesting to see which RigidFiddle model allows more movement, if any at all. We could watch these girls fiddling around for hours!