All updates for
January 2022
After the successful tests of the Nipple Clamps Training Machine, it is now time for the Labia Clamps Training Machine! I was very excited about this, but Olga was not so sure. I built her a really cool seat, so her legs would be spread open wide and she could not touch the floor. It's a very simple machine, just attach labia clamps, turn on the machine and sit back. The training will continue forever and it is fully automatic. You can even regulate the speed and distance! Olga was moaning and drooling behind her 2 inch gag, but there was nothing she could do to stop the machine from stretching her labia over and over again. Very exciting to watch!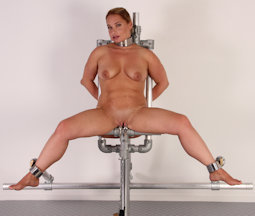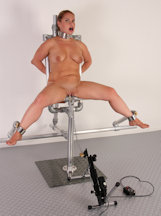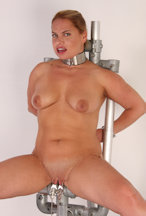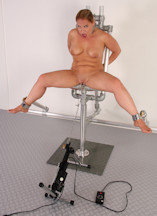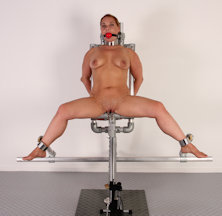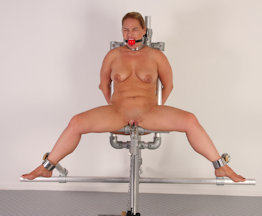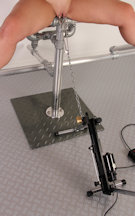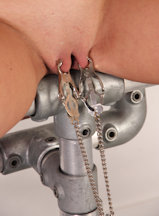 Aubrey is a beginner in ballet dancing. She can't stand on her toes yet, but she is in the ballet studio, trying hard to make progress. Her teacher doesn't seem to think she is learning fast enough though… Aubrey wakes up nude, locked in a chastity belt, chained to the bar with a heavy collar. She is wearing leather ballet boots now. If she ever wants to get her freedom back, she needs to learn how to stand up in these shoes. And fast!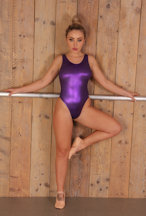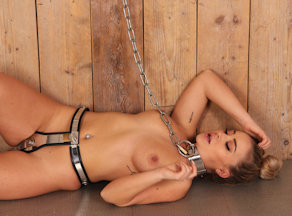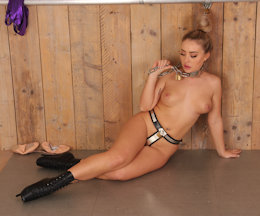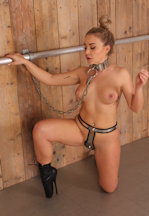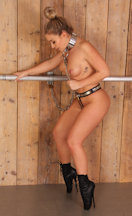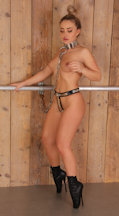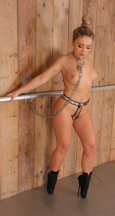 Meet Denise! She is 18 years old and she wants to be a bondage model! Her career is taking off fast, and it's about time she appeared on this website. Not an easy start for her, as I planned the FoToRo Padlock Challenge with her. Like last time, with Lina Roselina, Denise will have to move 4 padlocks to the other side of the room, using only her nipple clamps. This time, however, one goal is a very tall box and the other one is on the floor. And to make this even more challenging, I added the heaviest padlock I could find, it is a beast! Denise will have to move every padlock twice, once to the floor, and then back again. Can her nipples handle this?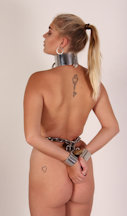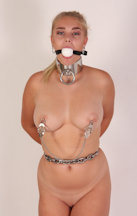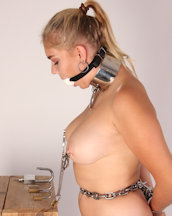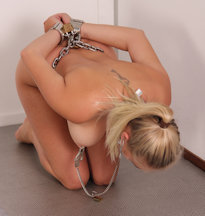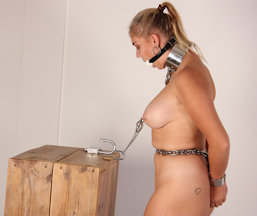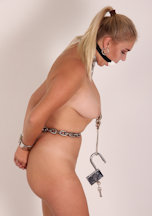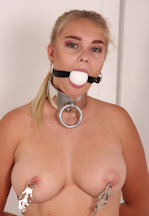 Cute Abi was very curious about everything in my studio. Locked in her own elegant chastity belt, she hopped around to look at all the metal gear. The rotating display seemed to intrigue her most. There was a bar on top of it and I told Abi to lean against it while I would turn on the rotating platform. She took a few spins with her ankles locked to the post. And then again with her arms chained behind her. Then I got the idea of connecting her wrists all the way down to make her bend over backwards. This was seriously hard! Do not try this at home!! Abi is world class, one of the most amazing display positions I have ever done!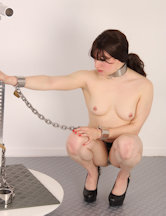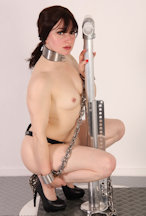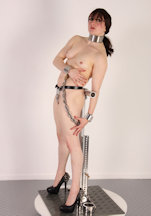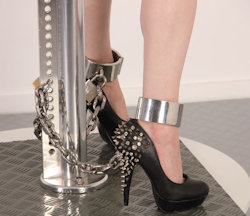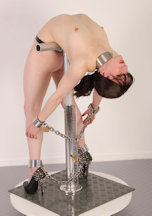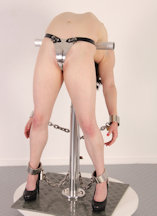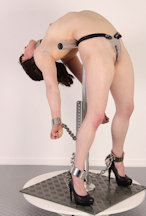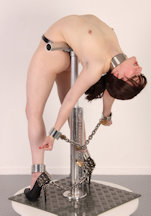 I only tried the Blowjob Machine once before, and it needed some more tweaking. Good thing there's always Liz Rainbow, who doesn't mind being my test subject, even it is means she has to deepthroat all afternoon. We experimented with different heights and angles. Liz tried fighting the machine but it was always stronger. Trying to pull back against the machine turned out to be quite unwise because the machine pulls back faster on the next stroke. Liz drooled all over the place of course, and she had a lot of fun! When I unlocked her hands to let her out, she decided she wanted another go and tried to reach the controls herself to get deepthroated some more!!