All updates for
November 2018
Liz Rainbow did't believe the One Bar Prison is inescapable! Silly girl! We told her to bring some high heels and try out the dildo pole herself. We used a very long metal ball dildo to make sure Liz would not be able to escape, because she is a wild one! It went all the way in and even as far inside as the top of Liz's tattoo! She tried turning around, lifting one leg, lifting her butt with her hands, but there was nothing she could do to escape the impalement. She was definitely stuck there. And because we left her for a while, she was very angry when she was finally released from the One Bar Prison! Needless to say, Liz Rainbow now believes this device is inescapable!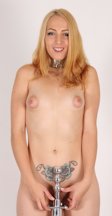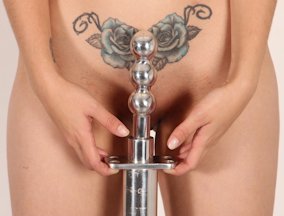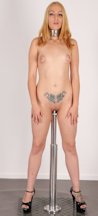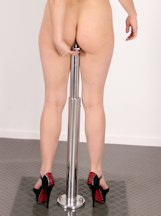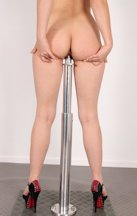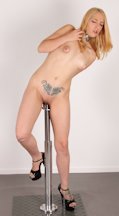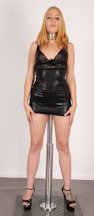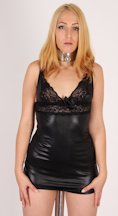 We have had this metal Head Ball in the studio for a while but we never used it. Bad Dolly said she wanted to try it, she was probably the first girl who wasn't scared by the idea of having a locked metal ball on her head. It is a very claustrophobic experience, and you become really aware of yourself, your breathing, the darkness… Bad Dolly was also locked in the Steel Hobble Dress with her wrists cuffed to the sides, and this dress makes it impossible to sit down or even kneel. So in the end, she was reduced to almost a statue, standing around with her boobs sticking out, completely defenseless and unsure about what would happen next. Bad Dolly is such a brave girl!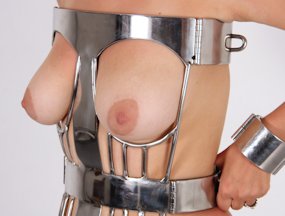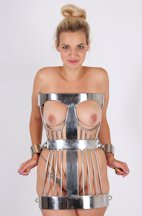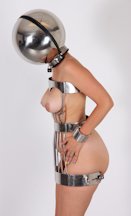 Cute 20-year old gamer girl Lucy Elena is curious about everything! She already did a Casting for ChastityBabes.com, and she wants to try more stuff! She did not want to show any nudity however, but no worries: a chastity belt and chastity bra cover everything and they are locked tight. She is such a pretty colorful doll, with her big eyes and her shy but very kinky nature. Today, she will be locked in the super heavy stocks, so we can see how Lucy Elena deals with something that has a lot of weight. Of course, we drop the keys on the floor and tell her to escape. It's impossible, but she doesn't know that. We just want to see her move around in the stocks! A cute girl in heavy metal, that's what we love to watch!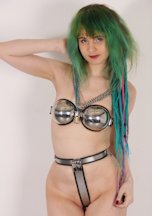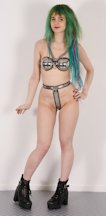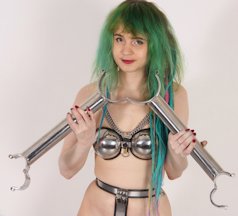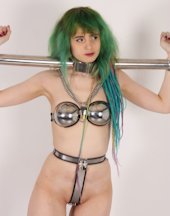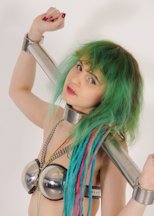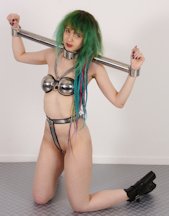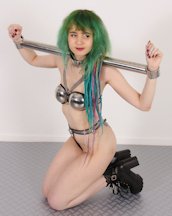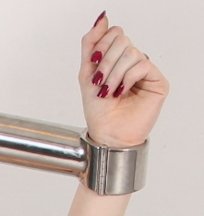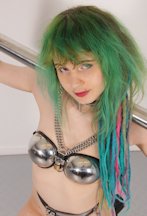 She told us: "If there's one thing I hate it's nipple clamps! Especially clover clamps!" Great idea! But first, we built a contraption on her back, between her collar and waist belt. Abigail wasn't sure what was going on behind her back, she was only focused on the moment we told her to put nipple clamps on her cute perky boobs. That really hurt! She wanted to take them off again quickly, but we secured her hands behind her back… in the Rigid Box Tie Device! Perfect for girls who try to take their nipple clamps off! Abigail was panicking when we told her she had to escape the device first if she wanted to take off the clamps. We threw the keys on the floor… an impossible task: even with the keys this device is inescapable, all Abigail was doing is hurting her nipples more by more around to reach the keys.