All updates for
August 2018
Yes! Rosie is back! This young cute girl likes to try things, and even though she knows it will be impossible to escape once she is locked, she loves escape attempts too. Locked in a tight chastity belt and a chastity bra, Rosie was a bit confused when we handed her the RigidStocks. They are quite impressive! Rosie suddenly wasn't very sure if she wanted to try this device, but we told her she should just try the neck first. Of course, after the stocks were locked onto her neck, we had to lock her wrists in too. Rosie was very stuck! She asked for the key and we gave it to her of course. We love to see girls try to escape the RigidStocks! So cute!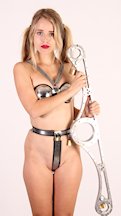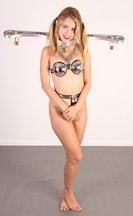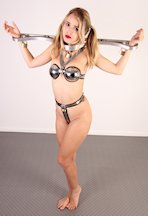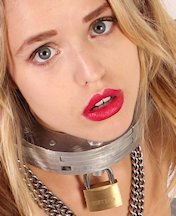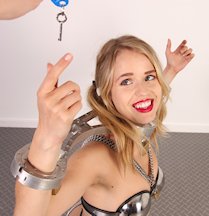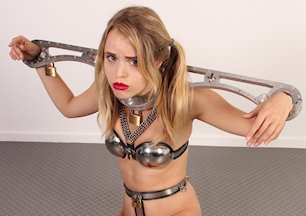 New gear time!! First of all, we are proud to present the Rattlefree Collar! It is an improvement on our standard Padded Collars. By using a big D-ring at the front and a double locking post at the back, there's no more rattling! In some situations, that is a good thing! But the biggest reveal today is definitely the Carrara Locking Mask! What a beautiful piece of gear, made by Carrara Designs! It is a fully adjustable mask, and it locks into place, so our poor test subject Melisa Mendini can't take it off. She can still talk though, she just can't eat (or do naughty things with her mouth). The mouth piece has a separate padlock so she can be fed without taking off the mask! And the chin rest can be raised by turning a screw, to close her mouth if we are tired of hearing her talk. Gorgeous girl in gorgeous gear! Don't miss the picture set and video!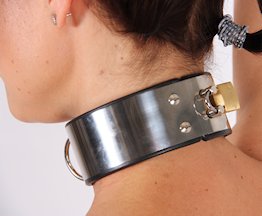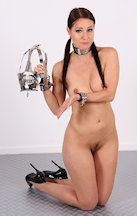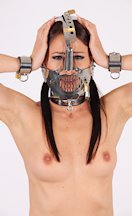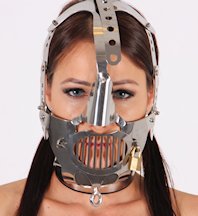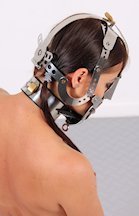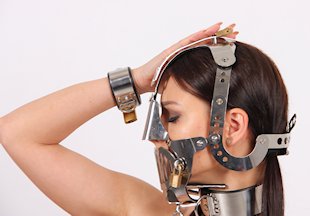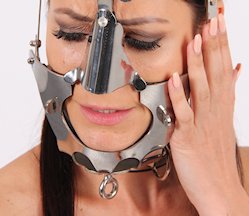 Bondage loving Rachel Adams came over all the way from the USA to be locked in metal bondage! She is a tough one, and she asked to be locked and chained in a completely inescapable way, so she couldn't move at all. The perfect opportunity to build our hogtie frame again! With tight heavy cuffs on her ankles, wrists, and elbows, pulling her arms together, we started to chain all these restraints to the hogtie frame with heavy chains. A heavy collar on her neck made it even harder for her. To keep her head up, we also chained her harness ballgag to the frame. Rachel couldn't move an inch! Well, she got what she asked for and she loved it!